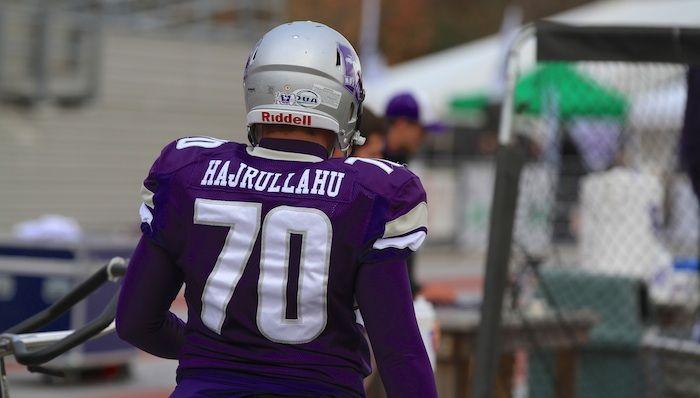 After six successful seasons in the CFL, former Mustangs all-Canadian kicker Lirim Hajrullahu signed a contract with the Los Angeles Rams.
But even with NFL prospects, the former Mustang doesn't take anything for granted.
Years before he enrolled in Western University's kinesiology program and became a fixture on the Mustangs football team, Hajrullahu's family was forced to escape their home in war-torn Kosovo.
The war in Kosovo began in 1998 following almost a decade of conflict in the former Yugoslavia. Hajrullahu's family moved to Canada in April 1999 in search for a safer place to call home.
"I'm thankful to live in a free country and be able to have a roof over my head and not have to look over my shoulder," said Hajrullahu. "Going through that time in my life was definitely difficult, but I'm just happy that we are alive, my family is alive and we're happy and healthy."
April 14, 1999– the day everything changed, as it was the day our village, my family, and I were forced out of our homes with AK's, snipers, & tanks during the Kosovo 🇽🇰 war .. bad memories but so grateful to be alive and healthy 🤲🏼 #20years

— Lirim Hajrullahu (@Lirim_70) April 15, 2019
Hajrullahu played as a kicker and punter at Western for five years, from 2009 to 2013, and earned prestigious accolades during his tenure as a Mustang. He won two Yates Cups, one in 2010 and the other in 2013, was a first team Ontario University Athletics all-star and a U Sports — formerly Canadian Intercollegiate Sports — second team All-Canadian. He held the OUA career points record with 420 points until fellow Mustangs kicker Marc Liegghio broke the mark with 440 this past season.
After graduating from Western, Hajrullahu had a successful six-year Canadian Football League career with the Winnipeg Blue Bombers, Toronto Argonauts — where he kicked the game-winning field goal in the 105th Grey Cup — and the Hamilton Tiger-Cats. After being released from the Tiger-Cats in January, Hajrullahu signed a three-year National Football League contract with the Los Angeles Rams on April 13.
But none of that would have been possible without his parents' decision to uproot their lives.
In February 1998, war erupted in the small, former-Yugoslavian country. The civil conflict lasted over a year, until March 1999, when NATO forces intervened.
It was just a month later, in April 1999, that Hajrullahu and his family took the last refugee flight to Canada to save their lives. An estimated 863,000 other civilians fled their homes to find refuge throughout the war.
His family settled in St. Catharines, Ontario just before his ninth birthday. Hajrullahu said the experience shaped his personal and professional life.
"On April 13, when I actually signed [with the Rams], [it] was 21 years after we were kicked out of our homes and had to leave for our lives," he said. "Those memories are still in my head and still within me, but it's kind of helped me become the person I am today; not taking anything for granted, taking these opportunities, the freedom that Canada has provided for us, being happy where I am today and being thankful of it."
Hajrullahu said he has been using the values he learned, through both escaping conflict with his family as well as playing for the Mustangs, in his career. No matter where he is, the CFL all-star kicker turned Los Angeles Ram, he is hoping to inspire others.
"We're aspiring for higher education and we're aspiring to be making a difference in the community."
🗣 "It makes me so much more proud to be a Canadian."Lirim Hajrullahu (@Lirim_70) recounts yesterday's Citizenship Ceremony at @TimHortonsField and the memories it brought back.#HamiltonProud | #DiversityIsStrength pic.twitter.com/ttxokq987O

— Hamilton Tiger-Cats (@Ticats) October 11, 2018