The odds have always been stacked against Ligrit Sadiku.
Growing up in Prince Edward Island, there were limited opportunities for him to develop his wrestling skills. When he started high school, there was no wrestling team, but by the end of his grade nine year, the interest he and some of his friends showed in the sport influenced his gym teacher to start the school's first wrestling team. 
At the time, the enthusiasm of Sadiku and his friends also helped kickstart the first wrestling club in his hometown of Summerside, P.E.I.
Even with the startup of the school team and the club, he did not get to compete very often because of a lack of interest and competition in wrestling throughout the province. Despite the lack of resources, however, Sadiku was still able to make the provincial team for the Canada Games in 2013. 
"I placed fifth [at Canada Games], which I wasn't happy about," said Sadiku. "No guy from PEI has ever won a medal there and I wanted to be the first one, so it was kind of disappointing."
He attributed falling short of his own expectations to the lack of mat time and competition he had in comparison to wrestlers from other provinces. The year after this disappointment at the Canada Games, he decided to make a major change to give himself more of a chance to develop as a wrestler. 
"The summer going into grade 12, I thought, 'If I want to succeed I have to get out of this province,' " said Sadiku. "I have some family in London so I came here in September in grade 12 and lived with them and went to a high school here just for the wrestling."
A large influence in Sadiku's decision to take this chance was Nick Cummins, his head coach at the Canada Games. Cummins told Sadiku he had to drop some of his other hobbies: boxing and jiu jitsu. He said he needed to solely focus on wrestling if he wanted to reach his potential. If Sadiku did, opportunities for him included a potential athletic scholarship to a top university in Canada. 
Sadiku moved to London, Ont., in 2014 and went to Saunders Secondary School, where he spent much of his spare time practicing with the London Western Wrestling Club on campus. It was at this time that he started to develop a relationship with Western's longtime wrestling coach Ray Takahashi.
In the short time they've worked together, Takahashi has been very helpful in progressing Sadiku. 
"[Takahashi] is a small guy, too, so he knows how it is," Sadiku said. "Big guys and small guys wrestle totally different so he understands my style."
Recent Western wrestling graduate and Ray's son, Steven, has also been an integral part in bringing along Western's next star. Steven is an inspiration for Sadiku and is always available to give him advice. 
"I look up to Steven Takahashi for sure," Sadiku said. "He had a lot of success at the weight I'm at. After practice I always ask him questions. I try to get a question in after every practice."
Sadiku has also recently received guidance from wrestlers thousands of miles away from London. This past summer he spent a lot of time doing intense wrestling training in Kosovo while visiting family.
"A lot of them were small people like me," said Sadiku. "They beat on me quite a bit and helped me out by teaching me new techniques. It's a totally different style and world over there."
Sadiku was able to train with some of the top wrestlers in Kosovo. This hardcore training is what Sadiku has attributed to his early success so far this season. But he has a lot of work ahead of him if he wants to achieve his goals.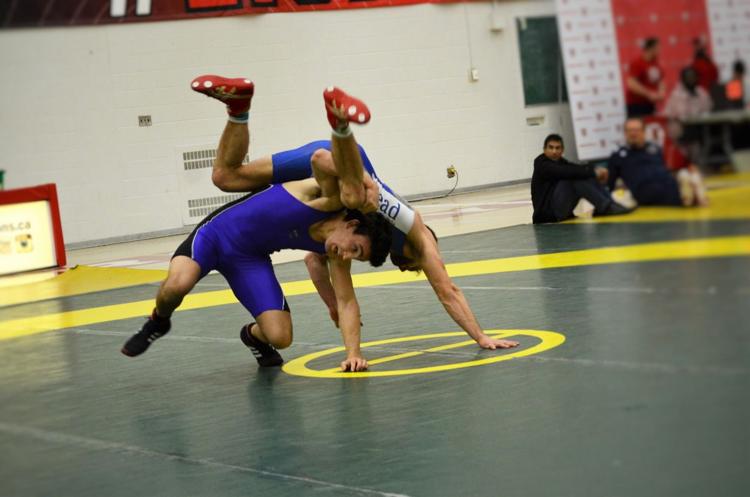 A couple of weeks ago, Sadiku suffered a fractured metacarpal in his hand that prevented him from competing in the Western Open hosted at Alumni Hall this past weekend.
Even though the cast on his hand isn't scheduled be removed until two days before the Ontario University Athletics championships in Sault Ste. Marie from Feb. 12–13, Sadiku is confident he will be able to compete at a high level. 
"Honestly, I might even request to get [the cast] off early, that's how good it feels," he said.
After the OUAs, Sadiku said his goal is to take the title in the 57kg weight class at the Canadian Interuniversity Sport wrestling championships on Feb. 26 at Brock University.
Even if he suffers another setback with his hand, Sadiku is not worried because he will have another chance in March to compete against the top wrestlers in Canada at the Junior-Senior National Championships in Fredericton, New Brunswick. 
Moving forward from this university season, the confident young rookie has his eyes set on competing on a much larger stage. By either the 2020 or 2024 Olympics, he hopes to be able to wrestle as a member of the Kosovo team.
If Sadiku is able to accomplish his goals and become an Olympian it will be an impressive feat for a small town kid from P.E.I.