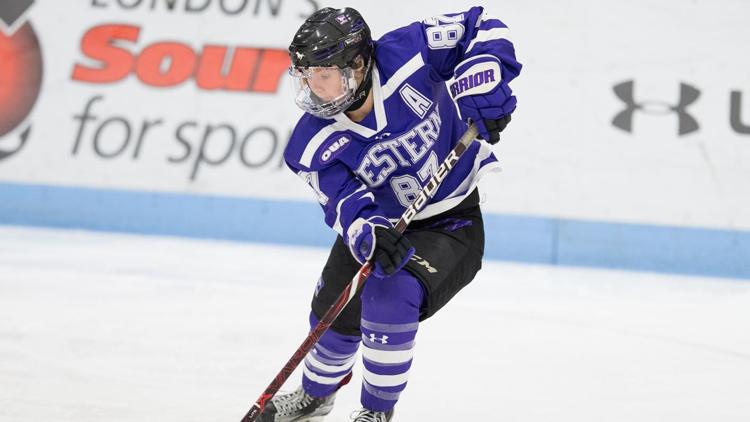 Western's women's hockey season got underway on Friday with a big win in their home opener against the York University Lions.
The team is coming off of a successful but heartbreaking season last year, after they fell just short in the Ontario University Athletics' semi-finals.
The Lions' hockey season started off with a seven-game winning streak in exhibition, including a 1–0 win over the Mustangs on Sept. 26.
"[York University was] on a seven-game winning streak," said Mustangs co-captain April Clark. "So, we really wanted to end that." 
Friday night's game got off to a quick start with the Lions scoring a goal on their first shift.
The Mustangs battled back and co-captain Renae Nevills was able to respond and grab the first point in the team's regular season, making it a 1-1 game. Though the Mustangs and Lions fought back and forth, Western eventually came out on top with a 5-3 win in their season opener.
The Mustangs knew how important this game was.
Co-captain Nevills said that in preparation they watched videos and tailored practices the week leading up to the battle. Quick puck movement and confidence in their speed were crucial to dominating such a physical team. 
Considering their young roster this year — with eight rookies — Nevills said that she was "Proud of how everyone handled their nerves of a first homer and the poise each player had as we settled into the game."
"Everyone stepped up where we needed them to, which led to the great team win that we had," she said.
The team was also pleased to announce a new leadership group for the 2019-20 season.
Fifth-year athlete and co-captain Clark brings an impressive and successful hockey history with her. Not only was she an assistant captain for the Mustangs last season, she was also the OUA Player of the Year, Forward of the Year, First Team All-Star, U Sports 1st Team All-Canadian and Western's Female Athlete of the year.
Clark is joined by fellow co-captain Nevills who is in her fourth year on the team. Meanwhile, fourth-year Rachel Armstrong and youngster Emma Suitor, who is in her second year, will be alternate captains. These women all carry notable hockey experience and should be excellent leaders for the 2019-20 season. 
This Friday's game marks a successful start to the season for the Mustangs' women's hockey team. They head to Guelph on Thursday to see if they can sustain their hot streak and go 3–0 in the season.
Attendance at games is always free for Western students when you present your OneCard.