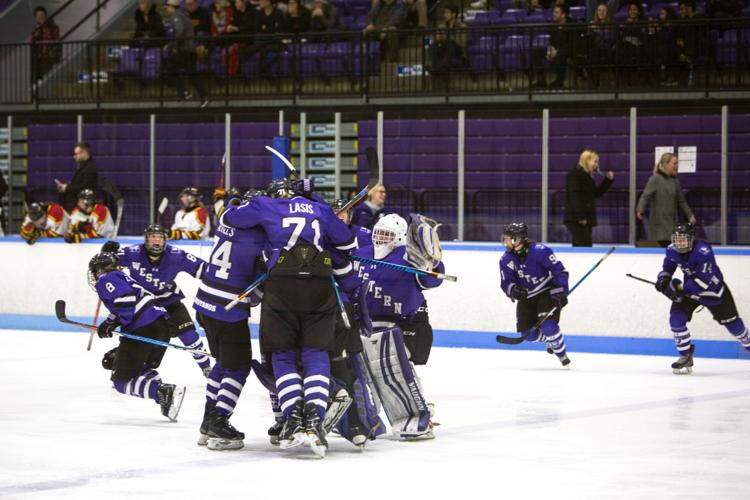 The Western Mustangs women's hockey team is going to the McCaw Cup final after beating the Guelph Gryphons 3–2 in double overtime on Friday. The win at Thompson Arena completed a 2–0 series sweep of the Gryphons, and now the Mustangs will move on to play for the Ontario University Athletics championship.
Rachel Armstrong was the overtime hero, sneaking a low shot past Gryphons netminder, Valerie Lamenta, after 85 minutes of play. She finally managed to break the seal after neither team found the net in the first overtime, both sides racking up double-digit shot totals in the extra frames.
"I didn't even know it crossed the line to be honest," admitted Armstrong. "I looked in the back of the net and it was there and then I just got mobbed by my team."
The Mustangs now find themselves OUA Western Conference champions. But although they won both games of the semifinal series, Western certainly didn't fly past Guelph with ease. Both contests were extremely tight, as one would expect in a game featuring close rivals.
Knocking off the Gryphons is an impressive feat in itself for Western, since Guelph has won the McCaw Cup the past two seasons.
"Guelph's a great team. We've been rivals with them for the past four years," said Ali Beres, who scored Western's first goal. "Everybody was super excited to come out and play and show that we deserve to be here."
The Mustangs were out-shot 42–32 in the game, but rookie goaltender, Carmen Lasis, made 40 saves to keep her team in it. She stopped all 11 attempts she faced in overtime, keeping at least a couple of dangerous Guelph efforts out of the net.
The game began quickly, with the Mustangs going up 2–1 just over six minutes into the first period. Things settled down from there, as both teams fell into a rhythm.
Exhaustion set in for all the players during overtime, but thankfully for the Mustangs, they didn't need to change much in their strategy.
"What we had in place was more of a conservative approach, especially on the forecheck," said head coach, Kelly Paton.
The Mustangs have now earned their spot in the U Sports national championship, which they'll host two weeks from now. Even if they weren't guaranteed qualification, a spot in the McCaw Cup final would get them there.
Before they can think about nationals, though, Western would really like to win that OUA championship. They'll face the Queen's Gaels next weekend in Kingston, in a one-game playoff to decide this year's provincial champion.