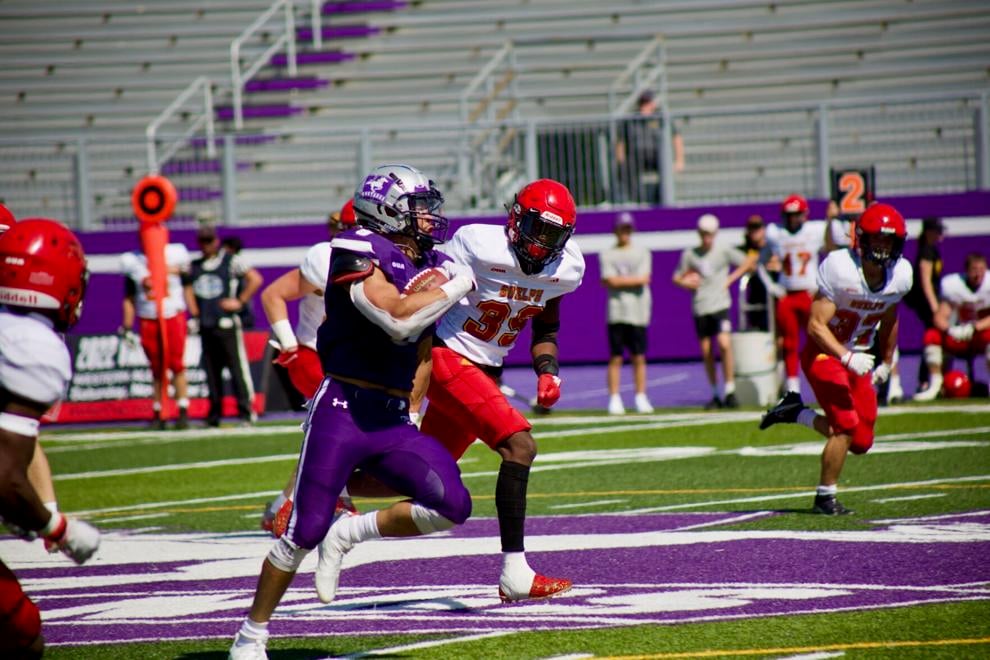 The Western Mustangs football team took down the University of Guelph Gryphons 34–11 in the Saturday season opener on the back of a stellar defensive performance.
Defensive back Daniel Valente Jr. toppled the Guelph offence with a three-interception game.
"[Valente] played great, and I really thought our defence set a tone," said head coach Greg Marshall. "Coach [Paul] Gleason and our defensive coaches did a good job with mixing the fronts up and not being predictable."
Valente Jr. changed possession for Western University in the second, third and fourth quarters to put up an impressive stat line.
"I was just trying to go out there and do my job," said Valente Jr.. "When I got the first one, I knew [Guelph] would try to keep taking shots. So I obviously wanted another one. It's just who I am – greedy."
🏈 INTERCEPTION!!!Tell me if you've heard this one before.... Daniel Valente Jr with the pick.4TH QUARTER l 3:55 remainingGUE l 11WES l 34#RunWithUs #WesternMustangs #GUEvsWES pic.twitter.com/QEDHOWDRuJ

— Western Mustangs (@WesternMustangs) August 27, 2022
The Mustangs' defence kept the frustrated Gryphons from scoring a single touchdown the entire game. Guelph had only three field goals and a safety to their name.
"We made some mistakes but we bent and didn't break. [Guelph was] in the redzone a couple of times and we made plays that we had to. I think we played well but we got to get better," said Valente Jr..
Both teams were in a tightly-contested first quarter with no points on the scoreboard. The Gryphons drew first blood with a 50-yard field goal from Eric Stranz nearly 10 minutes into the second quarter.
Momentum quickly changed for Western after a two-yard rushing touchdown by Keon Edwards put the Mustangs ahead just two minutes later.
Western kicker Brian Garrity finished off the first half with a 24-yard field goal, giving them a 10–3 lead going into the locker room.
"It's definitely early on so it took a quarter or two to get comfortable, but by the end of the game, we were steady," said fifth-year receiver Griffin Campbell.
The Mustangs' offence awoke after halftime with a combination of passing and rushing plays that put 24 points on the board.
Running backs Edwards and Edouard Wanadi put together a total of 223 rushing yards, as quarterback Evan Hillock threw for 155 yards.
Hillock completed 70 per cent of his passes coming out of the locker room after halftime, helping open up the field for more rushing plays. The young quarterback has yet to lose a game he's started as a Mustang since beginning his Western career last season.
"Evan throws the ball well. He overthrew the one slant and the one deep ball, but that's a part of the nervous energy with starting a game. Evan did a great job," said Marshall.
Savaughn Magnaye-Jones scored a touchdown from a pass off Hillock in the fourth that allowed the Mustangs to take a commanding 17-point lead with just over 12 minutes left in the game.
🏈 MUSTANGS TOUCHDOWN!!1️⃣ ➡️ 1️⃣3️⃣ for 6️⃣ more as Savaughn Magnaye-Jones hauls in the TD.4TH QUARTER l 12:29 remainingGUE l 11WES l 27#RunWithUs #WesternMustangs #GUEvsWES pic.twitter.com/0d5nli765L

— Western Mustangs (@WesternMustangs) August 27, 2022
Guelph was the only team last year to defeat the 2021 Vanier Cup champions in the regular season. But Marshall is sure they haven't seen the last of Gryphons yet.
"Guelph is a good team and I think they'll be one of the better teams in the Ontario University Athletics, but as we feel our way through, we have to focus on what we do and get better every week," said Marshall.
With how the first half went, it's possible Western will see Guelph again come playoffs, most likely in the Yates Cup.
The Mustangs will be travelling to Wilfrid Laurier University on Sept. 3 to take on the Golden Hawks for their first away game of the season.