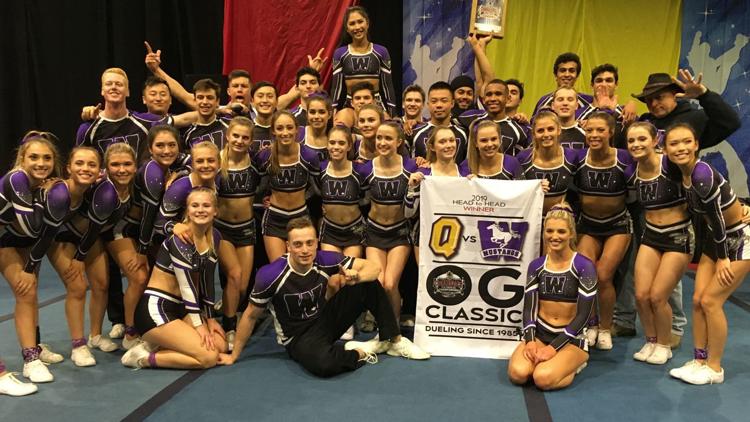 The Mustangs coed cheerleading team took home the national title for the 12th consecutive year at the Power Cheerleading Athletics National championships in Brampton.
The Mustangs all-girls team also had a successful weekend, falling short of first place by less than two points to the University of Guelph. 
The teams performed twice during the one-day event, adding together the two performances' scores for their final score. The coed team finished the day off with a score of 475.7 points, easily beating their rival Queen's University by a 37.5 point margin.
"The goal is always as a coach to run clean, we didn't in the first run, but in the second run we did," said head coach David-Lee Tracey.
This is the team's 34th title in 35 years. The only team to beat them in Canada has been Queen's University, creating a great rivalry with even better traditions.
Each year at nationals, the captains of the two teams bring mugs to exchange with each other at the end of the competition. The teams also have the tradition to sing each other's school songs to one another to finish off the day.
This year, the team is extremely young. The 16 rookies on the team count for nearly half the team, with some of them having little to no prior experience cheering.
"If there ever were a building year, this was it for us," said Tracey with a chuckle. "But I use this as an excuse to work hard."
Their season is just getting started. Unlike other sports, cheerleading begins their season with the nationals, then they compete in smaller competitions throughout the second semester.
Tracey credits the team's consistent dominance to good recruiting, a great support system and constant support from the athletics department and the university.
However, Tracey's contribution to the team's success cannot go unnoticed. Being his 40th year coaching the team, Tracey has played a critical role in all 34 national titles that Western holds.
"I guess it's kind of freakishly long for a coach," Tracey laughed. "I am just as excited about every season as every other season, it is just fun."
The coed team will be able to have a much-needed break for final exams and the holidays. However, they will kick back into full gear in the new year to get prepare for their next competition on Feb. 8th in Montreal.