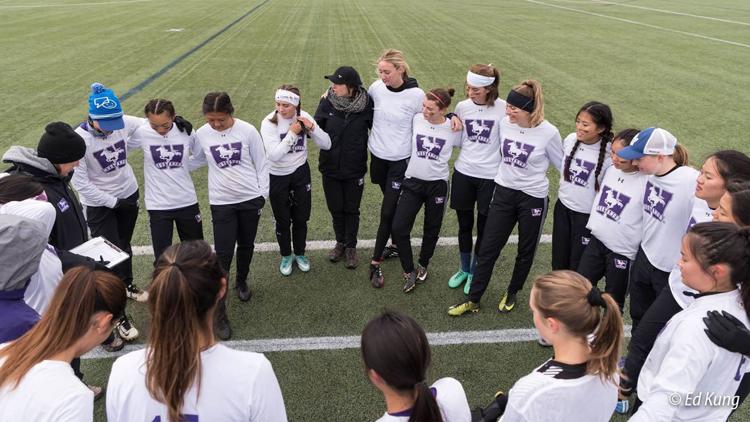 The Western Mustangs ultimate teams hosted a troop of university women's all-stars and McMaster University's open team on Saturday in the inaugural Exhibition Series. The two games, which were played on Alumni Field on a sunny afternoon, gave the Mustangs a chance to play on home soil for their first time, allowing their close friends and family to attend.
The planning for the event was put into motion last season, spearheaded by last year's women's captain Julia Peden, who is now an assistant coach with Western's open team.
"It's been something that people have talked about for a long time, but nothing ever really was put into action, so last year my goal was to make this a thing," said Peden. "We organized one, and we had two teams, [the University of] Waterloo and McMaster coming in, and it was going to be great, but then it snowed the day before. I cried I was so upset, so much time and effort went into it. Especially with it being my graduating year, I just really wanted to show my friends that this is what I do, so that was just too bad."
This year's event was put on through the efforts of the women's leadership team in coordination with their head coach Tawnya Gonzales, as well as Peden. They reached out to players from McMaster because their matches throughout the season had been highly competitive. However, only a few McMaster women's players were able to attend, so top players from York University and the University of Toronto were rounded up to make an all-star team, while the McMaster open team travelled from Hamilton to attend the event.
Gonzales, who has been with the Western ultimate program since it started in 2005 — first as a player and now as a coach — highlighted the importance of the event and noted that it was a great opportunity for the program to receive more attention from the public.
"I think it's important because we get exposure on campus, and maybe draw more players in by showing that we're an actual, legit sport. I think there are people coming out who are higher up, potentially, who will get to see us play, and realize what we actually do — that we're not just some weird sport that's on the bottom of the tier. And it's obviously great for the girls," said Gonzales. "I also think the more that we're known, the more that we're drawing in high school students who actually want to play as opposed to us trying to scrounge around for players."
Gonzales also pointed out the recognition and support they've received from Mustangs athletics in recent years, which has helped bolster the program. 
"In terms of the program growing just at Western, now we get Purple Ws, we get rings, we get to do Most Valuable Player Awards, so that's exciting to see. And that's something that the athletes really enjoy too."
Current women's captain Carla Rawson, in her fourth year of eligibility with the team, was also ecstatic at the chance to play at home in front of friends. Her time at Western has seen a lot of growth within the sport that has impacted the team, specifically with the rise of ultimate clubs in the summer that have given Mustangs a chance to play the sport outside of school.
"I came up through the Toronto junior [club] system, and was one of the first players to play all four years with the Elites program and develop through there," said Rawson. "It's been nice over the years to see players that I've coached with Elites and other Elites girls from the Toronto area come up and play with us, as well as seeing kids from Vancouver and across the country step in and bring unique styles to the team." 
Alumni Field was filled with a small crowd of loud supporters on Saturday afternoon, and though Western ended up dropping both games, the competition level was high, as the women's team lost 8–6 to the all-stars, while the open team lost 10–7.
While only an exhibition series, all athletes played with their pride on the line, giving spectators who were often close friends or even family members a chance to see them play a sport they truly loved. The event gave the Western ultimate program a great opportunity to showcase their sport to fans on home soil, and from the reception on and off the field, it's clear that the players, coaches and fans all hope that this will become a recurring event.