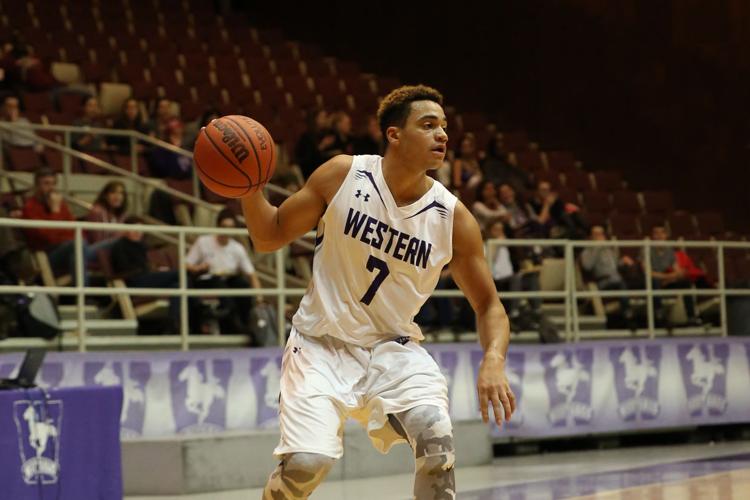 It's official.
With their 93–84 win over the Laurier Golden Hawks on Wednesday night, the Western Mustangs men's basketball team has clinched a bye to the second round of the Ontario University Athletics playoffs.
It's been an incredible season for a young, exciting and inexperienced team.
Well, they were inexperienced. It's not as easy to say anymore since they've propelled themselves into the ranks of the OUA's top five. These players and this coaching staff are to be commended for what this season has become. 
This team was an underwhelming 5–6 by the time the winter break rolled around. By all accounts, this season (like those in recent memory) would be mired in mediocrity, with the ceiling being a playoff appearance and a first round exit.
But then the Mustangs pulled off four straight wins. When a 90–76 loss to a now 7–13 McMaster Marauders team on Jan. 20 threatened to unravel this team's momentum, the Mustangs have since gone on a five game win streak.
They're 9–1 in 2018. This is a team that went 7–13 last season and missed the playoffs in a league where missing the playoffs is less common than making them. It's been a complete program turnaround, one built on key veteran leadership and an explosion of offensive efficiency.
Head coach Brad Campbell deserves credit for adapting to the strengths of his team. Campbell has always preferred a run-and-gun style of offence, marked by capitalizing on fast break opportunities. But at the start of the season, the team was struggling with turnovers and efficiency in running the offence.
So Campbell began to run out guard-dominated lineups, with Marko Kovac playing as a floor-spacing big man. Over their last nine wins the Mustangs have averaged 88 points per game. By comparison, the Carleton Ravens, who are the top ranked team in the nation, have averaged 86 points per game over their last nine.
The Mustangs have seemingly turned into an offensive juggernaut overnight. Second-year guard Omar Shiddo has averaged 19.6 points per game since the winter break, emerging as one of the top offensive players in Ontario. Four Mustangs are averaging double digit points. 
And the Mustangs have also remained a stout defensive unit, ranking sixth in the OUA in points allowed per game with just under 77 and first in the province in forced turnovers with 18.4 per game.
If there is a weakness to this team right now, it's rebounding. The Mustangs are the worst team in the OUA on the boards, but that's due mainly the Campbell's small-ball lineups. 
The Mustangs have three games left in the regular season. The marquee match will be a Feb. 14 home date with the Brock Badgers, who currently sit first in the OUA West Division with an 18–2 record. The Mustangs lost 83–58 to the Badgers in St. Catharines in October. 
But that was a different Mustangs team. That Mustangs team wasn't an offensive powerhouse. That Mustangs team wasn't led by a sophomore star who could turn it on at will.
And that Mustangs team wasn't one of the best teams in Ontario. This one is. This Mustangs team has a swagger that comes from winning. 
Not even the most ardent Mustangs fan would have predicted this team would flip the script. But the Mustangs haven't lived by predictions and expectations. A team that was looking for a moral victory last time they met the Badgers is looking for a real one this time around. And that, if nothing else, is a sign of what this team has become.