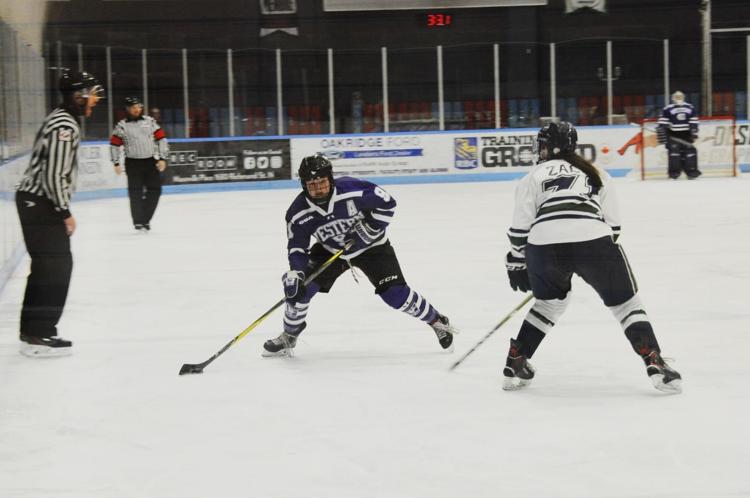 The Mustangs women's hockey team lost in a goalie battle on Saturday afternoon. After eleven rounds of a shootout, the Lakers won 1-0. The shootout goal was the only puck to cross the goal line the entire game.
Western University played well on Saturday afternoon, but Nippissing University goaltender Chantelle Sandquist was better. Luckily for the Mustangs, their net minder, Carmen Lasis, was just as good.
Sandquist turned aside 37 shots on Saturday – including 8 shots in overtime. Her Western counterpart successfully stopped 40 shots, including a 14 shot onslaught in the third. 
After the game, Candace Moxley agreed that, ultimately, no matter what the Mustangs did, the game simply came down to a goalie stand down.
According to Moxley, when playing against the fourth-placed team in Ontario University Athletics', that's not that bad of an outcome.
"You know what, I thought we battled. I mean, it was back and forth. Both teams had their chances – Carmen made two unbelievable saves to keep us in the game there, as well. But, we had every opportunity to win this game today and that's what you hope for when you go on to these games against some tough competition," explained Moxley.
The shootout was the capstone for career games from both goaltenders. No matter what the shooters tried, nobody could find a hole. After the game, Moxley noted that it was the longest post-game skill contest she had experienced in her OUA career.
Emblematic of how long both goaltenders shut down their competition, the shootout required the display of a little-used rule in the OUA – shooters taking multiple shots in the shootout.
After five shooters have taken a chance on net, they are allowed to take a second shot, provided they didn't score on their first.
Top Mustangs forwards such as Sydnee Baker and April Clark took multiple chances on net, to no avail. 
Only Nippissing's Ashley Taciuk was able to find the back of the net. 
After the game, despite dropping a tough loss when the team had played well enough for a win, Moxley was able to find humour in the incredibly long shootout.
"We practice shootouts – probably didn't look like it," Moxley said, with a laugh. "We practice shootouts, like, the day before every game. So, every last practice before every game we're going into shootouts and it's, if you score, you're out. So, it's good to … you get a picture of who your top shooters are in those situations." 
While the Mustangs didn't earn their eighth win, the game still helped them in the points race. The single pushed their total to 29, one ahead of Queen's University and three back of fifth-place Guelph University.
At this point of the season, every point is crucial as the team has just six games remaining.
The team will look to pick up a full three points next Friday against the first-place University of Toronto.