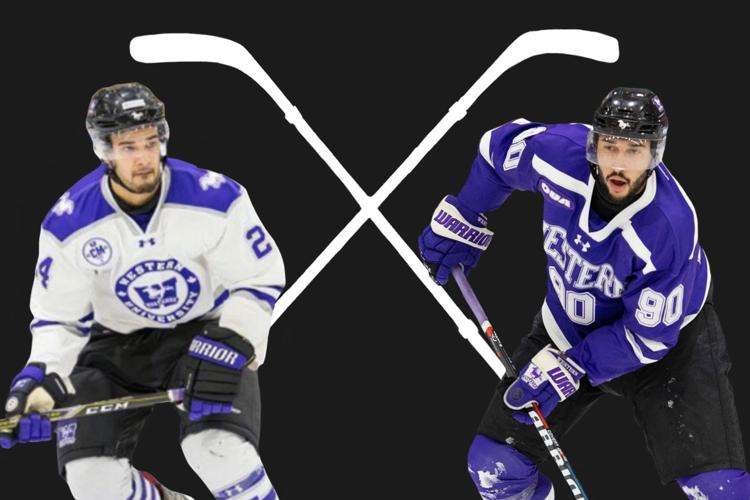 In just three months, the Western men's hockey team went from having their national playoffs cancelled by a global pandemic to being active participants in one of the largest social movements in recent history.
Two Western University student-athletes have been especially vocal of systemic racism in their own sport. In the wake of several killings of unarmed Black Americans, Western men's hockey players, Theo Lewis and Cordell James, expressed their emotions in response to racism in society and, particularly, in hockey.
"The last couple weeks, it's been sad and just kind of [an enduring, hurting feeling]," said James.
His teammate Lewis felt no different. Seeing fellow members of the Black community fall prey to police brutality time and time again has taken its toll on him.
"I took some time [off social media] and I really needed to collect my thoughts and reach out," said Lewis. "Talking to my friends and family to kind of gauge their thoughts, to make sure that everyone else was okay, that everyone else was feeling the same emotions that I was."
The Mustangs student-athletes are hopeful something productive will emerge from these tragedies. James and Lewis are raising awareness to help create a campus that encourages conversation and understanding about this topic.
Hockey's history of Black players and racism
Canada is not immune to racism and neither are its national sports.
Willie O'Ree became the first African American professional hockey player in 1958 when he played with the National Hockey League's Boston Bruins. That was only 62 years ago.
O'Ree would become a trailblazer for a number of Black players, like Jarome Iginla, Ray Emery and Kevin Weekes, who followed in his footsteps.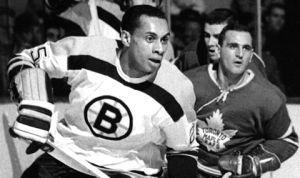 And while Lewis and James believe hockey has come a long way since O'Ree broke the colour barrier, they believe there's still much to be done to educate the non-Black community on racial injustices and microaggressions against Black people.
"I've seen a lot of Black hockey players in the [NHL] and I look up to them," said Lewis. "I was like, 'hey, this is someone that looks like me …. It showed that not only could [Jarome Iginla] be a successful player in the NHL, but [Iginla] could also be a leader of a team …. I hope that we can, by getting more Black players in the league … have everyone feel like they're going to be included and valued as a useful member of the team."
Willie O'Ree broke the NHL's colour barrier in 1958, and he hopes recent player statements condemning racial injustice can translate into meaningful action https://t.co/lg2qvivkBS

— Hockey Night in Canada (@hockeynight) June 4, 2020
However, in recent years, hockey has stalled conversation surrounding anti-Black racism.
During both of their careers, Lewis and James said they are yet to see a major turning point for racial equality. Lewis expressed that although hockey is becoming more accepting of Black players, microaggressions still occur in locker rooms, making the hockey community take a step backwards in race relations.
And although athletes often face anti-Black racism, James added that players have been afraid to speak up for fear of losing the respect of teammates and coaches — not to mention a roster spot and career prospects. 
"It all looks like it's okay on the surface but when you start talking to other Black players and you hear their experiences, there's a lot of things that get swept under the rug," said James.
Mustangs' first-hand experiences
Since attending Western, James and Lewis both said they have never been victims of racism inside the Mustangs locker room. But, their minor hockey league careers were not as safe from racial abuse.
One of these moments was during a pre-game nap Lewis took before hitting the ice for a road game, when he woke up with a banana on top of him. Current Buffalo Sabres forward Wayne Simmonds experienced a similar racist incident when he was playing for the Philadelphia Flyers in 2011 when a banana was thrown at him during a shootout against the Detroit Red Wings in London, Ontario.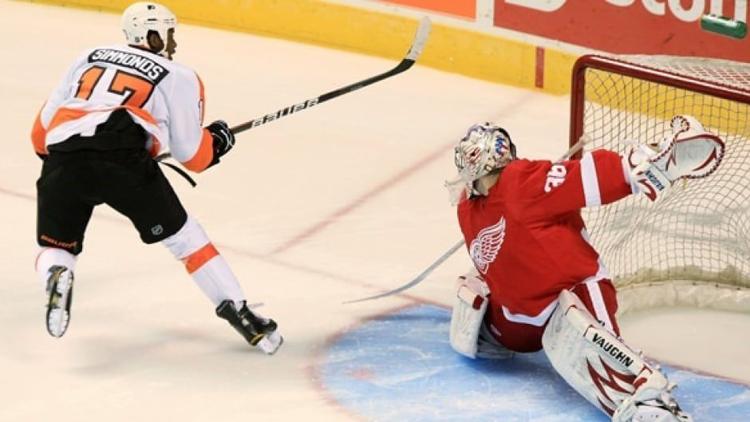 "That's something that you just have to swallow your pride because all of a sudden you're going to lose teammates," said Lewis. "If you let that affect your play, then you get traded, you get dropped down. You're in a competitive environment and people are going to do whatever they can to knock you down and that's what's really been a difficult experience for us."
James mentioned Black hockey players are often subject to racist remarks on the ice from the bench or during timeouts. However, referees aren't always able to hear the hurtful slurs and call penalty for unsportsmanlike conduct.
"It sucks that, sometimes, people don't believe what you're going through because they don't see it from your end," said James. "We need people on our side to help us out sometimes because, in the hockey setting, Black players are few and far between."
Lewis also remembered back when he and James played on a minor hockey league team made up predominately of Black hockey players and coaches. One of their goals was to prove that they "may not look like [white players], but we're just as good as [white players], if not better," Lewis explained.
However, the team did not play without community criticism.
Lewis recalls the white players who came to play for the team were told by white parents and coaches that they didn't belong there and that they shouldn't be playing with Black players.
Lewis recounted the racist names the team was called during games, such as "Black faces" and "Negro all-stars."
"For us, we just swallowed it," he said. "We brushed the comments under the rug and we said, 'you know what, [white players] can say all [they] want about us but the reality is, we are going to beat you in this game.' We proved everyone wrong and showed that we could play … that we'd come into this sport that [White players] claim to be theirs and we could dominate them."
Akim Aliu speaking out after years of racial abuse
Although the Mustangs said they have never seen racism in the Ontario University Athletics conference, the NHL is not without foul.
In November 2019, former Calgary Flames player Akim Aliu mentioned that his former Rockford IceHogs — a Chicago Blackhawks American Hockey League affiliate team — coach Bill Peters allegedly directed racial slurs at the Black player who had been listening to hip-hop music in the dressing room. Aliu was called into Peter's office after the incident but Peters refused to apologize and continued to discuss his dislike for Aliu's choice of music using racial slurs. 
Peters resigned within weeks of the report and, in April, was hired as the new head coach of the Kontinental Hockey League's Avtomobilist in Yekaterinburg, Russia.
Not very surprising the things we're hearing about Babcock. Apple doesn't fall far from the Tree, same sort of deal with his protege in YYC. Dropped the N bomb several times towards me in the dressing room in my rookie year because he didn't like my choice of music. First one to

— Akim Aliu (@Dreamer_Aliu78) November 26, 2019
admit I rebelled against him. Wouldn't you? And instead of remedying the situation, he wrote a letter to John McDonough and Stan Bowman to have me sent down to the ECHL. 20 year old on pace for 20 goals in his first pro year with zero PP/PK time was off to a great start in his

— Akim Aliu (@Dreamer_Aliu78) November 26, 2019
Pro career

— Akim Aliu (@Dreamer_Aliu78) November 26, 2019
Aliu later published an exposé, revealing the racial abuse he had experienced throughout his career.
During these difficult past few months, I've done lots of thinking and self reflection, and decided to tell the story of my own journey in my own words. I hope this will inspire the next generation of athletes when things return to normal. #TimeToDream https://t.co/UuVykTMpU9

— Akim Aliu (@Dreamer_Aliu78) May 19, 2020
As someone who hopes to pursue a professional career in hockey, James expressed he was hurt after hearing about Aliu's experience with racism in hockey.
"It sucks knowing that there's the possibility that it's going to be harder for myself or [Lewis] or other people of colour trying to make it [professionally] because that racism does exist."
In the article Aliu wrote, he mentioned a story of hazing events during his rookie year with the Spitfires when, on one occasion, he refused to go to the bathroom at the back of a bus and strip naked with three other rookies. Lewis remembered, because of Aliu's refusal to comply with the hazing event, Aliu was met with harsh criticism from teammates and fans in the following weeks. 
"Having to worry about not feeling safe in the dressing room because of a hazing event that happened the night or the week before, not being able to get along with your teammates because of the hatred that you feel from them because of your skin color, that's unacceptable. That can definitely have a huge impact on your playing ability and that's ultimately what decides your career," he added.
In light of recent events, Aliu, San Jose Sharks forward Evander Kane and a host of other Black NHL players recently formed the Hockey Diversity Alliance with a mission to "eradicate racism" in hockey.
We are proud to announce the formation of the Hockey Diversity Alliance 🏒 ✊🏾 pic.twitter.com/Z5g6BP2b4f

— Evander Kane (@evanderkane_9) June 8, 2020
What's next for equality in hockey?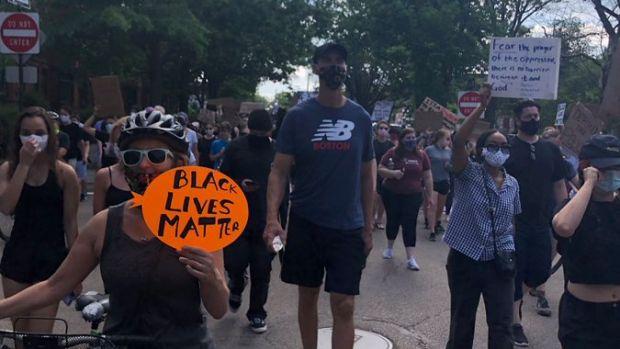 James and Lewis are happy to see their teammates support the Black Lives Matter movement but want more influential members from the hockey community, especially white players and coaches, to speak up and fight for their Black teammates.
NHL all-stars such as Zdeno Chara, Morgan Rielly and Tyler Seguin have been active on social media and in local protests fighting against police brutality and racial injustice in light of recent police killings of Black Americans.
Listening. Learning. Mourning George Floyd. Today was powerful and I feel a greater sense of community. #BLM pic.twitter.com/IRGBqHhXSp

— Tyler Seguin (@tseguinofficial) June 4, 2020
James and Lewis expressed that speaking up and continued support are the biggest steps athletes can take, followed by meaningful action to help their Black teammates make way for social change.
"Moving forward, it's just doing a little bit more like giving back to the community, going to these protests …. Speaking out is the first step but it's about going to the next level," said James. 
Lewis asks that players and coaches acknowledge that hockey has a systemic issue that needs to be addressed in locker rooms and in front offices. He said it's important for them to educate themselves on the racist, microaggressive comments that are "offside" but too often said.
Former NHL goalie @KevinWeekes says he loves hockey, but the sport has a lot of work to do to address racism at the local arena and all the way to the professional level.We speak to the Toronto native, & @NHLNetwork broadcaster about how sports can be more inclusive. pic.twitter.com/CzXg6afqMT

— Natasha Fatah (@NatashaFatah) June 6, 2020
Lewis believes that sticking up for teammates in situations where they are being targeted because of their skin colour is what can help build cohesiveness within an organization.
"If you do hear [racism] happen in a game or hear [racism] happen in the dressing room, you are the one to step in and intervene and protect those players," said Lewis. "These players shouldn't have to feel alone, as if they're the only one that's going to be stepping up."
Both varsity athletes are looking forward to making contributions of their own. They said they're working on rolling out an initiative in the coming weeks to help the Black community at Western and the city of London in any way they can.
"We want to help make that difference," said James. "I'm excited to see where this goes."