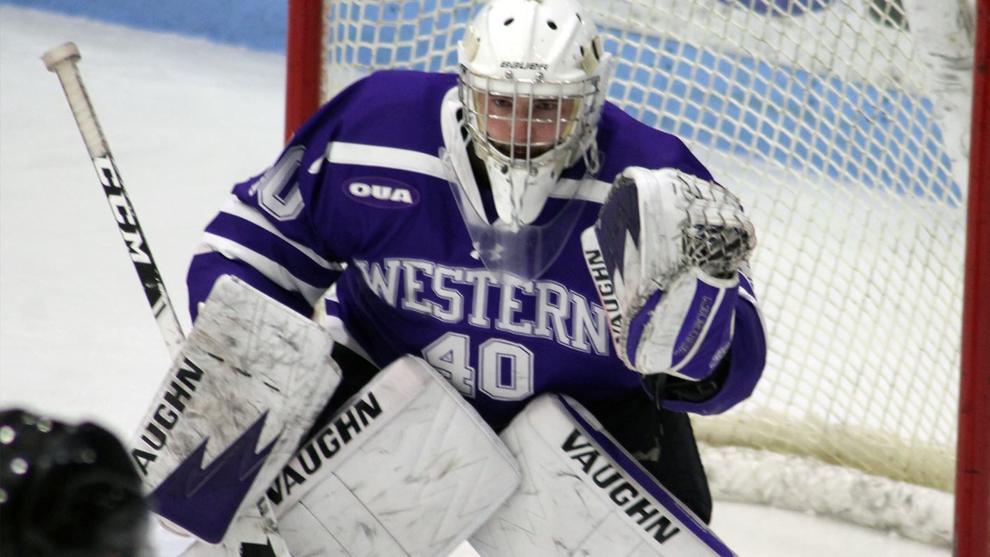 Western Mustangs dropped a valuable two points during a 5-1 loss to the Golden Hawks on Friday night at Thompson Arena.
Wilfred Laurier University jumped out to a quick two-goal lead in the first period against Western University.
Golden Hawks forward Anthony Conti banged in a rebound on the power play and Neil Aird scored on a shorthanded breakaway, giving Laurier a 2-0 lead after 20 minutes of play. 
Coming out of the first intermission, the Mustangs looked much better than they did at the start of the game, but they were unable to close the deficit.
Golden Hawks winger Jeremy Pullara drove a dagger into Western's comeback, scoring twice within five minutes midway through the second period. 
Mustang's forward Kolten Olynek was able to redirect a Rylan Bechtel point-shot into the net late in the second period, but it was the only goal that Western was able to score on Friday.
A large part of the Mustang's dry offensive performance was the result of a staunch defensive game plan by Laurier. The Golden Hawks employed a "trap" defence in which the team lines up in a passive, 1-2-2 formation through the neutral zone to prevent rush chances from the opposing squad. 
After the game, head coach Clarke Singer explained that his team practiced for the Golden Hawks' defensive "trap" strategy, but they still weren't able to beat it.
"We knew [the trap] was coming. We had prepared for it and we knew they had been doing it most of January and we had, actually, believe it or not, spent a little bit more time preparing for them this week than we would typically for a one-game on a weekend," said Singer. 
"We were ready for it and I think we did lots of good things against it, but not enough."
Fourth-year forward Mitchell Fitzmorris added that while the team tried to make mid-game adjustments, battling the defensive strategy can take a mental toll. 
"I think guys are just trying to keep each other accountable," Fitzmorris said, when asked about the team's increased effort in the second period. "You go back to trapping: it can frustrate you, it can wear you down, momentum wise and mentally — it's a frustrating game to play. But you gotta pick each other up on the bench and work hard every shift. That's all you can control."
Olynek, the lone Mustang's goal scorer, explained that the team could have found more offence by driving traffic towards the net.
"We all have to get to the net and take those cross-checks, take those high sticks," said Olynek. "I mean, in the playoffs, that's where we're going to score our goals: where it's not gonna be three on two rushes all over the ice. It's going to be down and dirty in the crease there and we're gonna have to bang some home."
Aside from the team's first period, Singer was not displeased with his team's effort on Friday. 
"I thought we had a bit of a slow start, which seems to be a little bit of a trend for us," said Singer. "But, you know, I thought pretty good effort overall. I think we had 34, 35 shots. I think we out chanced them by a few. Just having trouble scoring five-on-five, which has been a challenge in the second half for us."
The shot battle that Singer alluded to after the game was particularly stark in the third period. Western fired 22 pucks at Golden Hawks goaltender Matt Williams, and had a few close chances, but were unable to add a second goal.
Amid the onslaught in the third, Laurier iced the game with a long empty net goal from defence man Jacob Hetherington.
The win moved the Golden Hawks up to fifth in the Ontario University Athletics' Western Division, while back to back losses on Friday and Saturday guaranteed the Mustangs their spot as the eighth seed in the playoffs. 
Western will start a tough, best of three series on the road against the first-place University of Toronto Varsity Blues next week.