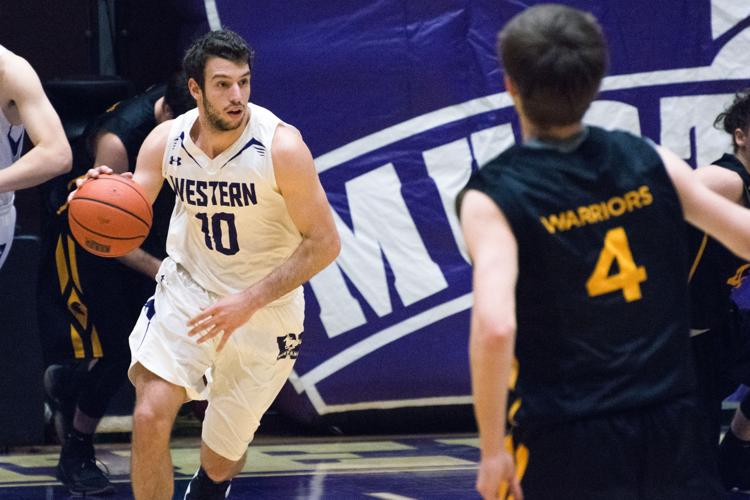 If there was one thing evident from the Western Mustangs 97–84 win over the Waterloo Warriors on Wednesday night it was that, for the first time in two seasons, the Mustangs have found two pivotal, program-defining, must-watch stars.
Two years ago, the Western Mustangs men's basketball program had a marquee player. His name was Greg Morrow — more commonly known among teammates as "Greggy Franchise." He was a national player of the year candidate with personal narratives abounding: a London native and former star at Banting Secondary School, destined to lead his hometown program to greatness.
Morrow graduated with all the personal accolades a U Sports basketball player could have, but he was without the team success that many thought he could bring the Mustangs program. And yet, since his departure, this program has been searching for a go-to guy.
This season, which has been marked by a surprising turnaround from cellar-dweller to playoff team, Mustangs head coach, Brad Campbell, and the team may have found two go-to guys.
Omar Shiddo, the second-year guard, and Marko Kovac, the third-year forward who transferred from the University of Windsor this season, have peaked just as their team has turned its season around.
Both players have averaged 21 points over their last seven games. The Mustangs are 6–1 over that same span. Their top collective performance of the season came on Wednesday night against the Warriors as both players dropped 29 points apiece in a win that required them to take control when the game was on the line.
"It feels good man. I'm knocking down open shots," says Kovac on his performance on Wednesday. "I've got to give credit to the other guys. They're penetrating very well, finding me open shots and making my life much easier."
Kovac and Shiddo have very different games, with Shiddo as a volume shooting guard and Kovac as a floor-spacing big man in Brad Campbell's small-ball dominated lineups.
And yet they compliment each other, and their teams, well. They both want the ball in their hands and neither are afraid to shoot their shot. And as has been evident during the Mustangs resurgence during the second half of the season, the team goes as their two best players go.
"[Kovac and Shiddo] have been pretty hot and have been shooting the ball well, and our guys have done a nice job of finding them," said Campbell on the performance of his two marquee players on Wednesday. "They've been a bit of a catalyst for us on offence, definitely being able to score the ball, and 29 from both of them is big."
Any hopes for a potential run through the Ontario University Athletics will depend on whether Kovac and Shiddo can keep up their pace as spring rolls around. But, perhaps more importantly, the future of the program rests on their shoulders.
Both players return next year to a Mustangs team that should bring back the core of its squad. The leadership of Alex Coote and the bench scoring provided by Jedson Tavernier will be missed. But with Kovac, Shiddo, Christopher Clegg, Alex Otzyv and Nikola Farkic set to come back next season, the Mustangs could be looking at one of the great seasons in program history.
But if that happens, and the Mustangs do become legitimate Wilson Cup contenders next season, it will be 2017–18 that sets this program up for future success. And it will be the evolution of Kovac and Shiddo into "face of the franchise" type ball players that will help the Mustangs rise to new heights.