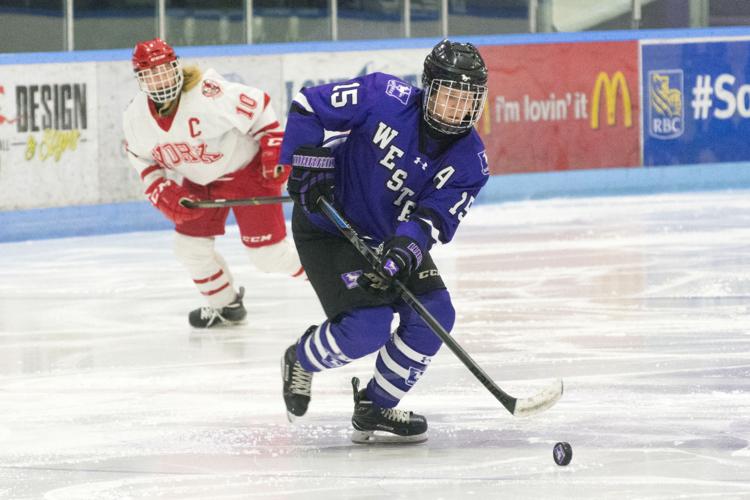 The Western University women's hockey team had an impressive weekend, defeating both York University and the University of Waterloo.
Western finished their season in second place in the Ontario University Athletics standings with a 14–3–5–2 record and 50 points. Queen's University leads the standings with 52 points.
Western began the weekend on Friday night with their annual senior day game, honouring the senior players who will be departing the team at the end of the season. Brianna Rice, Amanda Pereira, Emma Pearson, Lindsey O'Neill, Megan Taylor and Ali Beres were among those honoured before their final home game.
"Honestly, it means so much to us," said fifth-year captain, Emma Pearson. "Most of us have been playing hockey since we were four or five years old, and so to be able to be celebrated like this really means a lot."
The game was scoreless after three periods and overtime. In the shootout, Mustangs goaltender Carmen Lasis continued to shut down the opponent, stopping both shots against her. Mustangs forwards April Clark and Megan Taylor both scored and the Mustangs took the game, 1–0.
"I got one move that doesn't really work in practice because all the goalies know it," said Taylor. "But in games, I like to pull it out. It's just a fake shot and go around and try to freeze the goalie and, thankfully, it worked out today."
On Saturday night the Mustangs played their second game of the weekend and their final game of the regular season. Western was able to close out the regular season in strong fashion, killing off all seven penalties against them and defeating Waterloo 3–2.
All three Mustangs goals all came within the span of 44 seconds. Alyssa Chiarello capitalized on a Mustangs power play late in the second period and Clark and Claire Balas followed up with two quick goals. The Mustangs finished the year with an impressive 9–1–2–0 record on the road.
Looking ahead to the playoffs, Mustangs head coach Kelly Paton is pleased with the team's growth over the course of the season.
"Our system play as a whole has gotten a lot better. Girls understanding their roles in certain situations and our special teams have been factors in our success," said Paton. "If we can continue to be successful on the penalty kill and look to our power play to score some goals or give us some momentum, that will be key down the stretch."
The Mustangs will now wait until the OUA season ends on Feb. 18, to see who their opponent will be in the first round of the McCaw Cup playoffs.