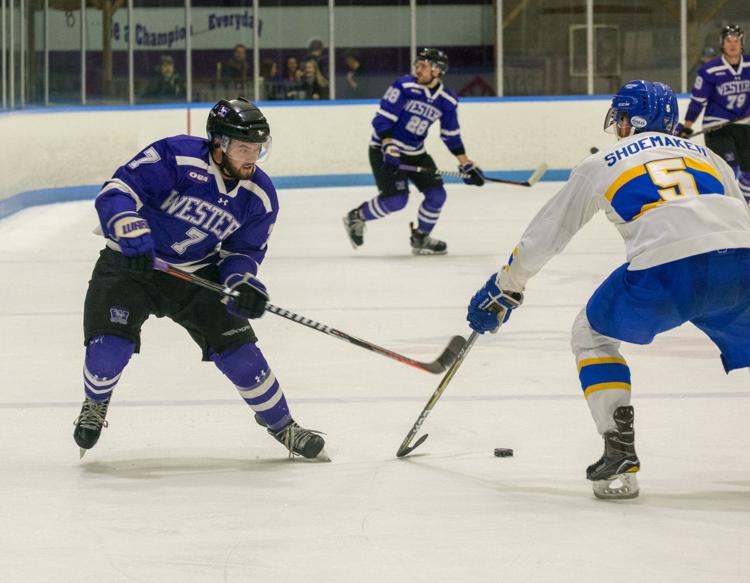 Over the past three seasons, the Western Mustangs men's hockey team has been increasing their use and knowledge of some key advanced statistics. The game tracking department has been aided greatly by the addition of Quinn Thompson two years ago.
Thompson, full-time student and volunteer for the Mustangs, has worked in similar roles for both the Vancouver Whitecaps and the Major League Soccer head office.
According to Mustangs head coach Clarke Singer, finding a volunteer as trustworthy as Thompson is rare in U Sports. 
"At the U Sport level, you only have so many good people that you trust to do work for you," said Singer. "A lot of the budget is used up for your immediate coaching staff, so you have to find great volunteers." 
Added to the difficulty of finding a good volunteer is the nature of the job. Specifically, Singer pointed to the need for consistency in the role.
"With how difficult it is to track analytics properly, if you don't have somebody outstanding that you trust and who's consistent about how they do it, there's no use doing it because the information would not be valid," stated Singer.
Tracking these stats, as Singer explained, is no small task. Western University currently trusts Thompson to monitor Corsi, zone starts and home-plate shots. As well, this year, the Mustangs have added game score — a statistic that assigns weights to a number of outcomes in order to quantify the productivity of a player on any given night.
While these numbers are available to the coaches during every intermission, Singer explained that the most formative work is done after the final whistle. During this time,  the coaches are able to digest the statistics along with the other aspects of the game in order to adjust for the upcoming week.
But while the stats are certainly a nice addition for the coaching staff, the information is still not a perfect measurement of game performance, according to Singer. 
"The one thing that's critical about advanced stats is that it's a piece of the puzzle. It's not the only thing because there are some weaknesses with it," explained Signer. "For example, you look at a player's numbers: well, those numbers may be impacted by who he's playing with, who he's playing against, how many minutes he gets, where he starts on the ice every time."
Similarly, while the players are given some access to the numbers, the coaching staff is careful not to pile on additional information to the already crowded mind of a student-athlete. 
"They have so many things going on: they have school, they have workouts, they have the video we do, we have travel, we have our practices. I mean, the one thing in our level is you really have to balance what information you give to the players," said Singer. "I would say 95 per cent of it is just in-house with the coaching staff, in terms of how we use it." 
Even though these types of statistics have become commonplace in the NHL, Western is likely still one of the few teams in U Sports to track them. Singer asserted that Thompson's work gives the Mustangs an edge over the competition.
"I'm not sure, I haven't talked about it a lot with a lot of my other colleagues," responded Singer when asked how many other teams rely on advanced stats. "Obviously I know there are a few teams doing it, and I know it's very, very important for what we do."
Moving forward, the Mustangs will look to tap into every possible advantage in order to push even farther next season. The 2018-19 team won 20 games and fell one goal short of making the U Sport national championship in Lethbridge, Alta.