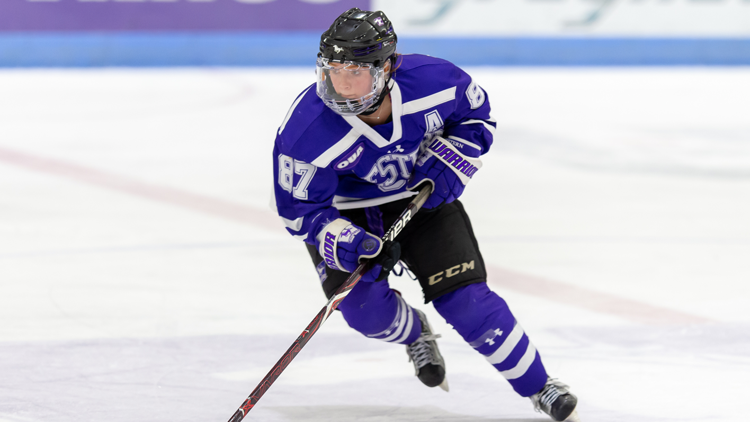 The Western Mustangs women's hockey team will start the Ontario University Athletics semifinals against the Toronto Varsity Blues on Wednesday at 7 p.m.
The last game between the Mustangs and Varsity Blues ended in controversy when a Sydnee Baker shootout goal was disallowed after the puck hit the post before crossing the goal-line. The call cost Western two points and ensured a 1–0–1 finish in their series against Toronto. 
The common adage in sports is that defence wins championships — the Mustangs will test that theory this weekend. 
Toronto has skill in every facet of their game, but their offence is the most dominant feature. In 24 games, the team ranked third in goals (65), second in assists (105) and first in power play percentage (24.5 per cent). Eight Blues players finished with double-digit point totals, including two defencemen.
Western will counter this potent offensive attack with a staunch defensive corps and excellent goaltending. During the regular season, the Mustangs ranked second in goals against average (1.61) and third in save percentage (.935).
Carmen Lasis, Western's starting goaltender, finished her campaign with a 1.49 goals against average and .941 save percentage.
Interestingly, one of Western's greatest strengths has also been one of Toronto's only weaknesses. The Varsity Blues goaltenders ranked 10th in Ontario University Athletics with a mediocre .907 save percentage.
However, it should be noted that the team total is slightly misleading. Toronto's starting goaltender, Erica Fryer, had a solid individual campaign — posting an 11–6 record and a .925 save percentage.  
While Western's power play was solid this season, it will need to be on fire to break through a Blues penalty kill that turned aside 93.2 per cent of opposing team's chances with an extra player this year.
The Mustangs power play was shut out in their series against Waterloo this past weekend. However, it was good practice for the team, as the Warriors finished just one spot ahead of the Blues in penalty kill percentage.
Couple this practice with the extra day of rest gained from sweeping the opening series and Western should have plenty of time to decode the Toronto penalty kill.
Staying out of the box will be the final key area the Mustangs can look out for. Over the regular season, Toronto had 98 power play opportunities — ranking them fourth in the OUA. In comparison, the Mustangs drew just 81 penalties, good for 11th in the league. 
If Western allows the potent Blues power play this many opportunities, while drawing far less penalties themselves, they will run the risk of allowing special teams to dictate the series. 
Truly, both teams head-to-head at even strength are quite evenly matched.
Opening puck drop will take place on tonight at 7 p.m. at Thompson Arena.