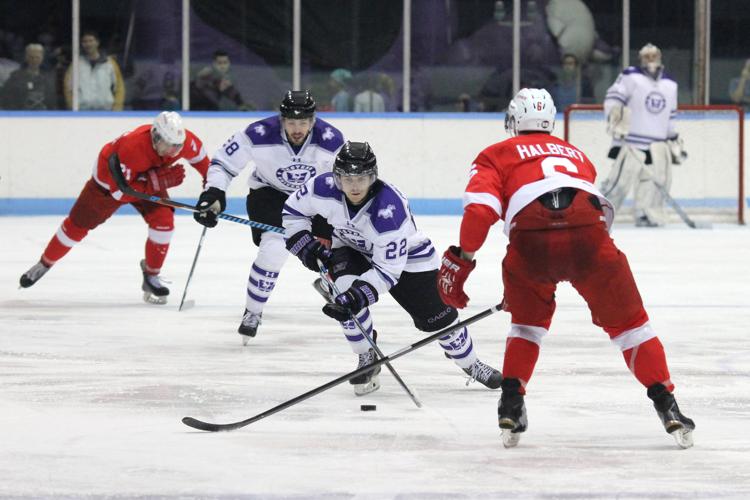 "Winning is contagious."
That was the sentiment from head coach Clarke Singer after the Western Mustangs men's hockey team (7–13–2) took a 3–1 victory over the Windsor Lancers (11–12–2) on Wednesday night. With the win, the Mustangs snapped a long five-game losing streak.
As the season winds down, each game has increasing value and Wednesday was no different. The Mustangs are under a lot of pressure to get back into the playoff conversation following their losing streak. 
Western currently sits ninth in the OUA West Division with 16 points, three back of the final playoff spot.
"It feels really good to win, it's been kind of a struggle lately" said Matt Marantz, centre and team captain. "It feels like every time we get a lead we were letting a few in and we'd let down, and tonight we kept pushing on them and it felt good to get two points."
The Mustangs opened the scoring in the second period while shorthanded, as Marantz was sprung on a breakaway following a gorgeous pass from Mike DiPaolo. It was Marantz's fourth goal of the season, but second in as many games.
"The effort and determination was outstanding tonight," said Singer. "We have had good periods in the second half of the season, but haven't had the consistency in effort and determination that we had tonight."
All four goals in the game came on breakaways, appropriate for a wide-open contest that featured fast-paced end-to-end opportunities, especially later in the game. After a tight opening period, the Mustangs slowly began to open up cracks in the Lancer defense and exploit them, which led to a plethora of odd-man rushes.
"We didn't really anticipate having a lot of rush opportunities against Windsor," said Singer. "They're a very disciplined team in how they play and how they forecheck. They usually have three or four guys back through the neutral zone and it's difficult to get chances off the rush but we took what they gave us and executed things in our own end to give us some speed."
Defensively, the Mustang penalty kill unit was strong, killing off all four Lancer power plays including a 6-on-4 late in the third period. The team limited high-quality scoring chances for Windsor, and goalie Greg Dodds' 37-save performance made it a winning recipe.
With the victory the Mustangs moved to just three points behind Waterloo for the eighth and final playoff spot in the West, with just six games to go.
Big weekend ahead
The Mustangs are faced with an even greater challenge this weekend as they close out their home schedule Friday and Saturday with dates against Ottawa (13–7–3) and McGill (17–4–2) respectively.
Ottawa comes to town sitting seventh in the East Division, but have been the hottest team in the country over the last month. The Gee-Gees are currently riding a six-game winning streak, winning 12 of their last 15 games dating back to November.
McGill then visits Thompson Arena the next day, entering as the top team in the OUA with 36 points, and ranked third in this week's U Sports rankings. The Redmen have won five of their six games in January, including 4–0 and 5–0 wins on back-to-back nights against Windsor.
"We have to win," said Singer. "We're in a situation now where there's six games left and we've got to get as many points as we possibly can to try and fight our way into a playoff spot."
These two games could make or break the Mustangs season as they make their last push to get into a playoff position.
The Mustangs will be hosting the Ottawa Gee-Gees on Friday at 7 p.m., and the McGill Redmen on Saturday at 7 p.m.