After defeating the McMaster Marauders in four sets on Jan. 30, it seemed almost certain the Western Mustangs women's volleyball team would be ranked in the Canadian Interuniversity Sport top 10 weekly poll. 
Lo and behold, the Mustangs found themselves left out of the ranking last week while the Marauders were sitting comfortably at number seven.
"We were all really upset about that and we thought we should've been [in the top 10]," explained fourth-year senior Corinne Mazurkiewicz. "It was a big goal of ours and we've kind of been working towards that and we check it every week ... but [we] knew that's just more reason for us to push harder to be included next week or the week after."
Fifth-year senior Serena Smith also expressed similar sentiments about being left out of the CIS top 10. On Sunday, though, these two seniors had their minds focused on something else, as the two were playing in their last regular season home game as Mustangs. 
"You always really want to show up on Senior Day and play for the seniors," explained Mustangs interim head coach Heather Brinkman. "I think the intention was there for sure, but it was just a bit difficult to maintain our focus against a team like that."
The team the Mustangs were facing was the Nipissing Lakers, who had only won two games all year to Western's 13. It would have been easy for the Mustangs to lose focus on Sunday's game and look ahead in the schedule to their two big road games against Toronto and Ryerson in two weeks.
Smith noted the team struggled in particular during the first and third set, games that were much closer than they should have been.
"[In the] first and third set we were definitely playing tentative," said Smith. "I guess we weren't as confident as we should've been and at the end of the day that can cost you a lot of points."
Mazurkiewicz said the slow start in the first set was due to a "breakdown in communication." Brinkman thought the unforced errors in the first set was what allowed the Lakers to score 26 points.
Regardless, a win is a win and the Mustangs were able to pick up two straight set victories this weekend against York and Nipissing to extend their winning streak to 10 games. Their record now sits at 14–2 and they are in prime position to make a run for the Ontario University Athletics title in the playoffs.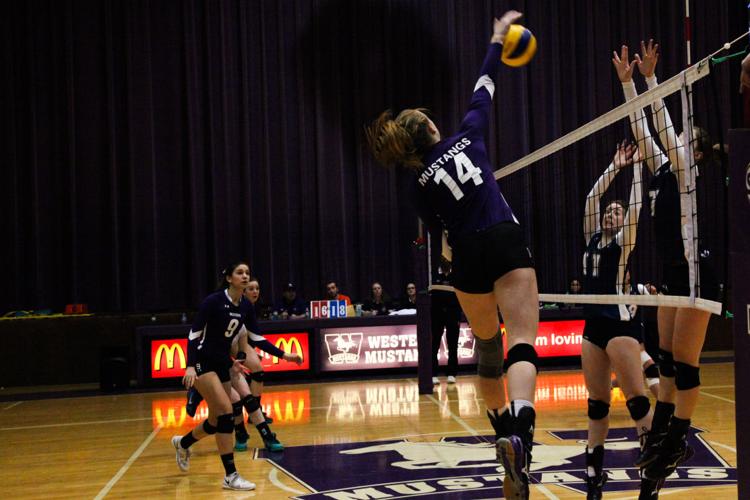 After a matchup next weekend against Brock, the Mustangs will get their next true tests on Feb. 19 and 20 when they take on the Toronto Varsity Blues and the Ryerson Rams in Toronto. Toronto is undefeated this season at 16–0 and Ryerson is second in the east division at 12–3.
These games are the last two games of the regular season and will be a good trial to see how the Mustangs stack up against some of the OUA's top talent.
With the way the Mustangs have been playing lately they certainly have a shot at winning the OUA title and earning a berth in the Canadian Interuniversity Sport tournament. A spot in the CIS tournament would be particularly special for Mazurkiewicz as she thinks this season will be the end of her volleyball career.  
"I personally don't see myself continuing to play," said Mazurkiewicz. "I've been plagued with injuries and I don't think my shoulder can take another year, unfortunately. I would love to stay but I think I have to move on."
Even if the Mustangs fall short of their goals and don't make the CIS tournament, the future looks bright for this young squad. Many of their top players, such as Kelsey Veltman, Kat Tsiofas and Aja Gyimah, will all be back next year and they will have the confidence to take this team to new heights.