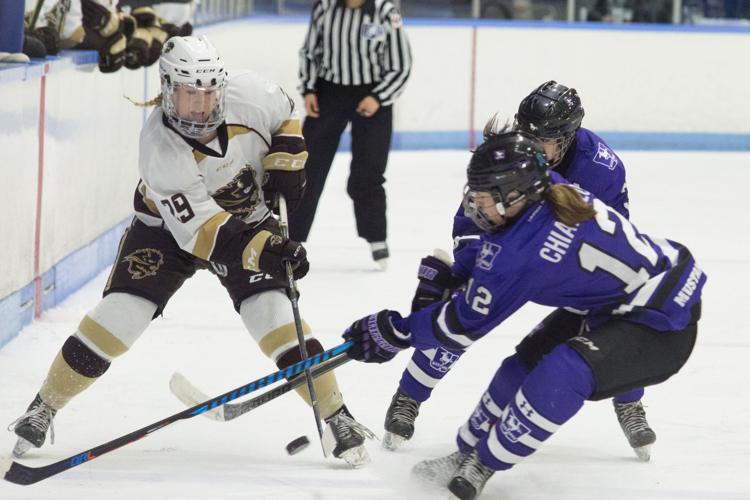 The Western Mustangs women's hockey team's miracle run is over, as they fell 1–0 on Sunday to the Manitoba Bisons in the U Sports national championship game. Their incredible win streak ended after 13 games, as they finished the 2017–18 season as McCaw Cup champions and national silver medalists. 
The final was a tightly-contested game between the Mustangs and the top-seeded team in the country. For one period and 18 minutes, neither team could solve the other's goaltending. It was Manitoba, though, who found the net first. 
The Bisons' Lauryn Keen roofed one past Western goalie Carmen Lasis late in the second to send her team into the intermission with a lead. Just five minutes into the third, Venla Hovi added another for Manitoba. 
Although Western did all they could to scrape back a goal late in the game, the Manitoba defence was rock-solid. Not even a Mustangs power-play with less than four minutes to go was enough to put the host team on the board. The dying minutes of the game were as frantic as ever, as Western's forwards did all in their power to score with their own net empty, but it was all for naught.
Special teams seemed to be the story of the day. The Bisons had four power-play opportunities to the Mustangs' three, and they capitalized on their fourth. The 1,626 fans on hand at Thompson Arena certainly made their displeasure at the refereeing known, as call after call seemed to go Manitoba's way. 
Mustangs goalie Carmen Lasis could not be blamed for the two goals she allowed, as she finished off her rookie season with another strong performance. Lasis made 23 saves to give Western a chance, had their offence been able to beat Lauren Taraschuk at the other end.
The Bisons, a tough, physical and defensive team, won their program's first-ever national championship, taking down the Mustangs who were looking for their second. 
Although they finish the season on a losing note, the Mustangs can still take solace in the fact that they, a team never ranked in the U Sports top five all season, won the Ontario University Athletics championship and were runners-up at nationals on home ice. 
For the Mustangs' graduating players — Emma Pearson, Megan Taylor, and Amanda Pereira — the loss will be hard to swallow, but nonetheless their success this season can't be discounted. As for the Bisons, their impressive run through the Canada West playoffs and U Sports tournament makes them deserving national champions.