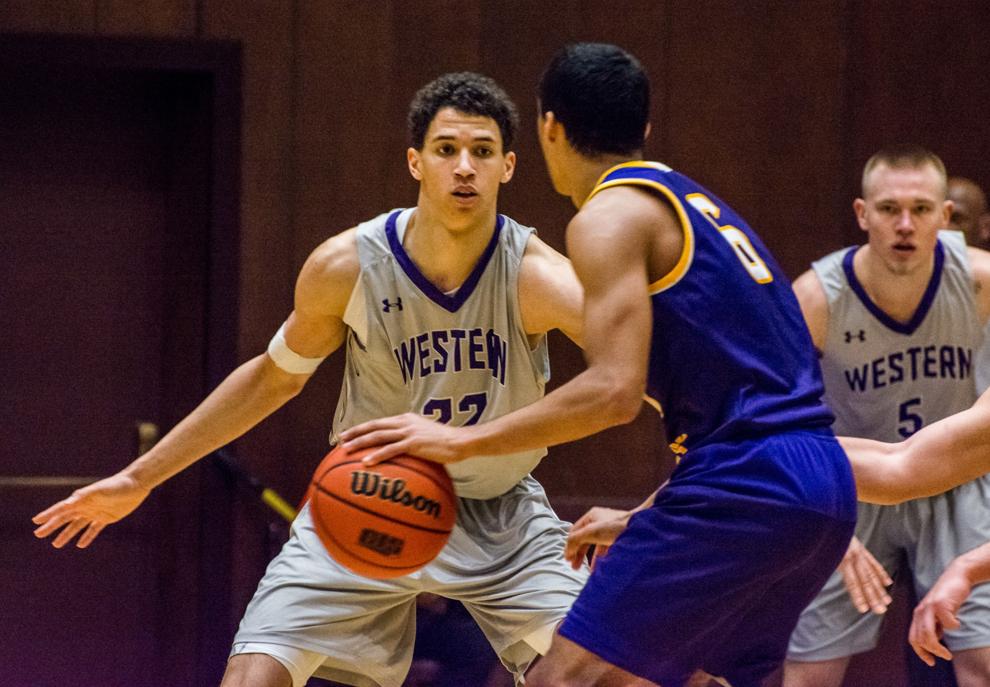 The Western Mustangs men's basketball team dropped two games in Thunder Bay this past weekend against an athletic Lakehead Thunderwolves team. Jared Kreiner of the Thunderwolves nailed a three-pointer with 14 seconds remaining in the fourth quarter to win game one 85–84. The Wolves were able to cement their lead late in the third quarter in game two and did not let up. Western was not able to stop a series of threes early in the fourth quarter and dropped game two of the weekend series 79–73. 
The Bell Let's Talk game against the Laurier Golden Hawks was a must-win for the purple and white — Laurier sits atop the Western conference with a record of 13–5 and the Mustangs biting at their heels with a 12–6 record going into Wednesday's matchup.
Golden Hawks sophomore sensation Ali Sow has averaged 26.8 points per game this season and has proven to be a force to be reckoned with in the fight for first place in the OUA West Division. Sow got off to a hot start against Western on Wednesday, draining two threes in the first quarter followed by a Western timeout. 
Freshman Aaron Tennant is still consistently the highlight reel guy with dunks like this:
AARON TENNANT JUMPING OUT THE GYM!!!! Converts the and one!Western 11 Laurier 17| 1Q 4:20 pic.twitter.com/mqgRE53Ur4

— Western Basketball (@Mustangs_Bball) January 31, 2019
Off the bench, he put up 14 points and four boards in only 15 minutes. 
When asked what he thought when teammate Omar Shiddo cut across the baseline Tennant replied, "I heard Omar in my head saying 'Grab it and go up strong.' "
Julian Walker registered a team-high 17 points and five rebounds — scoring 11 of those points in the first half, including this three.
Julian Walker from 3!!Western 29 Laurier 38| 2Q 5:45 pic.twitter.com/ZofRjnYUgU

— Western Basketball (@Mustangs_Bball) January 31, 2019
Walker is Mr. Consistent, with a field goal percentage of 61 per cent, good for third place in Ontario University Athletics. And yet he gives credit to his teammates for putting him in a position to succeed.
"My teammates do a great job of encouraging me to be more aggressive and play in attack mode," said Walker. "And as the season is progressing, I'm starting to feel more and more comfortable with my role on this team." 
With one minute and 43 seconds left on the clock in the first half and a nine point lead for the Golden Hawks, Mustangs head coach Brad Campbell called a timeout in hopes of refocusing his team. After the whistle, first-year Julian Laurinavicius was found by point man Nik Farkic for a wide open three. 
Julius hits a 3!!Western 38 Laurier 44| 2Q 1:15 pic.twitter.com/I5nphHIfpo

— Western Basketball (@Mustangs_Bball) January 31, 2019
The Mustangs finished off the half strong — cutting the deficit to just five, 47-42. 
However, in the second half, Ali Sow went to work with 22 of the Golden Hawks' 45 points. He converted seven of 10 from the charity stripe and recorded three steals and five rebounds. 
Walker and company were no match for Sow's tireless scoring ability, "As far as stopping Ali [Sow] we need to communicate and execute our defensive strategy perfectly because any mistakes that are made he is going to exploit." 
This loss puts the Mustangs back two games of the top seeded Golden Hawks. The team is on the road to Hamilton to take on the McMaster Marauders.