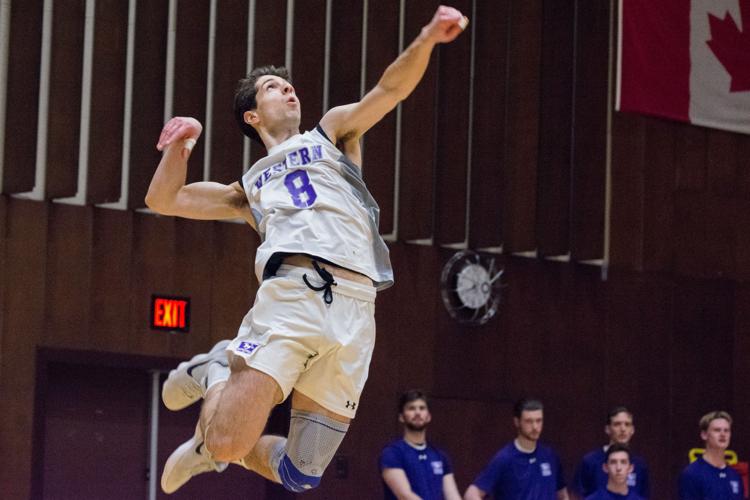 The Western Mustangs men's volleyball team fell short of a trip to the Ontario University Athletics semifinal with a well-fought 3–1 loss to the Queen's Gaels on Saturday.
While the Mustangs were the favourite to win the match and move on to the OUA semifinals, having finished with four more regular season wins than their rivals from Kingston, it was the Gaels who came out firing from the start.
The first set was tightly contested, as Queen's edged out a 25–22 win to go up 1–0 in the match. While the Mustangs got off to a slow start in the second set, they eventually took a 16–14 lead heading into the technical timeout. Behind stellar play from Bryn Ramsay and Chris Newcombe, the Mustangs tied up the match with a 25–22 win in the second set.
It was in the third set that the Gaels began proving their superiority, comfortably taking the third set 25–17 to go up 2–1.
The Mustangs put up a valiant final effort in the fourth set, as outside hitter Zeid Hamadeh earned four kills and three digs, trying desperately to keep his team alive. However, the Gaels would prove too much to handle as they took the fourth set 26–24 to win the match and secure their spot in the OUA final four.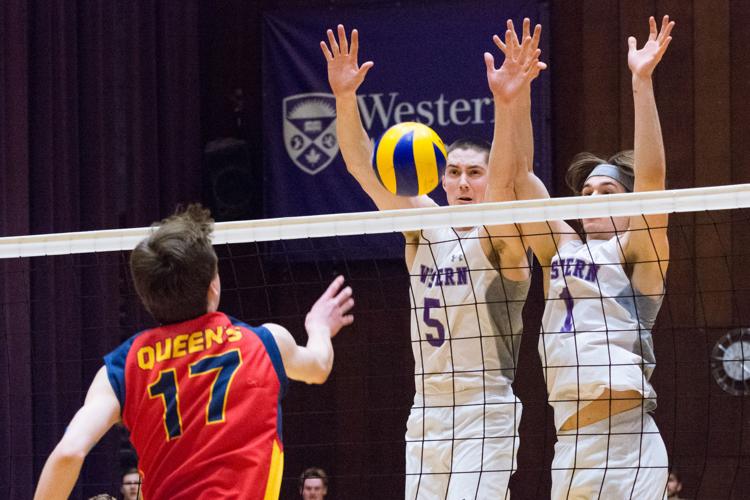 "We expected exactly that type of contest," Mustangs head coach, Jim Sage, said. "We knew they were going to be good, they're a good, quality team. We didn't have our best match of the year when we needed it, it wasn't any one individual, just at times we struggled and they took advantage of it."
While the Mustangs had a standout regular season, winning the second most games in the OUA, their earlier-than-expected playoff exit is tough to swallow. When the two teams met in their only regular season showdown in late November, the Mustangs came out on top in an exciting 3–2 win.
But with their season and championship aspirations on the line the Mustangs couldn't come out with the win. The loss is especially disappointing considering the Mustangs had a veteran-laden team that looked capable of winning the program's first Forsyth Cup since 1979. 
"We had a great regular season, finishing second in the OUA was a great accomplishment," said team captain and setter, Matt Hooker. "But all that matters at the end of the day is the outcome in playoffs. It's disappointing but we have a great group of guys."
With the win, the Gaels, who last won an OUA championship in 2012, will move on to face the Ryerson Rams in the semifinals. The other semifinal game will see the Windsor Lancers face off with the McMaster Marauders.