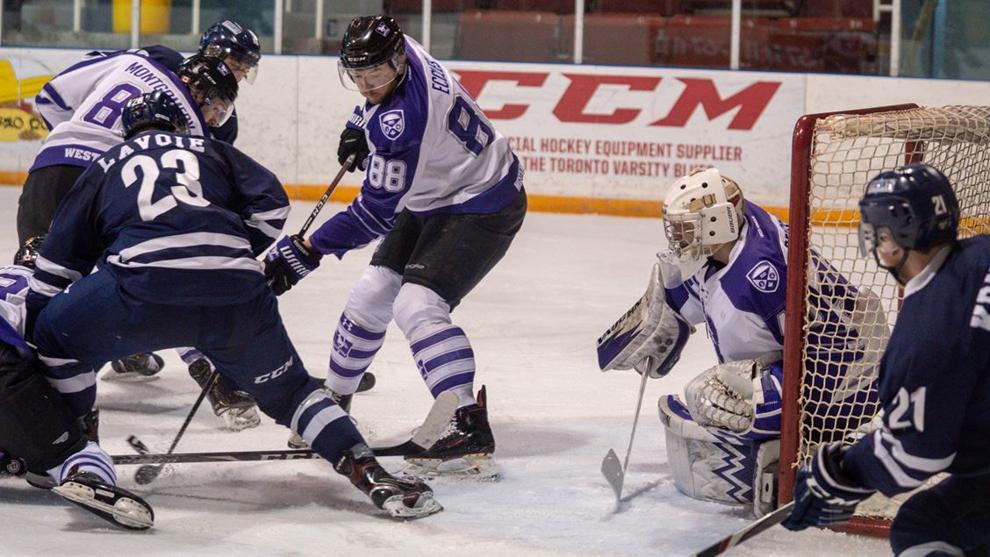 The Mustangs men's hockey team split a pair of games over the weekend. Western defeated the Varsity Blues 3–2 Friday night before dropping a 4–3 overtime loss to the Golden Hawks on Saturday night at Thompson Arena.
After losing 5–0 to the University of Toronto Varsity Blues in October, Western University reclaimed victory on the back of first-year defenseman Eric Van Impe. Van Impe scored the game-winning goal with a low-glove wrister in the early stages of the second period. The goal allowed the Mustangs to enter the third period with a two-goal lead. 
Varsity Blues fourth-year forward Ross Krieger responded six and a half minutes into the third, cutting into Western's lead. 
The Mustangs bent but never broke, as third-year goaltender Dylan Myskiw made 10 saves in the final 20 minutes, marking his best performance of the season. 
Saturday night's matchup was also a close score, ending in an overtime win by the Wilfrid Laurier University Golden Hawks.  
Although Van Impe scored a top corner wrister to give the Mustangs a 3–2 lead in the third period, the Mustangs ran into penalty trouble. Golden Hawks first-year defenseman Colin Campbell tied the game with under four minutes remaining in the third period.
Shortly after, Campbell doubled down with an overtime winner past Myskiw. The extra frame goal marked the Mustangs third overtime loss this season and snapped the team's two-game winning streak.
The Mustangs prepare for a doubleheader on the road against the Windsor University Lancers on Friday and Saturday at 7:30 p.m..