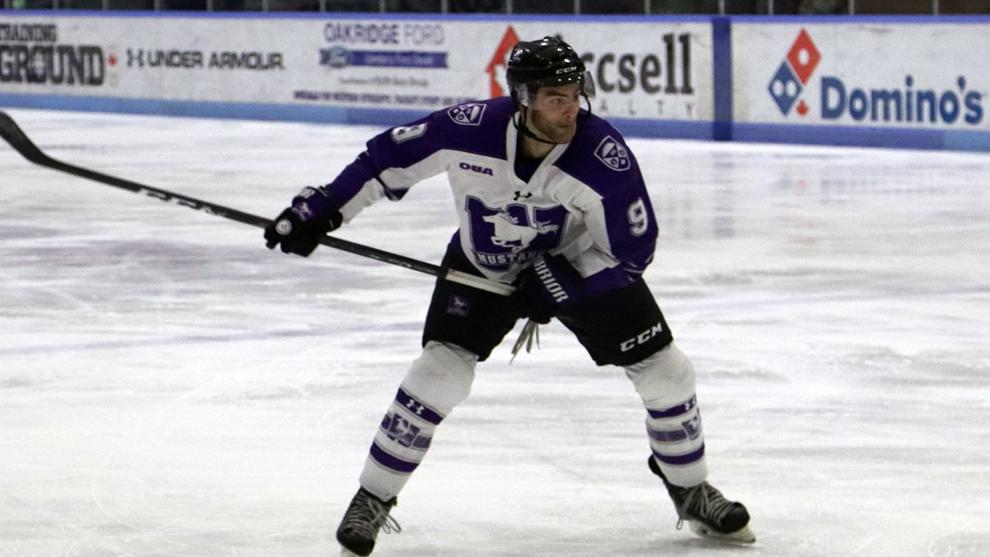 The Western men's hockey team rolled through the Waterloo Warriors 5–2 Friday night. Right-winger Ethan Szypula notched a hat trick in the victory.
"The first two games we've been solid and we've been getting opportunities," said Szypula. "We just haven't found the back of the net like we've wanted to. We knew the floodgates were going to open soon and today was that day."
The third-year's first goal came off the power play in the second period. Later in the same period, Szypula potted his second of the night. He finished with an empty netter to complete the hat trick.
"[Szypula] is a great hockey player. He's creative and I love playing with him," said fellow Western forward Franco Sproviero.
The win was a complete team effort — nine different Mustangs recorded points in Waterloo, Ont.. Western's goaltender, David Ovsjannikov, was on fire, stopping 27 out of 29 shots he faced finishing with a .931 save percentage.
"We've been talking all week about scoring five on five and the power play. You need five on five productivity in this league because sometimes you only get one or two power plays a night," said assistant coach Patrick Ouellet.
The Mustangs went to the penalty kill four times but the team remained air-tight and didn't allow a goal on any of them.
"We let in two [goals in regular time] but defensively, I thought we were pretty solid," said Szypula. "We had a good game plan that we put in place and I think that's why we came away with two points."
The purple and white look to continue their winning ways against the University of Guelph Gryphons tonight at 7:30 p.m..