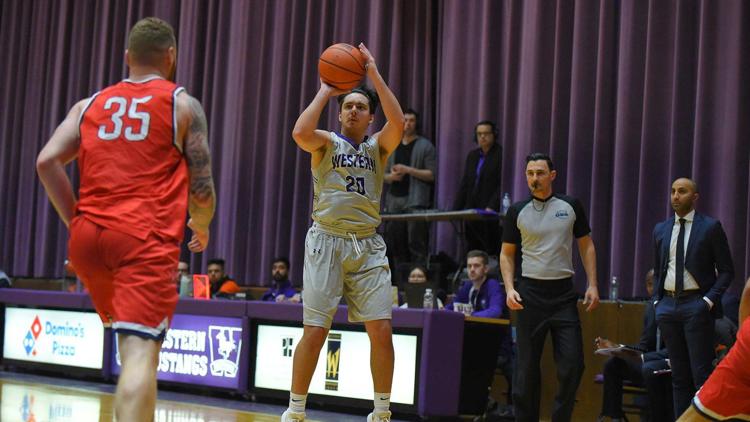 In what could become a defining moment for a program quickly ascending the ranks of Ontario University Athletics, the Western Mustangs men's basketball team toppled the Brock Badgers 80–75 on Saturday afternoon at Alumni Hall.
Omar Shiddo, who has proven himself to be the face of the program throughout the season, scored a game-high 24 points as the Mustangs took control of the OUA West Division.
Now at 8–4 on the season and atop the competitive OUA West standings, a Mustangs program that lost to Brock by a combined score of 66 points in two meetings last season have now claimed their first victory over their division rivals since 2016. It was a pivotal win for a program at a crossroads of sorts: no longer in rebuilding mode, eyeing a spot among Ontario's elite programs.

"This was obviously a big win for us in a lot of ways," said Mustangs head coach Brad Campbell. "It puts us in first place in our division, which is nice, but now we have to be even sharper because every team is going to have us circled on their calendar. We're the target, but we're ready to play with those expectations."
The fact that this team is a target, in a loaded division with the post-holiday playoff push in full swing, is a testament to the work Campbell has done in building this program after an 8–13 season in 2016–17.

"We're happy to be on top of our division right now, and we know we deserve to be there," said Shiddo on the team's performance. "Now we just have to keep executing and make sure we stay there."
Shiddo was aided in the effort by Julian Walker, who dropped 21 points and seven rebounds, while Aryan Sharma added 10 points of his own. Aaron Tennant also continued to be a versatile defensive presence for the Mustangs.

"We have a lot of guys that have played big-time roles for us this season, like Aaron and Julian, and all their work paid dividends for us tonight," said Shiddo. "We have a deep team and a ton of talent, so it was good to see that come together today even though we didn't always play our most disciplined basketball. We needed guys to step up, and they did."
The Mustangs came out firing against one of the best defences in the OUA thanks to early buckets from Walker, while the Mustangs put up a solid defensive effort, particularly in the paint, as Western came out of the opening quarter with a 19–12 lead.
The Badgers took advantage of fast break opportunities in the second quarter, however, cutting into the Mustangs lead with an up-tempo attack that left the Mustangs reeling defensively. Yet Western was able to survive the onslaught and slow Brock down, holding the Badgers to 38 per cent from the field in the first half, while heading into the second half with a 39–26 lead. 

The third quarter saw the Badgers once again speed up their offensive tempo and cut into the Mustangs lead, eventually finding themselves just six points down midway through the third quarter. However, a pair of threes from Shiddo would keep the Mustangs in the lead as they headed into the final frame with a 58–54 lead.
Again, Brock tried to pull off a comeback in the fourth quarter, but the Mustangs fought their push off. While the Badgers took a lead after a run late in the game, Marko Kovac scored to tie the contest at 75 points apiece with under a minute remaining. The Mustangs then shut the Badgers down on defence before Shiddo hit his potentially season-defining shot with 18 seconds left to all but guarantee the Mustangs eventual win.

"It's a shot I work on all the time in practice, and my teammates trust me, so I knew it was the right shot to take in that moment," said Shiddo. "They were pressuring me all game long, but that's what's going to happen against great teams, and this is the type of team we'll be playing against later this year. It was a great learning experience for us to go up against that kind of pressure."
While Shiddo's shot eventually won the game, Campbell credits the Mustangs ability to survive onslaught after onslaught from a team that has had their number over the last two seasons on an all-around team effort. The win was a testament to the team's depth and tenacity.

"Obviously, Omar's play stands out, but all those rebounds, steals and shots led to this win, including Marko's final layup," said Campbell. "We were getting outplayed in that second half, and this certainly wasn't our best basketball, but all those little victories added up for us in the end. Omar's shot was huge, and that's what he does, but we just had to keep believing that we were the better team leading up to that play."
The Mustangs are now heading into a favourable stretch of the season that will see them play six straight games against teams with losing records, four of which will be at home. A strong showing over a winnable stretch could position the Mustangs well as they battle the Laurier Golden Hawks, who are also 8–4, for the division crown.

The Mustangs will be back in action this Friday as they host the 4–8 Algoma Thunderbirds at Alumni Hall.