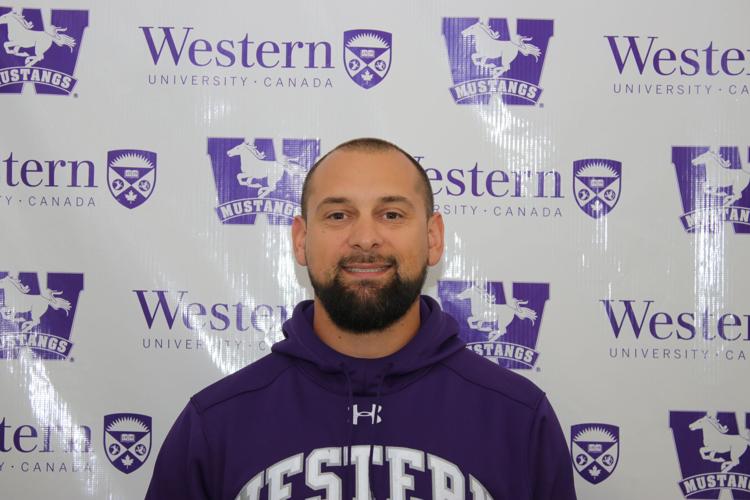 Something is different with Mustangs football. After seeing head coach Greg Marshall on the sidelines during Western's matchup with the Guelph Gryphons on Monday night, that becomes crystal clear.
Marshall was animated and involved, acting every bit like the fearless leader of one of Canada's preeminent college football programs. But he also seemed to enjoy the game more than usual, which was surprising, considering his team's sloppy first half. 
When asked about his seemingly chipper disposition throughout the nail-biting contest, Marshall attributed it to one off-season change.
"I realized during the course of the game that I was as mellow as I've ever been, and I realize what was causing all of my stress all these years, and it was calling the plays on offence," admitted Marshall, with a grin. "But the referees probably appreciated that I didn't yell at them once."
The man now calling the plays on offence is Steve Snyder, a London native who spent the last three years building an elite offence at St. Francis Xavier University in Antigonish, N.S. Hired by the Mustangs in December 2016, Snyder is leading an offence that has already compiled 1,192 total yards and 107 points throughout two games.
Snyder sits in the press box, watching the game from above like a chess player standing over a board and moving his pieces. Nearly all major coaching changes result in considerable overhaul of systems. But Snyder has made a concerted effort to retool, not rebuild.
"The offence didn't need an overhaul, so I came in and learned and was already familiar with a lot of it, so it was a pretty smooth transition," said Snyder." And then what we did was we just tweaked a little bit of the terminology here and there, and then we just started to add some stuff that we thought would complement what was already being done."
The Mustangs offence has finished first in the OUA in total yards and points for the past four seasons. Any brilliant offensive mind would agree with his assessment: it certainly did not need a major overhaul. 
The decision to hire a coach to exclusively coordinate the offensive attack has allowed Marshall to focus more on defence and special teams during the week. A well-rounded, strategically efficient football team has a better chance of lifting the Yates Cup in November.
"I spend 80 per cent of my time during the week with the defence and special teams, so that really helps me just get a feel," said Marshall. "And I can see what the offence is trying to do because I've been doing offence all these years."
Snyder hopes to increase offensive efficiency and production. After a dominating 66–3 win over the York Lions in their season opener, and a 41–34 win over Guelph on Monday night, the team clearly hasn't skipped a beat since the changeover from Marshall to Snyder.
And, more importantly, everyone in the program is happy. 
"Instead of me coming in and having fifty-plus players learn something new, why not just have one guy come in and learn something new," said Snyder about his decision to adapt to the existing offensive system. "So the players are enjoying it and the coaches are enjoying it, and I think it's helping us right now."