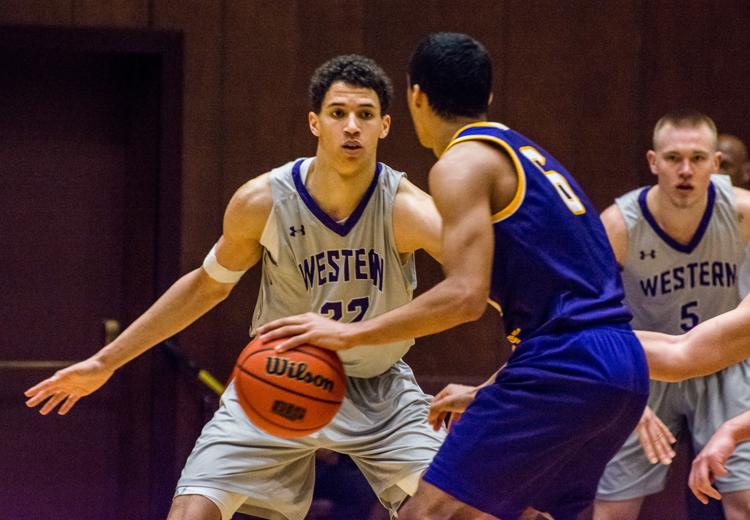 The Mustangs men's basketball team managed to put up triple digits on Sunday night, defeating the Windsor Lancers 102–63, for their 15th win of the season.
This was the first game of the Mustangs' season where they were able to score 100-plus points in 40 minutes of play, as the team improved to 15-7.
Western came out strong in the first quarter, gaining an early 13–2 lead within the opening three minutes of play. Strong offensive momentum appeared to be ignited by fourth-year forward Marko Kovac and third-year guard Omar Shiddo, as both veterans exchanged baskets all night.
The Mustangs went on to take the quarter with a commanding 27–11 lead.
The second quarter saw more Mustang dominance, as the men increased their lead to 24 early in the frame, taking a 39-15 lead three minutes into the quarter. Shiddo's 50 per cent shooting from three-point range and Kovac's five field goals made in the first half allowed the Mustangs to go into halftime with a 56–28 lead.
The entire second half of the game was highlighted by a 100 per cent shooting performance from three-point range by Shiddo, who finished the game with 29 points to his name.
"You put in the work, and when it goes into the game it's nice to feel it going your way," said Shiddo in reference to his individual performance in the victory. "You'll have some games where it doesn't go your way, but you just stick with it."
The Mustangs continued to keep pace, finishing the fourth quarter giving up just 13 points to the visiting Lancers, winning the game by 39 points.
"Next man up," is the mentality that the team went into this matchup with, according to Shiddo. "It's very important for team morale too," added Shiddo. "Everybody's involved, 18 to 19 guys deep, you know, so everybody's included."
Mustangs head coach Brad Campbell commented on his team's performance after the game, explaining how well the men performed Sunday night despite coming back from a win just 24 hours prior.
"Having been here a while and in the history of our program, I don't think we've ever played a game away, and then the next day had to play at home or, you know, in that scenario, so that was very unique to us," said Campbell. "I thought our guys responded very well to that; we had some good energy we were able to play … all 12 guys."
Now tied for second place in the OUA West Division, the Mustangs men will visit the Waterloo Warriors on Wednesday. The matchup will be the squad's second-last game of the season, with conference supremacy on the line.