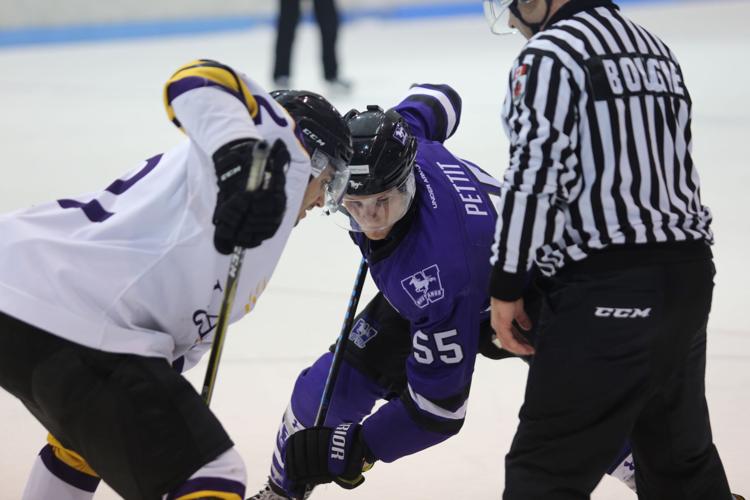 The Western Mustangs men's hockey special teams shot down the high-flying Laurier Golden Hawks, with a 3–2 win on Saturday night at Thompson Arena. A pair of third period power play goals secured the win for Western University.
Western came out running in the first period and had a number of great stretch passes through the neutral zone to create opportunities. However, the Mustangs struggled to break out of their own end at times.
Laurier's Brandon Robinson opened the scoring just after the halfway mark of the first, firing one high blocker side past Mustangs rookie goaltender Zach Springer.
Springer was peppered by a persistent Laurier offence and did well to keep the score at 1–0 after twenty minutes of play.
Early in the second period, Robinson found himself open in the slot and scored his second of the game, making it 2–0 for the Hawks.
Less than three minutes later, Scott Teskey found the back of the net for the Mustangs, cutting Laurier's lead in half.
Teskey's goal, his first of the year, shifted the momentum of the game. The Mustangs offence started to click and before the end of the second, they scored once more. However, an early whistle meant the goal was disallowed, leaving Laurier up 2–1 at the end of the second.
Halfway through the third, Rob Polesello capitalized on a Mustangs power play, their fifth of the night, tying the game at two.
After that, penalties proved to be costly for Laurier as they gave Western yet another power play. This time, veteran centre Cody Brown capitalized on the man advantage, firing home the game-winner halfway through the third period.
"If the Mustangs are going to win hockey games, that line needs to produce a lot for us," said Mustangs assistant coach Patrick Ouellet.
Western's special teams struggled early in the season, but three successful penalty kills and two power play goals on the night could suggest things are starting to come together.
"It showed last night and tonight for sure," said Brown. "We faced two good teams, and scoring two power play goals tonight in the third period, being down 2–1, really helped us get the victory."
The pair of wins over the weekend improves the Mustangs record to 3–4–0. For goaltender Zach Springer — a new addition to the roster — it's his second win in as many games.
"Everything's happened really quickly over the past couple of days," said Springer. "With [coach] Clarke coming to watch me on Wednesday with my team, to getting right into things Friday and here today. It's just awesome to get back-to-back wins and give the boys a bit of confidence heading into next weekend."
Next the Mustangs play the Toronto Varsity Blues on Nov. 8. Puck drop is scheduled for 7 p.m. at Thompson Arena.