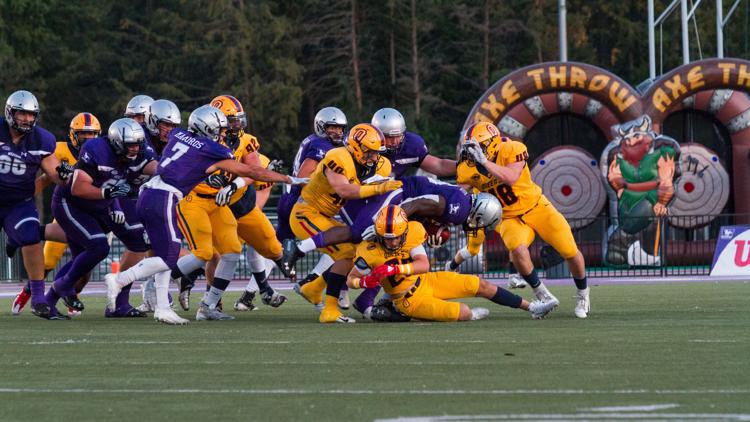 The Mustangs wrapped up Queen's 40-23 in their 2019 home opener Monday night, but missed their high watermark of a championship team.
A few stars jumped out in the game at Western University's TD Stadium, where they battled the Golden Gael's.
Chris Merchant led a strong passing game, posting 355 passing yards and three touchdowns — one on the ground and two through the air.
Three receivers finished with over 75 yards receiving for the purple and white. Brett Ellerman racked up 101 yards, Malik Besseghieur finished with 96 and a touchdown and Cole Majoros added a perfect 75 yards.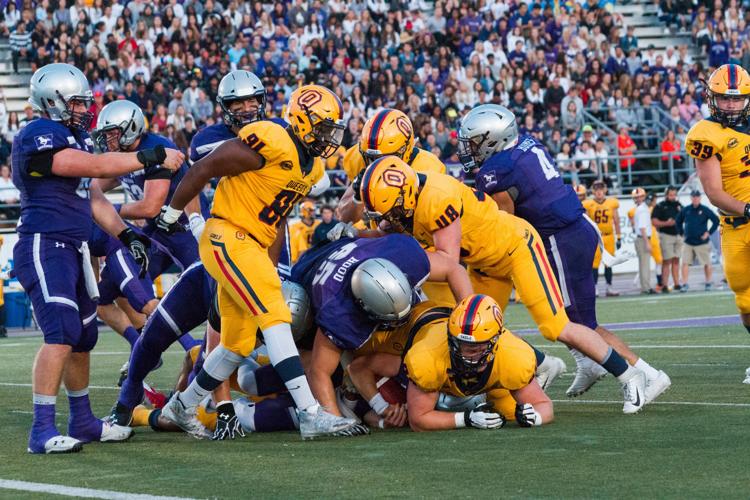 Despite coming away victorious, the team was still unsatisfied with their play.
"I didn't see a lot of good stuff, period," said head coach Greg Marshall after the game. "I think we gotta play better than that, offensively, defensively and special teams. We need to beat the best teams in our conference. Queen's did a great job, give them credit. They're a good football team — they're gonna get better each week — but there's better teams in our conference."
It may seem pessimistic to lament the play of a team that put up 34 points in one half, but Marshall said he's holding his team to a championship standard. 
"In '17 and '18 we had some good football teams and we won a lot of football games," he said.
"We're not gonna win because we won last year. We won [then] because our guys played better than they played today."
Of course, football is still a team game, and the head coach did not shy away from placing blame on himself, as well. The veteran coach pointed to a simplified playbook in the future as a way he could better prepare his team.
The Mustangs' reliance on their passing game last night is a departure from their past two seasons. Merchant predicted the running game will improve as the young offensive line continues to develop.
"We're always gonna ground and pound the ball if we can," said Merchant. "But we have a young O-line, especially interior. We're trying to get them to figure things out and every week they're getting better. Today, they were even better than they were last week."
The fifth-year signal caller also pointed to the Golden Gael's veteran defensive front posing a stiff challenge for the young Mustangs line — each of the starting four Queen's defensive lineman are in their third or fourth year of eligibility.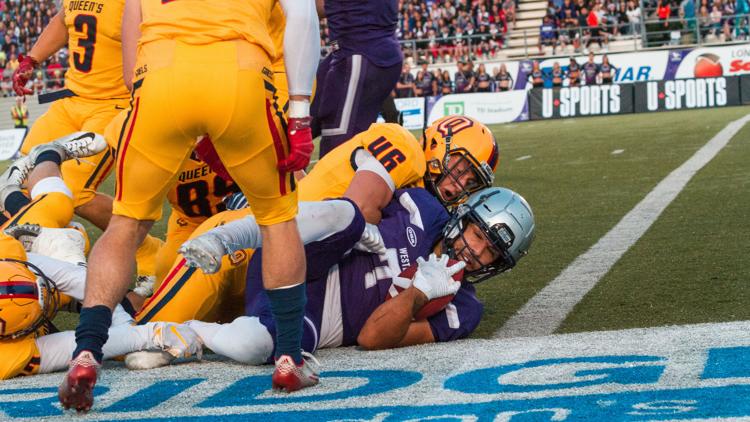 The Mustangs defensive line had some big moments of their own on Monday night, too. In total, the group posted three sacks — one each from Nicolas Theriault, Temi Owoaje and Deionte Knight. 
The impressive defensive play didn't finish with the line, though, as Bleska Kambamba returned an interception for a touchdown late in the first quarter.
After the game, the fourth-year defensive back explained that creating turnovers will be a key way for the defence to improve moving forward. 
"Those are the types of plays that we definitely want to have more of," explained Kambamba. "Turn the ball over: that's one thing we want to start harping on because it's gonna help with momentum and get our offence going, as well."
If the Mustangs are going to create more turnovers in their next game against McMaster, they'll need to do it with some new faces in the fold.
Both Robert Panabaker, a second-year defensive back, and Andrew Thurston, a fifth-year D-lineman, went down with injuries against Queen's. Marshall said both injuries are currently listed as day-to-day, but Thurston's may be more serious. Neither injury is expected to be season-ending.
Amid the lessons learned from a lukewarm performance, the Mustangs came away with bragging rights after defeating their old offensive coordinator Steve Snyder, now in his first year as head coach of the Golden Gael's. 
But when given the opportunity to gloat, Marshall heaped praise on his former assistant.
"I think he's proud of the way his guys hung in there and didn't fold," explained Marshall. "It was 34-6 at halftime — they could have just packed it in and said, 'you know, the game is over.' But, give them credit, they came out and battled in the third and fourth quarter."
"At the end of the day, it's a game. I care a lot about Steve and I'm really proud of the job that he's doing at Queen's."
The Mustangs are set to play the McMaster Marauders on the road on short rest this Saturday at 1 p.m.