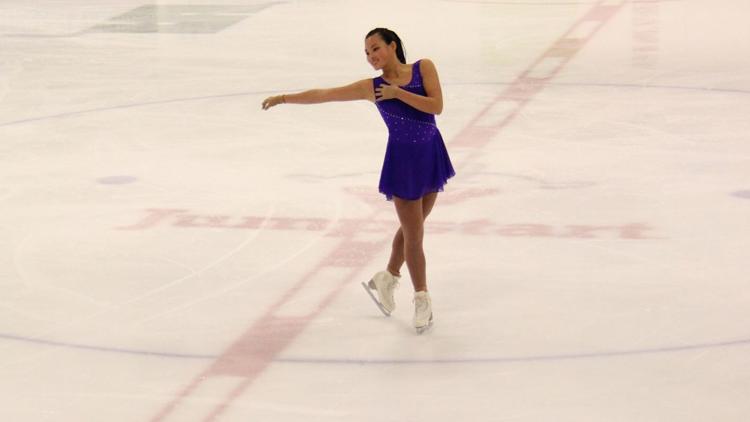 The Mustangs' figure skating team finished second at their last meet before their upcoming championships.  
On Tuesday and Wednesday, the Mustangs hosted 11 schools at the Winter Invitational in Alymer. Though it wasn't technically home ice, attendance of friends and family of the team made it feel like it. 
With this notion, the Mustangs came out with a strong desire to put on a show during the Ontario University Athletics' championships. 
First-year athlete Julia LaBella skated to fourth place in the novice short program event. It was her first time skating solo in a varsity competition and, despite her rookie status, she skated with an air of experience. 
Later in the day, LaBella joined prized veterans Clara Campbell, Natalie Li and Madison Shaw in the pairs four event where they took second. 
In the Star 8/9 Similar Dance category, Jasmine Wu and Anna Cappuccitti came second with a very solid skate. 
In another second place finish, Denis Margalik, who serves as both an athlete and assistant free skate coach, took silver in the men's free skate. Though his program maintained high showmanship value, Margalik was underwhelmed with his own performance because of technical faults. Nevertheless, he remains ambitious heading into the OUA championships.
"I am very hungry to put some more work in and defend my OUA title once again," said Margalik. 
In his last year of school, Margalik's routine is set to a medley of songs from Moulin Rouge. This serves as a tribute to Tessa Virtue and Scott Moir's famed Moulin Rouge routine, but more directly as an homage to his coach Alma Moir.  
Though unique in its symbolic value, Margalik's routine was one of many that had been revamped this season.  
One number that had particularly high energy was the dance four's routine skated by Margalik, Alyssa Evans, Kaitlin Lees and Tara Brandie. Set to Queen's "Don't Stop Me Now," the quartet of skaters captured second place despite having just finished the choreography for the program. 
The Mustangs had two first place finishes at the Winter Invitational, both of which involved show-stopping performances. 
In the Star 10 Similar Dance category, Alexa Shelley and Jazz Smyl Joly danced their way into first place with a blues song that was just as smooth as it was lyrical. Smyl Joly also competed in the Gold Solo Dance category and won silver.
Though nothing seemed quite as dazzling as Campbell's performance in the women's gold free skate. It was her first time competing in this specific event, but it didn't stop her from showing up every other competitor there. 
"A perfect clean free program to knock it out of the park and into first place, bringing the crowd into tears," said Margalik. "It was an amazing sight to see." 
Closing out the competition was the highly team-oriented synchro event, which has long been an event where the Mustangs excelled. 
Even after adopting an entirely new program this year, the group was able to maintain their standing with a second place finish in synchro.  
"Our teamwork has been essential to our success this season and we will continue to work hard to improve for OUA's next month," said team captains Li and Daniela Fisico. 
In the past few seasons, the OUA Figure Skating Championships can best be characterized as a showdown between the Western Mustangs and the University of Toronto Blues. This year looks to be no different.
In the coming weeks, the Mustangs are looking to fine-tune their routines to assure they are the ones who walk away with the OUA title come championships.