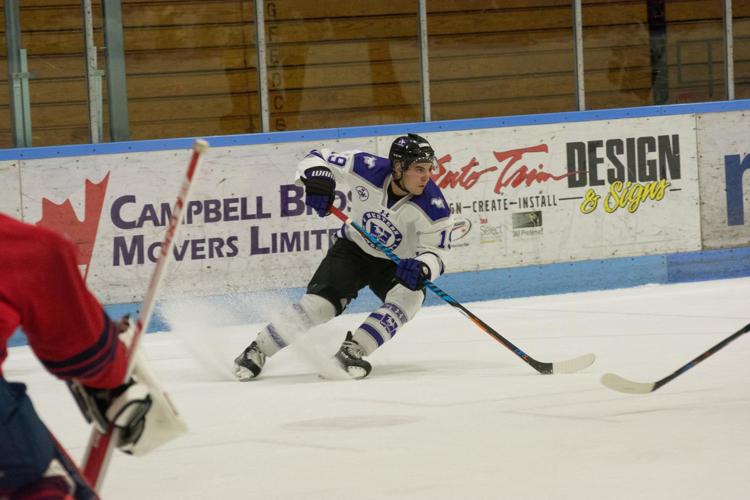 The Western Mustangs men's hockey team swept a back-to-back against the University of Toronto Varsity Blues and Brock Badgers this weekend.
The Mustangs defeated the Blues 6–4 at Varsity Arena in Toronto on Friday night before returning home on Saturday, taking down the Badgers 5–1 at Thompson Arena.
The offensive onslaught on Friday night was led by a pair of goals from Kenny Huether, along with goals from Anthony Stefano, Ray Huether, Theo Lewis and Matt Watson.
While Friday night was an off night for the usually excellent Luke Peressini, the third-year goaltender bounced back on Saturday night, allowing only one goal on 28 shots.
One of the most impressive aspects of Saturday night's win was that it came against Brock's Logan Thompson, one of the best goalies in U Sports. Coming into Saturday, Thompson had posted a .925 save percentage, placing him in a tie for second in the nation with Peressini.
The offensive domination against such an stellar goaltender was unexpected for Western, according to centreman Kolten Olynek.
"I know Thompson from out west, and he's always been a pretty good goalie," explained Olynek. "Maybe he had an off night tonight or we were just picking the right spots."
Olynek was a major contributor to the offensive effort on Saturday night, adding a goal and three points. As well, his new linemate, Stefano, picked up four points and a goal of his own. With four points in the game, Stefano matched his point total for the season entering Saturday night's contest.
After the game, Stefano gave credit to head coach Clarke Singer for putting together his line with Olynek and Ray Huether. As a whole, the line contributed 13 points in two games this weekend.
"Clarke put us together earlier in the week," said Stefano. "We had some chemistry, the way [Huether] can shoot the puck and the way [Olynek] is pretty tenacious around there. So it just kind of worked in my favour being out there with those guys."
The other three goals on Saturday were scored by Ethan Szypula, Rylan Bechtel and Watson.
Brock appeared to be upset that they were losing by such a wide margin, and tempers seemed to flare in the third period.
Brock's Adam Lloyd finished a hard, high hit on Mustangs defenceman Adam Sinclair midway through the third. The Badgers forward was assessed a penalty for a hit to the head, resulting in a two-minute Mustangs power play and a 10-minute misconduct.
A few minutes later, Western's Kyle Langdon was called for a head shot, as well. Immediately following the hit, both teams brawled against the boards. Looking to manage the game and avoid further problems, the referees handed out four roughing calls and three 10-minute misconducts. 
Mustangs Langdon and Mitchell Fitzmorris and Brock's Tyler MacArthur were given 10-minute misconducts, earning them an early exit from the game.
The Mustangs four hard-earned points this weekend vaulted them into sixth in the OUA West division, just one point back of the Windsor Lancers.
The Mustangs are back in action next Saturday in St. Catharines against the Brock Badgers at the Seymour-Hannah Sports and Entertainment Centre.