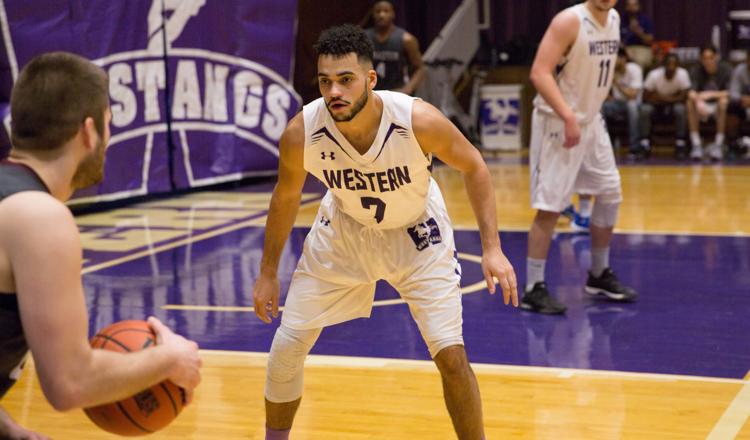 The men's basketball team has hit their groove, carving out a four-game winning streak after defeating the Windsor Lancers 94–86 on Saturday. Western University now holds a 13–7 record and are comfortably holding onto the second position in the Ontario University Athletics West division. 
In a game that went down to the wire, Marko Kovac and Omar Shiddo exhibited the same strong performances we have become accustomed to recently, with 17 and 18 points respectively.
Despite their strong performances, it was the depth of the Mustangs bench that elevated their game. Off the bench, Henry Tan scored a team-leading 19 points. The Mustangs bench combined for a whopping 41 bench points, paving the way for victory.
"We have great depth to our team, where multiple players are making solid contributions on any given night," said Tan. "Bringing that energy and aggressiveness off the bench is important."
Windsor was unable to deal with the scoring options the Mustangs threw at them, with five players scoring in double figures.
"We had great contributions from a lot of guys," said head coach Brad Campbell. "When we are able to get five players in double figures, we will be tough to beat."
The Mustangs were no slouches on the defensive side of the ball, as they were able to force Windsor into 17 turnovers, allowing them to tack on 14 points with those extra possessions. The Mustangs showed why they are the top team in the OUA in steals per game, finishing the game with 11 steals total.  
While the three-point shot was not falling for the Mustangs, they were able to find other avenues to score. They scored 46 points in the paint and shot the ball efficiently, converting 50.7 per cent of their field goals, despite their struggles from beyond the arc. 
Henry Tan showcased a mastery for drawing fouls, contributing 10 of the Mustangs' 18 points from the free throw line.
"Our game plan was to attack the paint and we were fortunate to be on the receiving end of the referee's whistles," said Tan. "Good things happen when we are probing for layups."
Western will next face the Laurier Golden Hawks on Feb. 7. While the Mustangs have all but cemented their position as second in the West, there is still work to be done and improvements to be made as the playoffs close in.