The Mustangs handled the Ravens in a 40-23 victory at home this weekend. While avoiding a trap game against a weaker team, the team also regained last year's impressive offensive form.
Western University has started to find space on the ground in the last two weeks. In Saturday's game against Carleton University, running back Trey Humes notched his second consecutive 100-yard game. 
The fourth-year half-back racked up 153 yards on just 18 attempts — for a ridiculous 8.5 yard average. As well, Jonathan Femi-Cole, his backfield partner, added 48 yards and a score on 12 attempts.
According to Humes, the resurgence of the run game — and what he called "Western football" – is largely the result of increased familiarity across the offence and, specifically, the offensive line.
"That's just a testament to us just grinding and getting in and going," explained Humes. "It's tough when you have a short training camp, no scrimmage. You're just going into that first game. Last week you saw us getting it going early. And once we get the run game going everything just goes smoothly." 
As the veteran alluded to, when the ground game is working well, the entire offence seems to open up.
On top of rushing for over 200 yards as a team, the Mustangs were also impressive in the passing game. Quarterback Chris Merchant finished with 276 passing yards and four scores (one on the ground and three through the air), all while throwing for a clinically precise 80.7 per cent. 
Justin Nixon, Malik Besseghieur and Brett Ellerman all had characteristically good games. Nixon posted 74 receiving yards, Besseghieur hauled in a 67-yard touchdown pass and Ellerman pulled down five catches for 53 yards and a touchdown.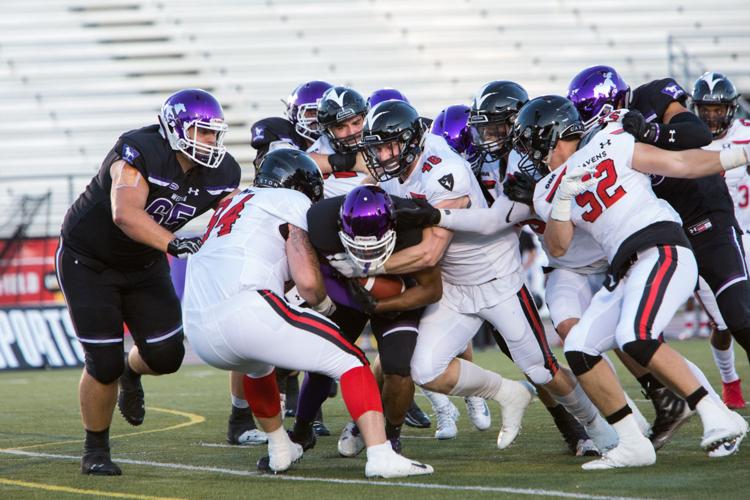 However, within the great work of the receiving corps as a whole, one man's work stood out above the rest.
Fullback Antonio Valvano, who is usually subjected to the grunt work of blocking in the running game, had a break-out game through the air— picking up 55 yards and a major on six catches.
The sixth-year veteran was predictably understated after the game. 
"It was nice," said Valvano. "It's been something I've been trying to work at over the off-season. You know, just game plan throughout the week and it all came together tonight. It was nice."
Trey Humes, a regular beneficiary of the fullback's hard work, was much more appreciative of Valvano's big game. 
"That's my guy," Humes stated, emphatically. "I love when he gets the ball. The guys who block, they don't always get all the credit. No plays happen without those guys. So, when he gets out there and catches a ball, it's always pretty good." 
But the running back couldn't resist getting in at least one parting shot.
"We clown him for having no hands," joked Humes. "But, hey, he caught them and he ran well. So, shout out to Valvano, man." 
It wasn't quite so light-hearted on defence and special teams, though, as head coach Greg Marshall saw much to be improved from both groups.
"We can't give up that many yards on defence and beat the best teams in the country," explained Marshall.
"We can't allow returns on kicks that put our defence in bad positions. We gotta improve our special teams and we gotta cover down a little better than we did today."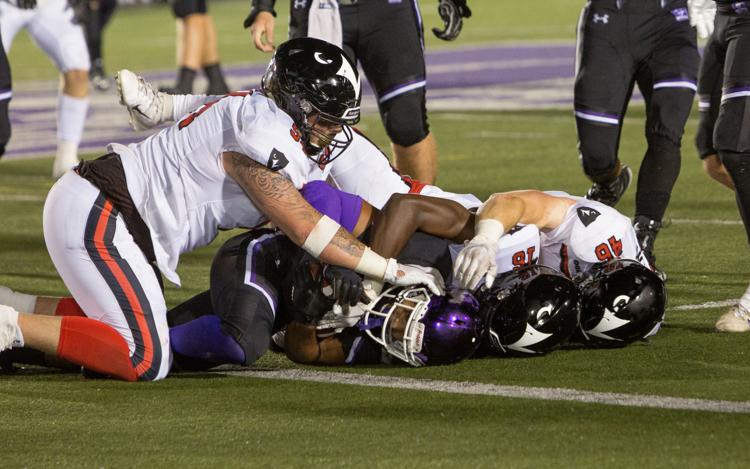 In total, Carleton managed 417 yards on offence and 167 yards on returns.
While the total yardage allowed was concerning, Marshall's biggest issue rested with the unit's inability to shut down Ravens drives early. 
"It seemed like we were just pulling away from it and then [Carleton] came back and drove the field," said Marshall. "And then we'd pull away and we'd go on these long, five-minute drives and in two minutes they would put one back on us. Give [the Ravens] credit, but we gotta play better."
To be fair, between injuries and suspensions, the Mustangs were missing five starters on defence. But, the head coach explained that injuries and absences can't be used as an excuse. 
"You know what, that can happen – it could happen in the playoffs," said Marshall. "Guys that get in gotta step up and play at a high level and we gotta prepare."
However, despite missing their head coach's standards, with a home-win and a Waterloo loss earlier in the day, the Mustangs secured their spot as the sole undefeated team in Ontario University Athletics.
The Mustangs will look to defend their perfect record on the road next Saturday against the Guelph Gryphons at 1 p.m.