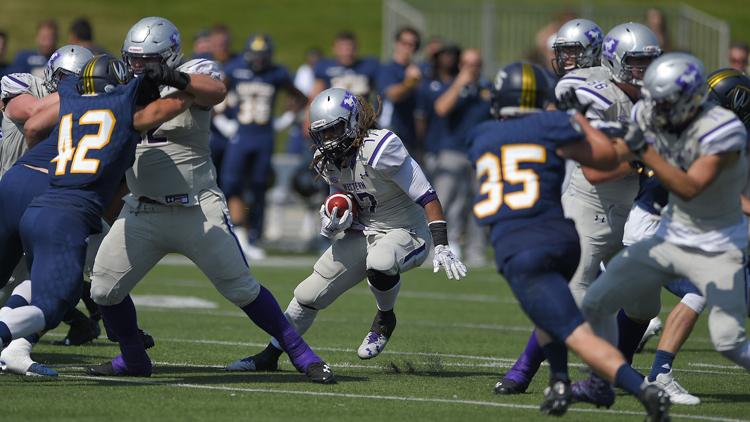 The Mustangs offence exploded to a 59–7 win on Saturday afternoon in Windsor.
Normally, a win over the worst defensive team in Ontario University Athletics football wouldn't be anything to write home about. But for a Western Mustangs football team that has struggled with offensive inconsistency through the first three games of their 2017 campaign, a date with the Windsor Lancers was just what the doctor ordered.
The Mustangs kicked off their offensive explosion with a Marc Liegghio field goal early in the first quarter to go up 3–0. A 15-yard touchdown pass from Chris Merchant to Cedric Joseph extended the lead to 10–0, while a Windsor safety put the Mustangs up 12–0 at the end of the first quarter.
The second quarter saw more of the same from the Mustangs offence, as Joseph found the end zone again, this time on a one-yard run, and backup quarterback Stevenson Bone ran his own one-yard run for another touchdown. A rouge point by Liegghio and three safeties conceded by Windsor gave the Mustangs a 33–0 lead at the half.
The third quarter was highlighted by a monster run by Merchant, who followed the blocks from his offensive linemen and took the ball 54 yards to the house. The third quarter ended with the Mustangs up 49–0.
The Mustangs extended their lead to 56–0 after Bone found the end zone for the second time in the game, running the ball 14 yards for a touchdown. The Lancers offence, lead by former Mustangs third-string quarterback Ben Bergamin, finally broke the shutout, cutting the Western lead to 56–7 after an impressive drive culminated in a three-yard touchdown run from Marcus Kentner. But that was as much as the Windsor offence could muster on the afternoon.
With the win, the Mustangs remain undefeated. But more importantly, the offence found itself, firing on all cylinders en route to the blowout win. Merchant threw for 324 yards on 20-of-30 passing, while adding 90 yards on the ground. Joseph added 80 rushing yards, Yannick Harou had 76 yards and a touchdown, and Trey Humes ran for 75 yards. It was offence by committee for Western on Saturday, and the depth at the running back position will be an asset moving forward.
On the other side of the ball, the Mustangs defence remained dominant, holding the Lancers to 76 yards of total offence. The Mustangs stopped Windsor on all three of their third down conversions.
With both the offence and defence now clicking, the Mustangs look ahead to a date with Queen's University on Sept. 23. The Golden Gaels are 0–3 this year, losing 40–17 to the Laurier Golden Hawks on Saturday. The once revered rivalry has become one-sided of late, and the Mustangs should have no problem carrying over their production against Windsor into next weekend.