The Western Mustangs women's hockey team can't seem to stop winning. They defeated the Queen's Gaels 3–0 on Saturday in Kingston to take home the McCaw Cup as Ontario champions, racking up their 11th consecutive win in the process.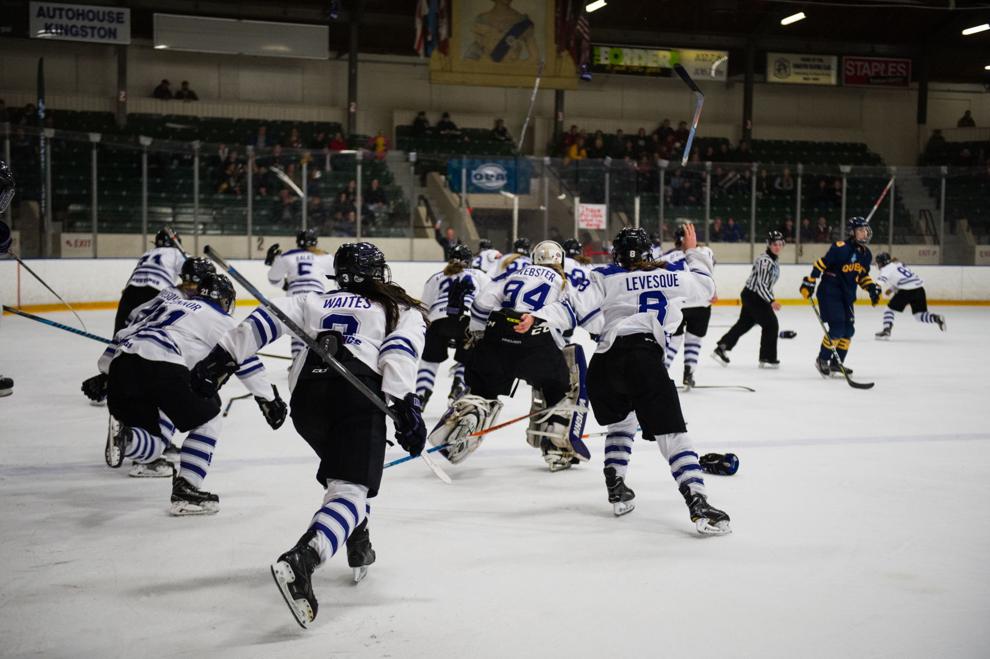 A variety of players contributed to Western's win, with three different players — Emma Pearson, Alyssa Chiarello and Amanda Pereira — scoring goals and another four players adding assists. After taking a 1–0 lead in the first period, the Mustangs bunkered down and stifled a potent Queen's offence. The home team was limited to just three shots in the second period, and 12 in the third.
"Our girls did a really good job of bringing a lot of positive energy leading up to the game," said Mustangs coach, Kelly Paton. 
Western emerged with their second-ever McCaw Cup, having last won it in 2015. The win this time around could be seen as a bit of an upset, considering the Gaels finished first in the league this season.
The Mustangs' unlikely triumph as underdogs against a favoured opponent is hardly their first this year: fittingly, their winning streak also began with a 3–0 victory over Queen's. In the process, they swept the Guelph Gryphons — the defending champions — in the Ontario University Athletics semifinals, knocking a heavyweight contender out of the hunt for a spot at nationals.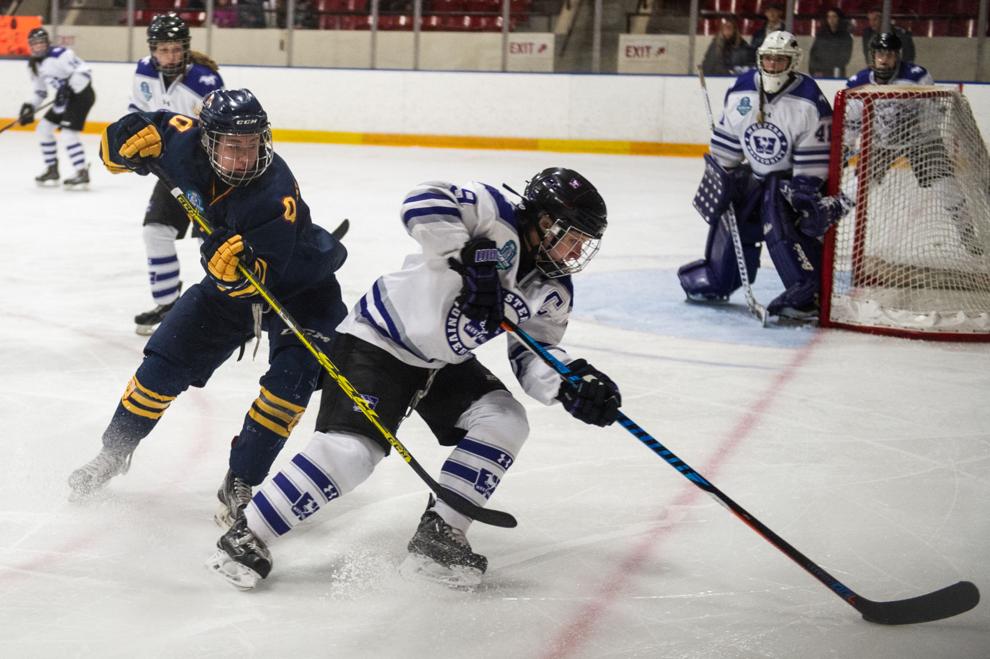 It's not getting to their heads, though.
"If you were to ask one of our girls right now how many games we've won in a row, I don't know if they'd know," said Paton. "We haven't really spoken about it as a team."
What they probably do know, though, is that they're playing some of the best hockey they've played all year. This is definitely the perfect time for it, as they roll toward the U Sports national championship, taking place at Western this coming weekend.
It says something about their red-hot form that the Mustangs, who haven't been ranked in the U Sports top five all season, are now seeded third heading into nationals. They knew from last year that they'd be guaranteed a spot in the tournament, but they may not have expected to be such strong contenders. 
On Thursday night, the Mustangs will play the Montreal Carabins, who fell to the Concordia Stingers two weeks ago in the Quebec provincial final. This U Sports quarter-final represents a new challenge for Western, who doesn't have the luxury of prior experience with the Carabins.
Western did, of course, play Montreal at the 2015 national championship. The Mustangs still have four players — Megan Taylor, Ali Beres, Emma Pearson and Anthea Lasis — who participated in that 2–0 victory en route to winning the overall championship. 
The Carabins, on the other hand, still have seven players who played in that loss to Western three years ago. 
"From what I've seen through video so far, they're a big, physical team," said Paton. "Just having that mentality to battle and compete in any board-side play especially, that's going to be key for our success." 
The Mustangs have several factors working in their favour. Montreal's team has plenty of experience at this level, having appeared in the tournament multiple times over the past few years. Western, though, has a counter in the form of their own veterans, from their fifth-year captain, Pearson, to third-year player April Clark, who led the team in scoring this season. 
"We spoke briefly at the McCaw Cup about trying to lean on some of the experience we have in the locker room," said Paton. "Those girls have a voice, and knowing that they've been through it, they know what it takes to win." 
Western also has a couple players who will be unknown commodities at the U Sports level; chief among them is rookie goaltender Carmen Lasis. She stood on her head in Kingston on Saturday to shut out the third-best offence in the OUA, capping a playoff run where she led all Ontario goalies with a .963 save percentage.
Goaltending is an area where the Mustangs have an edge over the Carabins. Their goalie, Marie-Pier Chabot, led the Quebec league with a .946 save percentage in the regular season, but her playoffs weren't as strong, as she posted a .881 and a 2.95 goals-against average in six postseason games.
"[Carmen] has been a key factor in our success," said Paton. "For a first-year player I think she's really figured out how to be successful in this league. One thing the girls really build on is her composure in the net and not panicking when there's scrambles around the netfront."
The Mustangs will certainly hope Lasis continues to shine at nationals. The tournament is a new level of competition for her, which can be daunting for a first-year player, but playing in front of home fans at Thompson Arena may help ease some nerves. 
Standing in the way of a national championship will be the top-seeded Manitoba Bisons and the Saint Mary's Huskies, as well as a handful of other lethal teams from across the country.
Western's game against Montreal is on Thursday, March 15 at 7 p.m. If they win, they'll move on to the semifinal on Saturday as they pursue their second-ever national championship.