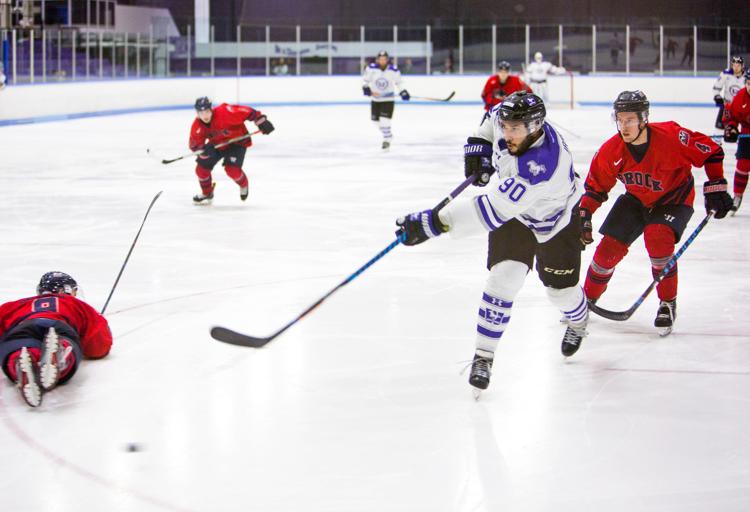 All good things must come to an end. The Western Mustangs men's hockey team learned that the hard way on Saturday night as they suffered their first loss in eight games, a 3–2 overtime decision at the hands of the Brock Badgers.
"With the standings as tight as they are, we'll take whatever points we can get," said Western's top goal scorer, Trevor Warnaar.
Western University currently sits in a playoff spot as the sixth seed in the OUA West Division. Just four points back of Brock and the Laurier Golden Hawks, with a game in hand, Western has five games left to make a final push to move up the standings.
Brock opened the scoring just 30 seconds into the game on Saturday after a turnover by Western led to an easy goal for Brock's Andrew Radjenovic.
Down 1–0, Western was able to find life from an unlikely source. With 12 minutes left in the second period, Mustangs defenceman Zach Core beat Brock's goaltender for his second goal of the year.
The Badgers responded quickly, finding Jesse Blais, open in front of the Western net. Blais extended the Badger's lead to 2–1 with seven minutes left in the second period.
After playing a weak first two periods, Western came back out in the third with new life. Early in the period, a Brock turnover on the boards led to Western forward Spenser Cobbold dragging and then firing the puck into the Brock net.
The hard-fought game resulted in three-on-three overtime. Midway through the extra frame, Western's Kyle Pettit fell, lying visibly injured on the ice. Brock, effectively playing three-on-two hockey, was able to find the open man and score the winning goal.
"We never had possession of the puck," explained Mustangs assistant coach, Patrick Ouellet, on the referee's decision not to blow the play dead following the injury to Pettit. "That's the rule. Some refs apply it. Other refs don't. There's nothing we can do about that."
With important playoff implications, emotions were visibly high from both Western and Brock. It was a physical game, highlighted by a third period skirmish between Western's Anthony Stefano and Brock's Dallas Rossiter. The play resulted in offsetting penalties for unsportsmanlike conduct and cross checking, respectively.
After the game, Ouellet commented that Western has recently "played teams with a lot of skill, but Brock, not to take anything away from them, that's not their style. They were really physical." 
Warnaar added that this game proved the team could play a tight, physical style that is common in the playoffs.
With an upcoming schedule featuring three games in four nights, Western gets back into action Wednesday at home against the Waterloo Warriors. Waterloo, the last-placed team in the West, offers a chance to gain an important two points on the opening half of a back-to-back.