Mustangs Yates Cup was never really in doubt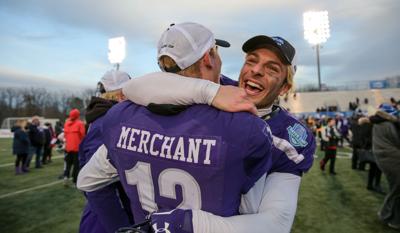 "We Are the Champions" blared over the sound system. The raucous crowd was bidding the Laurier Golden Hawks farewell. The Western Mustangs flooded the field, celebrating what they had just accomplished.
A season of pure domination, from start to finish. Capped off with a win in the 110th Yates Cup.
For the sake of parity, the storyline all year long was that this Yates Cup — a rematch between the defending Ontario champion Laurier Golden Hawks and the undefeated Mustangs — was going to be exciting and dramatic.
Some people gave the Golden Hawks a chance to repeat. The Mustangs snuffed out that notion with about four minutes left in the first half on Saturday.
You see, the Mustangs never indicated that any other team had a chance to win this year's Yates Cup. The Mustangs defence never indicated that anyone could score on them. The offensive line never indicated that anyone could stop them from controlling the push. Cedric Joseph never indicated that anyone could stop him from rushing for touchdown after touchdown after touchdown.
They were men among boys, as the old saying goes. Maybe if they threw their third string out there, Wilfrid Laurier University and the Guelph Gryphons would've had a chance.
On second thought, probably not. Third string quarterback Kevin John and third-string running back Trey Humes could do some damage themselves.
On the surface, this 2017 season was a revenge tour for the Western Mustangs, but in reality, this year was about so much more. They were probably the best team in Ontario last season. On Saturday, they fulfilled two years of potential greatness.
They shut up the critics. They believed in themselves and, in football as in life, that's all that really matters. 
"This one is right up there," said head coach Greg Marshall on how this Yates Cup compares to his other 18 as a coach and player. "This was redemption for all of our coaches and all of our players because we wore that one for a year and rightly so. But you know what, character overcomes it, and this team has great character."
That word, character, comes up often in sports. It's a word that applies perfectly to Marshall, who leads his program with class and integrity. In the postgame interviews after their 2016 Yates Cup loss, he had tears streaming down his face while talking about the heartbreak his players were going through.
On Saturday, as he lifted the Yates Cup trophy on the stage set up in the corner of TD Stadium, he had to keep from crying. This time, however, the tears came from a very different place.
Marshall was understandably sick of the questions surrounding the 2016 collapse. He's happy those questions will never be asked again.
"They had to live a whole year hearing about Laurier," Marshall said. "For a whole year now, I don't have to hear about Laurier. I was asked if I was surprised we hung 75 on Laurier. No, I wasn't surprised."
Character also applies to Western University's humble superstar and touchdown machine, Cedric Joseph. The running back was named Yates Cup Most Valuable Player after a 250-yard, three-touchdown performance.
Joseph, who led the Ontario University Athletics in touchdowns during the regular season, was unstoppable while breaking tackles for big run after big run.
"I don't believe in individual accolades," Joseph said. "This is really a team sport. The team worked hard all week, and it really feels good."
The Mustangs have historically been a ground-and-pound style of team. Joseph perfectly exemplifies this blue-collar, downhill mentality. Despite the pressure, he performed on the grandest of stages.
"It was an exciting moment for myself," he said. "It was probably the most anxious I've been in a long time. There was a lot of pressure on my shoulders, but you've got to rise to the occasion when coach calls your number. The offensive line played great today and really made it easy for me."
With their win, the program's 31st Yates Cup championship, the season carries on. On Nov. 18, the Mustangs face off against the champion of the Atlantic University Sport in a U Sports semifinal game. The AUS championship game, the Loney Bowl, between the Saint Mary's Huskies and Acadia Axemen was originally cancelled with Saint Mary's being barred from competition for having fielded an ineligible player. However, following a court hearing, the game will proceed.
Once the winner of the Loney Bowl is determined on Nov. 14, the Mustangs will know who they will play against.
Then it's on to the Vanier Cup and a chance at a national title.
In this moment, the Mustangs are no longer chokers, underachievers or entitled blue bloods who didn't respect their up-and-coming rivals from Laurier. 
As the final whistle sounded and the scoreboard read 75–32 for the home team, the Mustangs stopped being all those things.
They became champions instead.