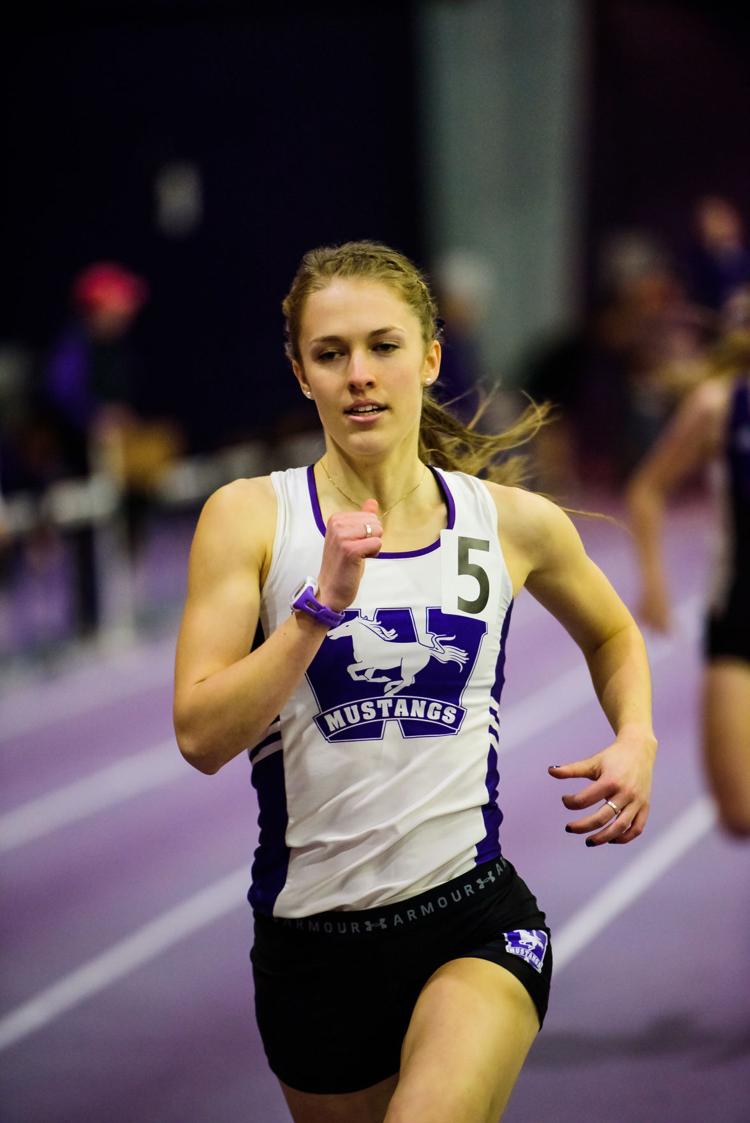 Athletes and superstitions are an undeniably iconic duo, and Western varsity track and field athlete Natalie Topp demonstrates exactly that.
When asked about what brings her good luck on competition day, she explains, "[Canadian Olympic decathlete] Damian Warner has signed every pair of spikes I have ever owned." 
Both Warner and decorated Western track and field alum Jen Cotten have been exemplary role models for Topp. Cotten was Topp's first coach when, at 10, she began training with the London Western Track and Field Club.
Now in her third year at Western University, Topp has been running competitively between the community club and the university team for a combined 11 years. Starting as a sprinter, she recently transitioned to running middle distance for Western's varsity track and field team. 
On the weekend of Jan. 19, Topp achieved a personal best time of 1:33.06 in the 600 metre at the Don Wright Team Challenge meet held at Western.  This puts her seventh overall in Canada among U Sports track and field rankings. Additionally, on Jan. 13, she not only secured a first place win, but also broke a meet record at the Wolverine Invitational at the University of Michigan. 
However, amid her great individual success, Topp describes how track and field is individual in nature, but ultimately team oriented.
"As much as it is an individual sport, it is also a team sport," she stated. "We have some strong rookies and great veterans, being in the past on the 4x200 and now on the 4x800 relay team, it is as much a team sport as it is individual."
So much so that Topp has teamed up with former track and field teammate Anjoli Vanderkuur to embark on a new initiative.  
The Sport Nutrition Athlete Project, better known as "SNAP" was founded in September 2018 by Topp, Vanderkuur and three other nutrition students at Brescia: Madalyn Newhouse, Tela Verrelli, and Marlee Narain. The SNAP club, the first sport nutrition club of its kind on campus, educates Western students and athletes on the correlative importance of nutrition and performance. 
An event recently hosted by SNAP was a series of cooking seminars. The track and field, cross country and rowing teams were invited to attend these seminars, where SNAP mentors developed recipes to make with the athletes.
"We started small by targeting track, cross country,and rowing," said Topp. "As the club grows, we will be able to connect with all varsity teams on campus and spread nutrition education that way."
SNAP cooking seminars also touched on the topic of meal prepping, which Topp indicated as one of the best and most cost-effective ways to eat healthy. SNAP is beginning to make its mark, and Topp hopes that the club can eventually reach Western's athlete population at large. 
When asked about general advice for other student athletes, Topp opted for analogical wisdom.
"Always try to hand off the baton in a better place than you got it, in all aspects of life and not just on the track."
This is something she continues to exemplify through the lasting effects that SNAP will have on the Western athletic community.