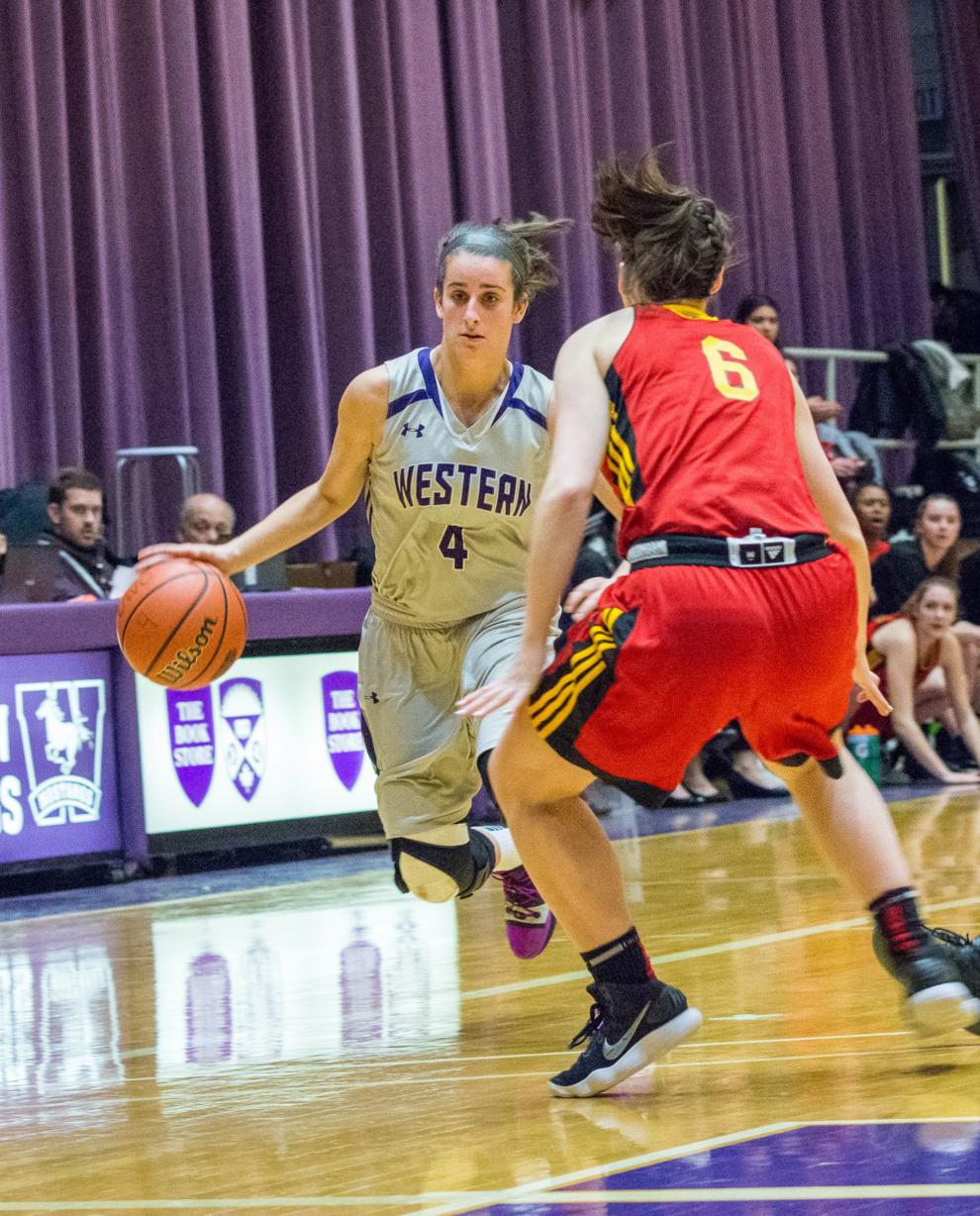 Technology in sports gave us bigger, faster and stronger athletes. Now it's given us the tools to evaluate and coordinate their efforts in a whole new light. 
The way people look at sports is changing thanks to the new reliance on advanced data. Coaches are using it to find paths to success their predecessors in the industry were blind to. The analytics movement is here to stay, and it's making its impact at Western University.
Last season the Mustangs women's basketball team went 5-19 on the season. On July 15, 2019, Western hired Nate McKibbon to be their head coach. This year, under his leadership, the team went 19-3, the best regular season record in Ontario. They made it all the way to the Ontario University Athletics' semi-finals, losing to eventual champion Brock University by only four points.
McKibbon has instilled three team values into the Western program: gratitude, commitment and unbelievable effort. But, as a recent hire, McKibbon has the opportunity to take a ball of clay and mould it into his vision of what it means to play Mustang basketball on the court. He's turning to the numbers to help him decide what to value.
To McKibbon, analytics serve a variety of functions. It helps guide practice, observes trends over time and helps give observations a more concrete footing. 
"I think it gives you the context to build an argument or build a dialogue with your team," says McKibbon. "You know, it prevents you from going in and saying 'I feel like we aren't rebounding well right now.' No. Here's the numbers and this is what the numbers are saying."
McKibbon's viewpoint on analytics stem from Dean Oliver, who outlined four key statistics which are good indicators of victory: effective field goal percentage, turnover rate, offensive rebound rate and free throw rate. McKibbon has added pace of play and offensive/defensive ratings to the list of key statistics. He then creates team strategies around maximizing performance in these areas to achieve success. 
"If we had to put down what Mustangs basketball looks like, sounds like, feels like, that'd be sort of the direction we'd go in," says McKibbon.
At one of McKibbon's previous coaching jobs, his team focused on help defense. They were great at creating turnovers, but this strategy led to a lot of fouling and offensive rebounds conceded. Coming to Western, he switched to a system more focused on strong one-on-one defense. It helped the Mustangs get better at the statistics emphasized by the coaching staff, and in turn led to wins.
Specific on-court strategies used in the NBA and WNBA aren't necessarily trickling their way down to U Sports, but the the methodologies used to choose the best strategies certainly are.
Traditionally, analytically-inclined teams like the Houston Rockets shy away from certain areas of the game, such as post-play and the mid-range shot. However, McKibbon names fifth-year student and guard Maddy Horst as a player who relies on her midrange shot to much success. 
"Probably if you followed analytics to a tee, she doesn't quite fit in with the dialogue most people have," says McKibbon. "She's a player that points per possession actually midrange is a very good shot for her."
Although the conclusion of whether or not a midrange shot is efficient is different in the NBA and U Sports, both the Rockets and Mustangs use numbers to justify their viewpoints and to come to those conclusions.
"I'm not necessarily sure that we follow all the same trends as the NBA or WNBA, but I do think we use the same numbers to evaluate what we're doing and sort of modify based on the talent that we have," says McKibbon.
It's one thing to have the data available to you and to use it. It's another to be able to gather the data in the first place. 
U Sports basketball teams have access to a program called "Synergy Sports Technology," a company used by the NBA, WNBA and many NCAA programs. In terms of data collection, the Mustangs have access to almost the same data as richer programs south of the border. 
Synergy allows coaches to break plays down to an unbelievable level. They can see player's success of different types of plays, such as on the fast break, in the pick-and-roll or on isolation plays. They can even break down exactly how a player scores most efficiently.
"We can actually see a post player, every time they catch the ball in the post, how many times its on the right block, left, block and centre," says McKibbon. "[And we can see] from those different positions how much they are turning to their left shoulder or right shoulder, and every time they turn to their right shoulder how often they go for a hook or put the ball on the ground to try to get the the basket."
The difference between the Mustangs and pro teams, or richer NCAA teams, is that they don't have the staff to analyze the data. A lot of that workload falls on McKibbon and his assistant coaches.
This lack of resources, as well as this being only McKibbon's first year on the job, limited the Mustangs to mostly using data on specific players to help scout other teams. The Mustangs not only have access to their team's statistics, but to all of the OUA's.
McKibbon hopes to use the numbers a little more to help evaluate and change Western's own performance in year two of his tenure. 
Correction (Mar. 11, 2:22 p.m.): this article has been corrected to reflect that the American statistician and author's name is Dean Oliver, not John Oliver.