Football
No player in program history as transformative as Andy Fantuz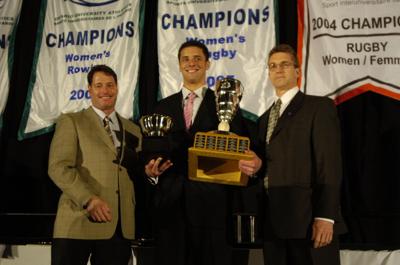 Hanging on a wall in the Michael Kirkley Training Centre are hundreds of plaques commemorating the legendary athletes who have put on the purple and white.
The training facility for the Western Mustangs football program is a shrine to one of the greatest football programs in the entire country, one that has set the standard for excellence in the Canadian university game. The Mustangs have six national titles, 29 Yates Cup titles as the champions of Ontario and a winning percentage of over .670.
And yet, aside from the success of the program in terms of trophies and wins, it is the production of professional football players that sets Western apart from other programs in Canadian Interuniversity Sport.
Over 150 Mustangs have gone on to hit the gridiron as a professional, some to the CFL, others to the NFL.
With so many legendary players representing Western over the years, a conversation over who the greatest Mustang football player of all time is would be a tough task. Some would point to Dave Sapunjis, the great receiver who became a two-time CFL all-star with the Calgary Stampeders.
Others would mention Tyrone Williams, the Halifax native and 1989 Vanier Cup MVP who spent two seasons with the Dallas Cowboys during their heyday in the early 1990s.
Yet one player who has to be near the top of everyone's list is a man who transformed the game of Canadian football and went on to become one of the faces of the CFL.
That man is Andy Fantuz.
Fantuz grew up in the blue collar, agricultural-centered southwestern Ontario city of Chatham, an hour-long drive down the 401 from London. His opportunities to develop as a young football player were limited, as Chatham had yet to establish a youth football program at the time. It wasn't until he started attending John McGregor Secondary School that he began a lifelong love affair with the game.
"I just fell in love with it right away and really enjoyed it and started playing summer leagues, and the more I played the more I liked it, and the more I picked it up quickly," said Fantuz. "As the years went by, it became a realistic goal that I could play in university."
Fantuz completed four years of high school, graduated and initially chose to attend McMaster University over offers from Windsor, Laurier and Western. However, that summer he dominated in a summer league and received some interest from American schools. Fantuz decided to play one more year of high school football, looking to earn a scholarship to an NCAA program.
That year, Fantuz followed the traditional routine of prospective college football recruits, making the rounds to various schools, visiting campuses and attending camps. Although the American route was his initial goal, throughout his year of searching, one school stood out amongst the rest. One school provided the experience Fantuz wanted in order to succeed at a high level.
That school was Western.
"Visiting the school and the city and meeting people, and people in the organization and alumni, it really made my decision clear," he said. "I really wanted to go to Western."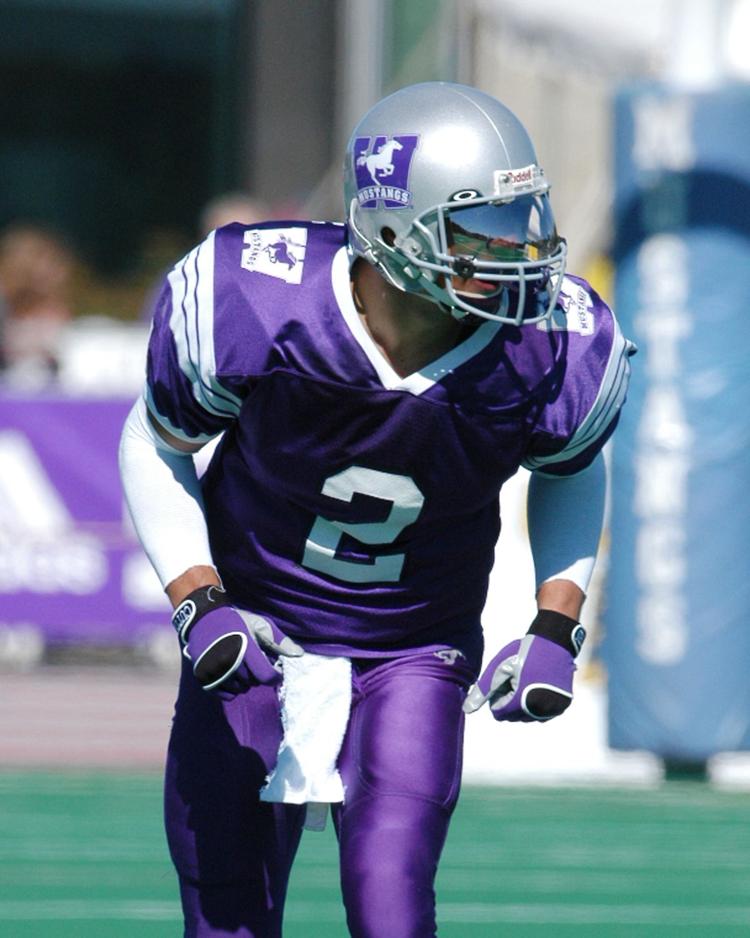 So he committed and officially became a Mustang. For the next four years, Fantuz dominated the CIS, becoming the face of Canadian university football.
His career saw him break a number of CIS records, including single-season receiving yards (1,300), career receiving yards (4,124), career receiving touchdowns (41) and career receptions (189).
Pinpointing a particular signature game for Fantuz is difficult because there were so many games in which he set himself apart as a legend.
There was the game in 2005 against McMaster, when the Mustangs fell behind 28-3 on national television. Fantuz soon took control on the field, catching four touchdown passes to help Western storm back for a 55–31 win.
There was a game against Ottawa that same season, when legendary former Mustangs head coach Larry Haylor put Fantuz in at safety. In a matchup with the GeeGees with major playoff implications, Fantuz had three interceptions in eight defensive snaps en route to another Mustangs win, earning him national player of the week honours.
The Ottawa quarterback who Fantuz picked off three times in that game was by no means a scrub, either. It was Josh Sacobie, the passing yards leader in Ontario University Athletics that season.
Fantuz was a transcendent player who has had a lasting impact on both on the Mustangs' program and the sport as a whole. He was the first CIS player to have his own bobblehead made, given away at his final home game as a Western Mustang.
As Haylor believes, Fantuz also changed the way the Canadian university game is officiated today, due to measures opponents would take to try to take down his star receiver.
"[Now] you can't ... run at a receiver full speed and collide with him when he's running a route, or you can't jump on his back and ride him down the field as he's running a route," said Haylor. "Those were the kinds of things that were being done to [Fantuz] and he overcame all of those then and continued to produce at the highest levels."
A number of factors contributed to the profound success Fantuz has seen in the game. The perfect example of a possession receiver, Fantuz had an innate ability to battle through traffic and double coverage to come down with the ball.
Combine that with his amazingly fast hands and Fantuz had established himself as a living, breathing highlight reel, as evidenced by his breaking of Odell Beckham Jr.'s world record for one-handed catches in 2015.
Fantuz has been, in many ways, an enigmatic success in a game built for the 5-foot-11, 190-pound inside receiver whose primary asset is quickness. As Haylor explains, Fantuz is surprisingly efficient despite his 6-foot-4 frame.
"People don't often attribute that to Andy, because when you watch him you don't get the sense that he's running a 4.5," said Haylor. "But when you try to cover him, he has this great elusive ability that he controls his body and speed at different paces and he can set people up beautifully and separate."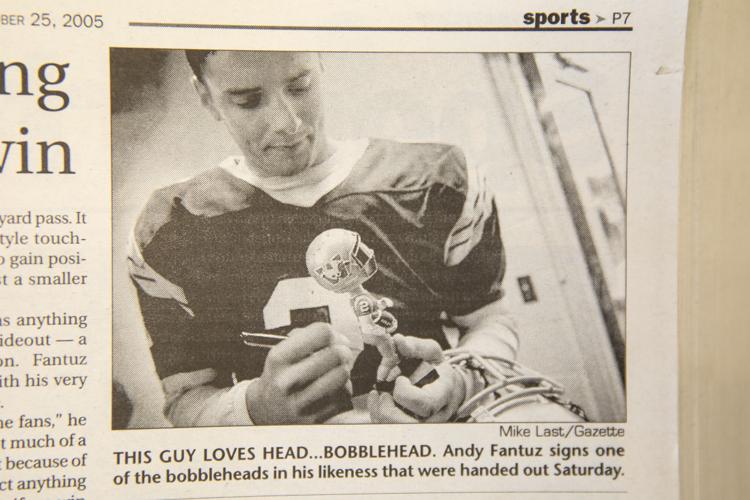 In his final season as a Mustang in 2005, Fantuz won the Hec Crighton Award as the top football player in the nation and was invited to play in the prestigious East-West Shrine Game. He was the second Western player to appear in this all-star showcase, and the second CIS receiver to play in the game generally reserved for the top players in the NCAA.
Although he decided to go the CIS route, Haylor has no doubt Fantuz would have thrived had he chosen to attend a division I program in the United States.
"Andy would have been a great player wherever he went," said Haylor. "I think he's proven that in the CFL. I think there were people who thought Andy wasn't fast enough, or that he wasn't strong enough. However, wherever he's gone, he's proven the doubters wrong."
Fantuz did not stop being a dominant force upon graduating from Western in 2006. Drafted third overall in the 2006 CFL draft, Fantuz has been one of the pillars of the league. He was the CFL most outstanding Canadian in 2010 and after five Grey Cup appearances, he ranks in the top 10 in both all-time receiving yards and receptions in the history of the game.
In six seasons with the Saskatchewan Roughriders and four with the Hamilton Tiger-Cats, Fantuz has amassed 7,249 receiving yards and 39 touchdowns on 530 receptions. However, with only one Grey Cup ring in five appearances in the big game, Fantuz wants to chase a final championship as his career on the gridiron begins to come to a conclusion.
Despite missing 20 games over the last three seasons, there is still a drive in the 32-year-old receiver to add to his collection of achievements.
"I have an empty feeling in my stomach," said Fantuz on the pain of losing four straight Grey Cups. "I'm definitely grateful for getting that ring in 2007, and we fell short in three of them; really heartbreaking losses. But I'm really eager and motivated in the off-season, and to get back to the big game and finish it off with a Grey Cup."
As far as a jump to the NFL is concerned, Fantuz was never able to take that step when he attended the Chicago Bears training camp in 2011. As his former Western coach explains, the skillset that allowed him to dominate the competition in Canada may not have carried over to the smaller field and tighter offensive systems of the NFL.
"I think maybe on that smaller field, particularly the width of it, it wasn't as good a game for him as the CFL was with the 15 additional yards of field width," said Haylor. "I think his ability to separate there in the inside positions was a little bit difficult for him.
"Do I think he could run and catch in that league?" he continued. "Yeah, I do. Oftentimes in that league, being in the right place at the right time is as important as anything. I think Tyrone Williams is a classic case of that. Tyrone landed in Dallas, at the right time and the right place."
For Fantuz himself, the failure to reach the NFL does not necessarily bother him as he looks back on an extraordinary career. It was an amazing experience that not many Canadians have had the privilege of going through. And as a face of the CFL, he has achieved as much as any Canadian-born player has in the history of the league.
"When I had almost decided to give up that dream and just concentrate on where I was because I was happy with the CFL, [that] was when I had everything fall on my lap," said Fantuz on his stint with the Bears. "Going through training camp and meeting all the guys, the whole experience was remarkable. Unfortunately it didn't work out for me, but I still enjoyed my time, still learned a lot and met a lot of great people."
A common thread throughout his career has been Fantuz's passion for the game. This passion led him to go from a kid growing up in a town without a youth football program, to battling injury problems en route to a historic CIS career to now finishing off his football-playing days as one of the greatest Canadian receivers to ever play in the CFL. He transformed the game, transformed the receiver position and remains a legendary Mustang.
Walk through the Michael Kirkley Training Centre on a cold February day, with football season long gone. Look at the faces on those plaques — the men who have donned the purple and white and who have built the program into a national powerhouse. Many have come and gone, but one man stands out. One man set records and dominated the game like no receiver ever has.
Great Mustangs have come and gone, as the cycle of college football turns rookies into legends and legends into memories. But in the debate over who the greatest of them all really was, many will agree on one name.
Many will agree on Andy Fantuz.