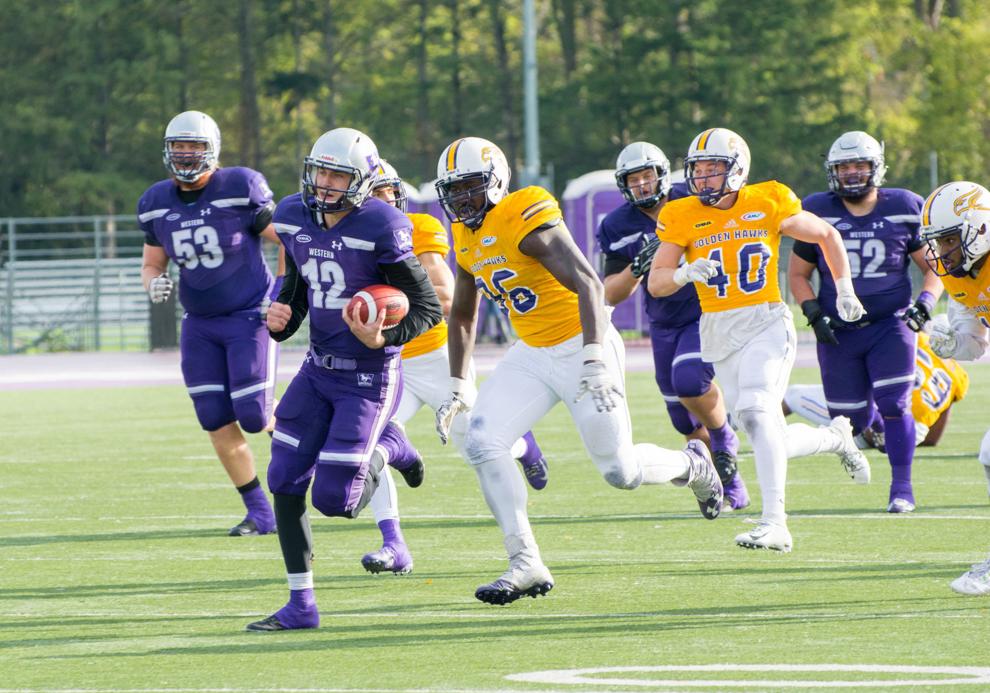 The Mustangs football team is back in the saddle today, clashing with the Golden Hawks for a week three showdown at TD Stadium at 1 p.m..
The last time the two teams played was the 2019 season opener, with Western University coming away with a 32–19 win.
The Mustangs started hot in week one with a win in a 2019 Yates Cup rematch against the McMaster University Marauders 41–13. But Western stumbled in week two with a nail-biting 23–21 loss to the University of Guelph Gryphons last Saturday.
Heading into week three, head coach Greg Marshall expressed the need to learn from the errors from the Guelph game tape.
"You've gotta learn from these things, you can't just put it out of our mind," says Marshall. "Let's not make the same mistakes."
🏈FB HIGHLIGHT: The Gryphon's defense comes up huge to hold the Mustangs a yard short on 3rd down!#GUEvsWES #GryphonPride pic.twitter.com/mQmZdYoGht

— Guelph Gryphons (@guelph_gryphons) September 26, 2021
Consistency from the offence was a focus for Marshall, citing the need for productive first down plays and conversions on second down.
"Looking at the film, we had a lot of open receivers, we just couldn't get them the ball," he says.
Quarterback Jackson White threw for 267 yards last week against the Gryphons along with a touchdown and an interception.
The Wilfrid Laurier University Golden Hawks have had a similar start to the season with a commanding 37–6 win against the York University Lions in their home opener. But they suffered a bitter loss to their hometown rivals — the University of Waterloo Warriors — 36–12 at Laurier's homecoming game in the following week.
NEW ON 519 - James Hinsperger had a big day on defence for @WlooFTB with two interceptions in a 36-12 victory over Laurier. The @WlooWarriors improve to 2-0 this season in @OUAsport football. More highlights later on 519! #LocalSports #OUA @HinspergerJames @kcmaverikk pic.twitter.com/7q4FO0o0fr

— 519 Sports Online (@519sportsonline) September 25, 2021
Both the Mustangs and the Golden Hawks enter today's contest with a renewed desire to improve on their week two performances.
With both teams set to enter their bye week on Monday, coupled with a shortened, six-game regular season, this game could set the tone for the rest of the year.
Laurier will look to get back into the win column this weekend while Western will aim to get back on track, taking advantage of a Golden Hawks offence that committed five turnovers against Waterloo.
"Laurier is like most Laurier teams we've played over the last little while — they're very good on defence," says Marshall. "Offensively, I think they're a bit like us, they're a bit inconsistent."