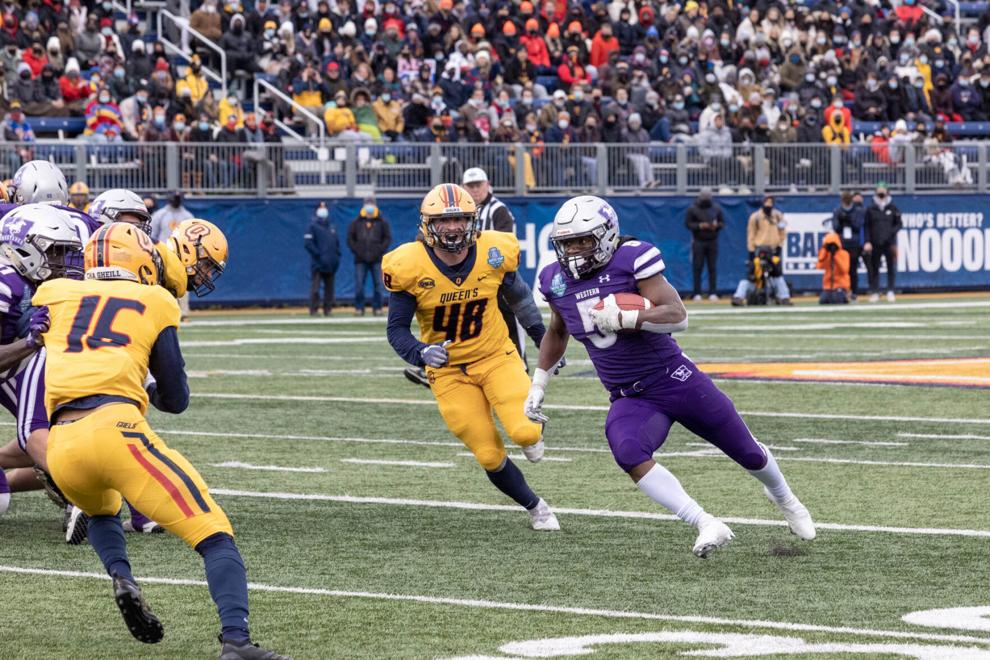 The Western Mustangs aim to stay atop U Sports and Ontario University Athletics football standings this weekend, as they will face the Queen's University Golden Gaels at Western Alumni Stadium on Saturday at 7 p.m..
This is the first time the two teams will meet since their Yates Cup matchup on Nov. 20, 2021, when Western blanked the Gaels 29–0 on the road.
YOUR WESTERN MUSTANGS ARE YATES CUP CHAMPIONS @uwogazette pic.twitter.com/tczLmDTawr

— sarah wallace (@sarahkwallace7) November 20, 2021
Queen's will be looking for revenge, but will have to do so in Mustangs territory.
"We know they're going to be coming in with a chip on their shoulder. I'm happy we're playing [at home for] a night game in front of our crowd," says Western quarterback Evan Hillock. "It'll be a really good game and we're looking forward to the challenge."
Western and Queen's are both undefeated so far this season, sporting a 2–0 record going into the game.
Gaels head coach Steve Snyder was formerly Western's offensive coordinator from 2017 to 2018 when the Mustangs went to two consecutive Vanier Cups, winning the first after an undefeated season. Snyder won the 2021 U Sports and OUA Coach of the Year following an undefeated regular season.
Western head coach Greg Marshall jokes that the two schools' offences are the same — because of Snyder's influence five years ago — but says that doesn't diminish the skill on the other side.
"[Queen's] doesn't make mistakes, turn the ball over or take penalties. You gotta beat them. They won't beat themselves," says Marshall.
The Gaels relied heavily on their running backs in their first game of the new season against the University of Toronto Varsity Blues. The backfield rushed for 348 yards and reached the endzone three times.
Queen's running back Anthony Soles leads the conference in rushing touchdowns with three.
🏈 | @Queens_Football Touchdown! Anthony Soles crosses the line for his third touchdown of the season.QUE: 13OTT: 13#GoGaelsGo | #QUEvsOTT pic.twitter.com/suAC3uPGoq

— Queen's Gaels (@queensgaels) September 4, 2022
Keon Edwards and Edouard Wanadi, Western's running back duo, have combined for 451 yards and two touchdowns — both from Edwards — this season.
The Mustangs' offence has been a balanced attack, using the run and passing game to their advantage. Hillock has thrown 404 yards and an OUA-leading six touchdowns to boot. He threw for four of his six touchdowns against the Wilfrid Laurier Golden Hawks last weekend.
"I thought we really got going this week in the run and the pass game. The offensive line really set the tone for us," says Hillock.
Savaughn Magnaye-Jones has been a stand-out receiver for Western so far, combining with Hillock to put up three of the four touchdowns on the board against Laurier a week ago.
"[Magnaye-Jones and I] train together all the time. We live around the corner from each other in Hamilton, so we were at the field every day in the summer. I think that's where our chemistry comes from," Hillock says.
Gaels quarterback James Keenan has thrown for more yards but less touchdowns than Hillock, with 422 and four, respectively, in his last two games.
Despite the early gun-slinger competition in the province, Hillock says stats aren't top of mind right now.
"There's a lot of good quarterbacks in the league, but I'm just trying to get better every day and focus on myself," he says.
University Students' Council president Ethan Gardner is expected to, literally, kick off the game.
🏈 We are excited to have @WesternUSC president Ethan Gardner join us for the ceremonial kick-off before the @westernuFB game tonight.Ethan recently stopped by Western Alumni Stadium to work with Kickers Coach @D_Wheeler_4 to learn a bit about how it's done.#RunWithUs pic.twitter.com/Q2KhMH3HZz

— Western Mustangs (@WesternMustangs) September 10, 2022
The Mustangs will sport their black alternate uniforms for the university's "black out" game. If history is any indicator, a large crowd is expected at Western Alumni Stadium. The last time Western hosted an OWeek game was 2019, when over 10,000 students, alumni and other fans were in attendance.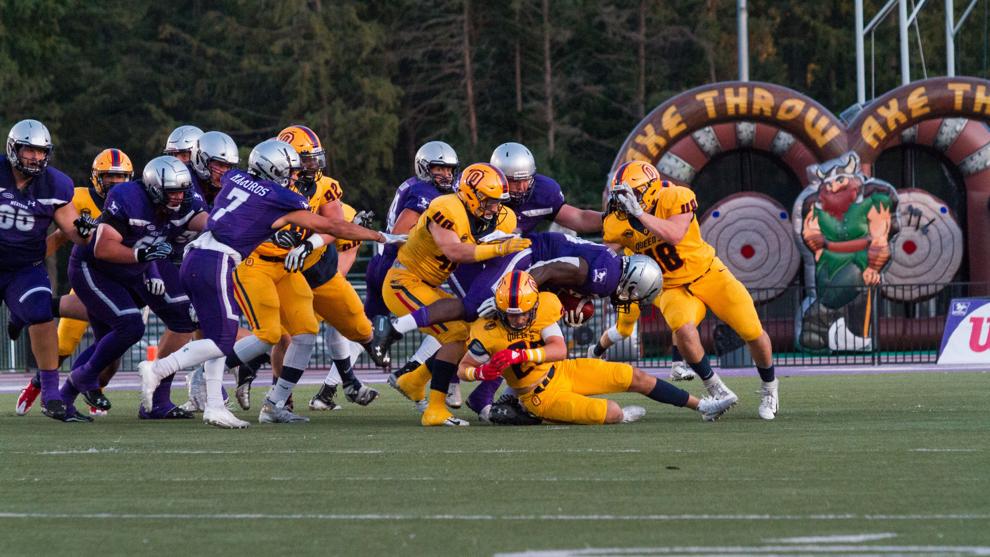 The opponent from that game three years ago? Queen's.
"Having a big crowd will be exciting for our players. It's good to get students back on campus and get them back out here," says Marshall.