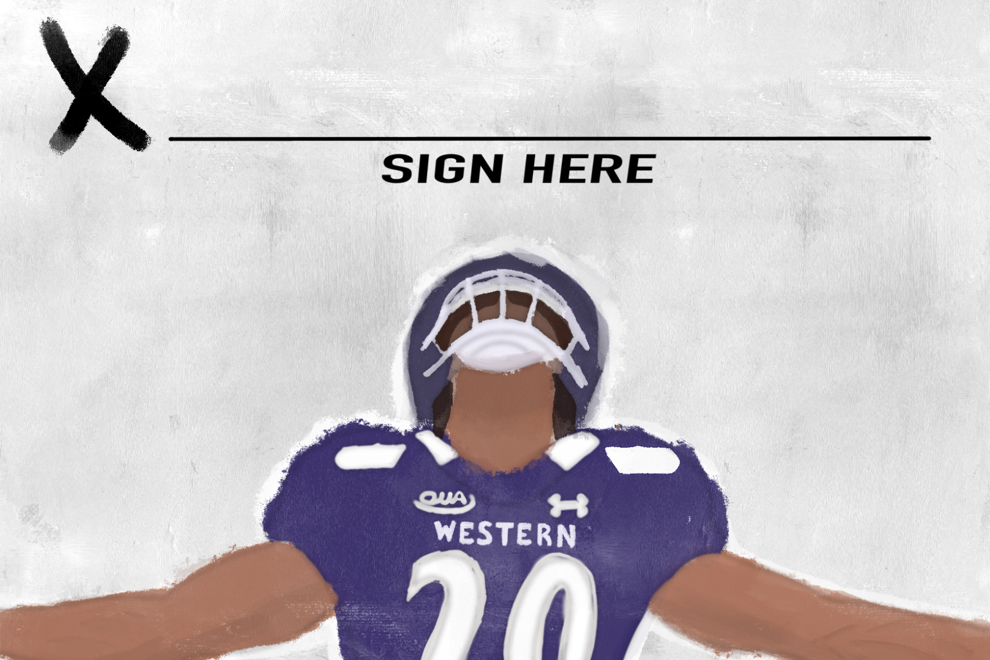 As the winter term comes to a close and exams approach, Western Mustangs athletics are still signing new student-athletes for the upcoming 2021–22 athletic season.
Shedding light on men's basketball, football, women's hockey, track and field and cross country teams, this article features Western's latest commits.
Men's basketball
Matteo Zagar, the 6'5", Oakville product, has committed to the Mustangs. From Rothesay Netherwood School, the prospective high school graduate plays the shooting guard position.
From Canada Elite Basketball Academy comes Johnathan Avgousti. The 6'5" guard is the men's basketball team's latest addition.
Football
Student-athlete from St. Mary's High School in Calgary, Max Von Muehldorfer, has committed to the Mustangs. 
Sandro Pierini, a defensive lineman from Niagara Falls, Ont., committed to Western.
Quarterback Luc Nolin committed to the Mustangs on Nov. 26, 2020. Nolin is a student at Calgary's Notre Dame High School.
I am extremely excited to announce my commitment to play for @westernuFB ! Thank you to all my coaches, friends and family for all their help and support which has led me to this part of my life! As well, thank you to @Coach_Gates and the coaches @westernuFB for this opportunity! pic.twitter.com/H6hFhNbeFL

— Luc Nolin (@LucNolin) November 27, 2020
From Montreal, Keanu Yazbeck has decided to join Western. The running back stands tall at 6'1" and 230 pounds.
Linebacker Mohammad Sobh will be coming to the Mustangs in the fall. The Windsor native plays for W.F. Herman Secondary School.
Laurent-Nicholas Fremont, student-athlete from Longueuil, Quebec's Champlain College, has committed to the Mustangs. Committing on Jan. 25 of the new year, the defensive back measures at 6'0" and 200 pounds. 
Courtice, Ont. football prospect, Tyler Madalena, has committed to Western. This tight end played with Holy Trinity Catholic Secondary School.
Western also added defensive back Brendan Bisson, from Blainville, QB., to their 2021 recruiting class.
Seyi Morawo, prospective graduate of Henry Wise Wood Secondary School in Calgary has committed to the Mustangs. The defensive back from the Stampede city joins two other teammates from Henry Wise Wood — Pierce Murphy and Ebenezer Bedada — featured in previous editions of the Gazette's Recruit Recaps. 
Women's hockey 
With the spring equinox passing by, the women's hockey team has begun recruiting members for their 2022 season.
The first highlighted commit is Haylie Kirkpatrick. From Kingston, Ont., the left wing forward formerly played with the Kingston Junior Ice Wolves.
Track and field and cross country
From Downeyville, Ont., Ian Dafoe joins the Mustangs' pole vault program. This new addition trains with the Peterborough Legion Track Club.
Judson Moorhouse, a Forest City native, has committed to Western's hurdles and jump squad from Medway High School.
Hailing from St. Catherine's, Denis Tzvetkov joins the Mustangs as one of their most recent recruitments. The student-athlete demonstrates great athletic abilities in hurdles, throws and long jump.
Recently recruited by Western or officially committed? Email us to appear in our next recruitment series at the Sports Gazette.