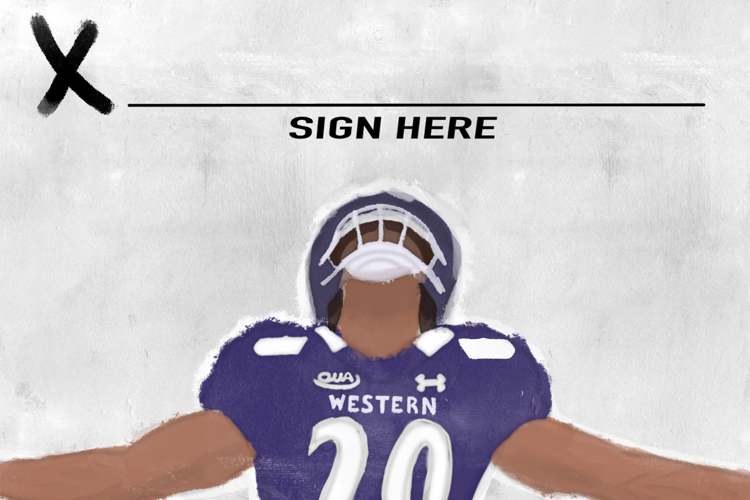 Western's varsity teams are working hard to recruit the best players to the Mustangs family.
Western University landed talented student-athletes from around the country. Here are the new recruits for football, women's hockey, women's and men's soccer and women's volleyball.
Football
Offensive lineman for the Sherwood Saints and Hamilton-native, Keeton Rout, committed to the Mustangs on Oct. 27, 2020.
Ethan Henderson, wide receiver for the Harry Ainlay Titans, committed to the Mustangs on Oct. 28, 2020. This 2021 graduate from Edmonton stands 6'3" tall and weighs in at 195 pounds.
Joining from the Jr. Mustangs, Carl Collinson committed to Western on Oct. 29, 2020. The 6'3" wide receiver comes from Strathroy, Ont.
From A.B. Lucas High School, quarterback Matt Jaquith committed to the Mustangs on Oct. 29, 2020.
Lucas Eagleson, an offensive lineman for the Banting Broncos in London, committed to Western on Oct. 29, 2020 for the upcoming season.
Hailing from Niagara Falls, Nathan Surla committed to the Mustangs on Nov. 1, 2020. The defensive tackle plays for the West Lane Spartans. 
A tough, hard nosed defensive linemen who brings a ton of heart to every snap. Pumped to have Nathan with us for 2021 #RunWithUs pic.twitter.com/EOXMThHZhN

— Coach Snyder (@CoachMattSnyder) November 1, 2020
Mugunthan Karunakgaran committed to the Mustangs on Nov. 2, 2020, after playing with Saint Francis Xavier Secondary School in Milton, Ont.
A linebacker from Aurora, Ont., Liam Taylor, signed with the Mustangs on Nov. 2, 2020. This 6'1" commit comes from Saint Andrews College and plays other sports including hockey and lacrosse.
Coming from Oshawa, Ont., Brayden Misseri committed to Western. The wide receiver for Clarkson Football North weighs in at 6'4" and 195 pounds.
Women's hockey
Madelaine Desrosiers committed to the Mustangs women's hockey team for the 2021 season on Nov. 20, 2020. The forward comes from Grand Pointe, Manitoba, after playing with the Eastman Selects. 
Women's soccer
The women's soccer team's most recent recruit, Natalie Abbate, joins the Mustangs 2021 class after transferring from Oakland University in Michigan. The Toronto player also has a YouTube channel that marks her athletic skill sets.
Men's soccer
From Empire Niagara in St. Catharines, Gianluca Delpriore is the latest to join the Mustangs recruiting class of 2021.
Women's volleyball
From Vancouver, Jaeya Brach signed with the Mustangs on Nov. 25, 2020. The 6'1" multi-position acquisition is a provincial medalist who has played with the Thunder Volleyball Club.
Recently recruited by Western or officially committed? Email us to appear in our next recruitment series at the Sports Gazette.