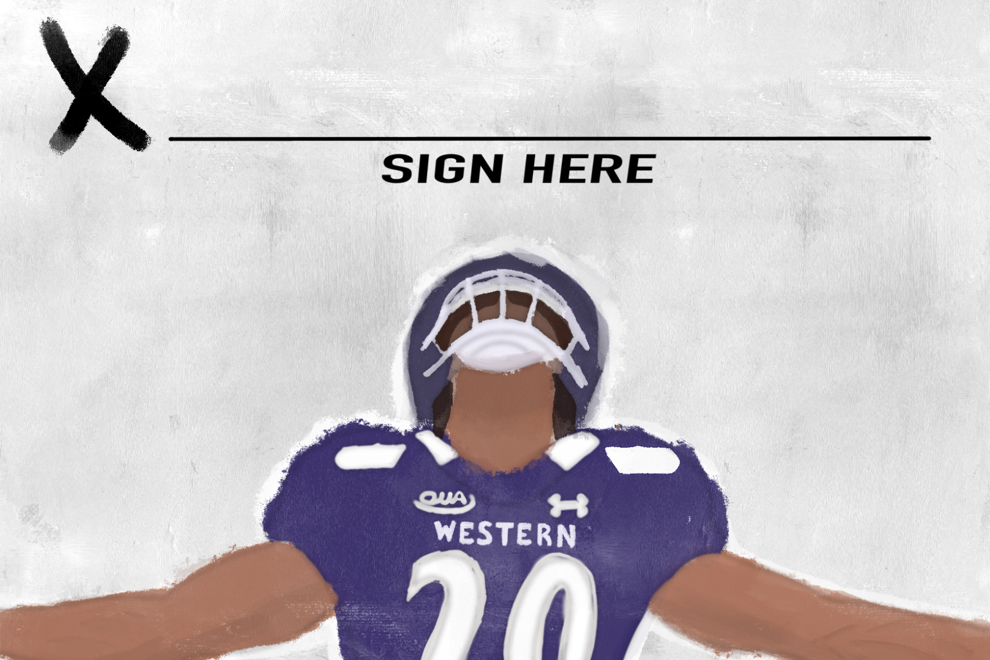 Although the coronavirus pandemic is holding up the current 2020-21 Mustangs season, Western University recruited more student-athletes to add to their teams.
This recruit recap focuses on Western's football, men's soccer, track and field and wrestling teams' added strength to their lineups for the upcoming season.
Football
Eduard Wanadi, a running back for Montreal's Champlain College, has committed to the Western Mustangs.
Linebacker Piercen Meier has been recruited by Western. From Medicine Hat, Alta., the team's newest addition formerly played for Medicine Hat High.
Defensive end, Joey Mocnik, joined the Mustangs from Coquitlam, BC. The 6'3" student-athlete formerly played for Centennial Secondary School.
Anthony Venneri, a linebacker for St. Thomas More Catholic Secondary School in Hamilton, has committed to Western.
Jawaun Smith, a Hamilton-native, has committed to the Mustangs. He formerly played the position of a running back with St. Thomas More.
I am honoured to announce that I will be committing to Western University. I would like to thank my parents, coaches and fellow teammates for pushing me all these years, I wouldn't be here without you. Thank you @westernuFB for this opportunity to play at the next level!🟣⚪️ pic.twitter.com/D1Wmr5tXtK

— Jawaun Smith 🇨🇦🇺🇸 (@jawaunsmith23) November 28, 2020
Rory Kelly from Moncton, NB, is transferring to Western. The defensive back formerly played for Acadia University.
Men's soccer
The men's soccer team has officially begun announcing their commitments for the 2021-22 season. 
Starting off the lineup is Luc Coulombe — a midfielder from Toronto. The student-athlete is joining from St. Michael's College and the East York Soccer Club.
Caleb Roberts is the second member of the 2021-22 recruitment class. The London Whitecaps defender is a Forest City local and prospective graduate of A.B. Lucas Secondary School. 
Track and Field and Cross Country
Joining her sister Sophie Coutts — who was featured in the last recruit recap — Chloe Coutts has committed to the Mustangs. The cross country and track athlete comes from Leaside High School.
From Surrey, B.C. comes Estella Mainella, who is the latest addition to the Mustangs sprints team.
Hallee Knelsen has committed to Western's distance squad. The Malahide, Ont. native joins from St. Thomas Legion Track and Field and has won multiple Ontario Federation of School Athletic Associations medals.
Wrestling
Gavin Eldridge signed with the Mustangs as a part of the 2021 recruiting class. Currently attending Parkside Collegiate Institute, Eldridge is an OFSAA silver and provincial bronze medalist.
Recently recruited by Western or officially committed? Email us to appear in our next recruitment series at the Sports Gazette.