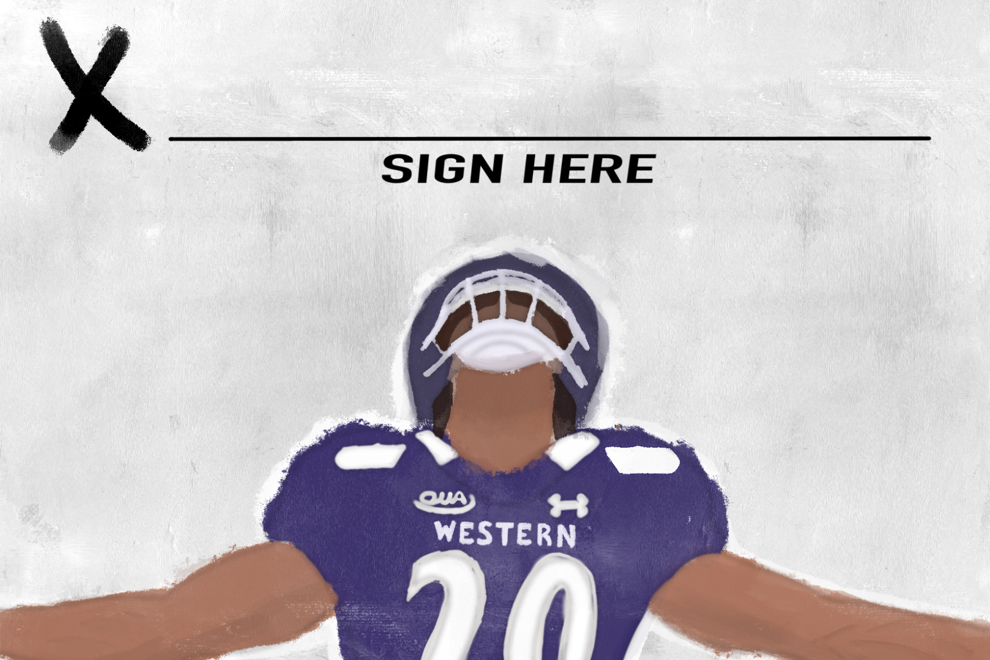 Despite the temporary hold on the Western Mustangs' season due to the ongoing COVID-19 safety measures, teams continue to recruit student-athletes for the upcoming year. 
This week's recruitment recap highlights recent additions to Western's football, women's and men's soccer, track and field and women's volleyball teams.
Football
The Mustangs have recruited Jason Lee for the upcoming season. The Toronto-native prospect played tight end for Upper Canada College. 
Defensive end Nick Cruji has committed to Western. From Mississauga, Cruji joins from Lorne Park Secondary School, standing tall at 6'4". 
Ebenezer Bedada, a defensive end from Henry Wise Wood High School in Calgary has committed to play for the university. 
Evan Kitchener, a 6'2" Maple Ridge, BC native, has committed to Western.
Jackson Findlay of Vancouver has also committed to the Mustangs. The defensive back played for Vancouver College and measures in at 6'2".
Excited to announce my commitment to @westernuFB! I am thankful for all of my teammates and coaches at @vcfootball who have helped me to reach this point in my life, and am eager to begin the next stage of my athletic and academic career at Western! #RunWithUs pic.twitter.com/eSa8UFgqEQ

— Jackson Findlay (@jacksonfindlay_) November 29, 2020
Trent Jones, a former defensive end for M.M. Robinson High School, has committed to Western. The Burlington native weighs in at 6'2" and 220 pounds. 
Women's soccer
Alex Edmunds, from Oakville, has committed to the Mustangs. The former member of the U-21 women's Oakville Soccer Club played both left and right winger.
A Forest City native, Thalia Lievano, has committed to Western. She plays a centre attacking midfield position and joins from London Football Club with prior experience with the Whitecaps London Soccer Club.
Chiara English, a wingback and winger also from Oakville, has committed to the Mustangs. The student-athlete joins Western from the North Toronto Nitros.  
Holding midfielder Reese Fowler is joining Western for the upcoming 2021 season. The Mississauga product played for the Erin Mills Eagles.
Men's soccer
The Mustangs have signed Alex Korda of Markham, Ont. for the upcoming season. He formerly played the forward position for Unionville Milliken Soccer Club.
Track and field and cross country
Robin Selkirk has now joined the pentathlon and high jump program at Western after committing back in December 2020. She is originally from Whitby, Ont.
Sophie Coutts, three-time Ontario Federation of School Athletic Associations silver medalist, is joining the Mustangs. Coming from Leaside High School, she also committed to the track and field team.
Women's volleyball
From Pellum, Ont. comes Mya Newton, the latest commit for the women's volleyball team. The outside, middle and right side hitter currently plays for the Halton Hurricanes Volleyball Club and is an OFSAA champion.
Recently recruited by Western or officially committed? Email us to appear in our next recruitment series at the Sports Gazette.