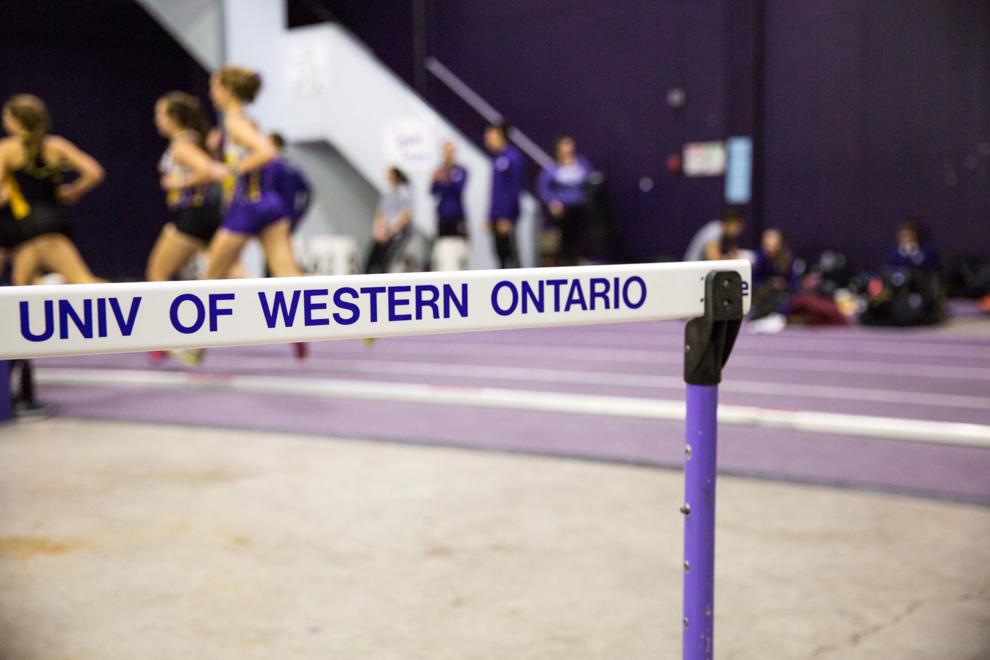 The Mustangs track and field team ended their season at the U Sports national championship in Saskatoon on March 11 with eight medals — two of which were gold.
Western University's women's team finished in second place — improving from third a year ago — while the men's team finished fourth overall.
In the men's division, fourth-year Jared Hendricks-Polack placed first in the Heptathlon. Second-year Kenneth West placed first in the men's triple jump and set a U Sports record — 16.24 metres.
T&F: 🚨RECORD ALERT 🚨Congratulations to Kenneth West of @WesternMustangs for setting a U SPORTS record in the men's Triple Jump!Athlétisime: 🚨ALERTE AU RECORD 🚨 Félicitations à Kenneth West de @WesternTF qui a établi un record de U SPORTS!#ChaseTheGlory | #ViserHaut pic.twitter.com/MZFnvKklZN

— U SPORTS (@USPORTSca) March 12, 2023
West said the speed and strength improvements he made from last season led to his record-breaking performance.
"I feel like I made a lot of strength gains while prioritizing my recovery. Prioritizing daily habits like sleeping, my diet, walking … I feel like I wasn't taking that too seriously last year," West explained.
The women's team tallied eight medals and 66 points, only trailing the University of Guelph Gryphons, who racked up 166. Second-year distance runner Sophie Coutts earned the silver medal in the 3,000-metre event. 
Third-year Favour Okpali, first-year Hallee Knelsen and second-years Chloe Coutts and Tieghan Wallace secured the bronze in the four by 400 relay. Okpali, Sophie Coutts, Knelsen and Chloe Coutts also won bronze in the four by 800 relay, and so did second-year Liv Sands in shot put, fifth-year Ayasha Horner in triple jump and second-year Margarita Belova in the weight throw.
Reflecting on the past few seasons, Mustangs head coach Vickie Croley said the pandemic had a significant impact on the team, but explained more resources have become available since the 2022 season.
"This season we did increase the amount of time spent working with Natascha Wesch, a mental performance coach," said Croley. "We also had greater medical support with the varsity clinic now being open for the past two years. This allowed all of our varsity athletes more opportunity to stay and get healthy."
Prior to the U Sports championship, Western competed in the Ontario University Athletics championships in Windsor, Ont. in February, where they placed second. 
During the championship, both the men's and women's teams brought home gold. Fifth-year Ryan Evans placed first in the Heptathlon — also setting a school record of 4,983 points. Sophie Coutts won the 3,000-metre and second-year Natalie Thirsk won both the 60-metre and 300-metre. West also set a school record in the triple jump event, jumping 16.24 metres while fourth-year Christian Panhuis set a school record in weight throw, throwing 17.24 metres.
With the season now over, men's team captain Mathieu Indome said there are improvements to be made in the off-season for the team to go even further in the future, including working on the silent clock and "understanding the importance of capitalizing on each opportunity."
He also said the team's motto this year, "we over me," captured the Mustangs' spirit perfectly.
"I found this really helped create a stronger sense of family within our team — it helped our team understand whether we're talking on the track or off, we won't be alone," Indome said about the motto.