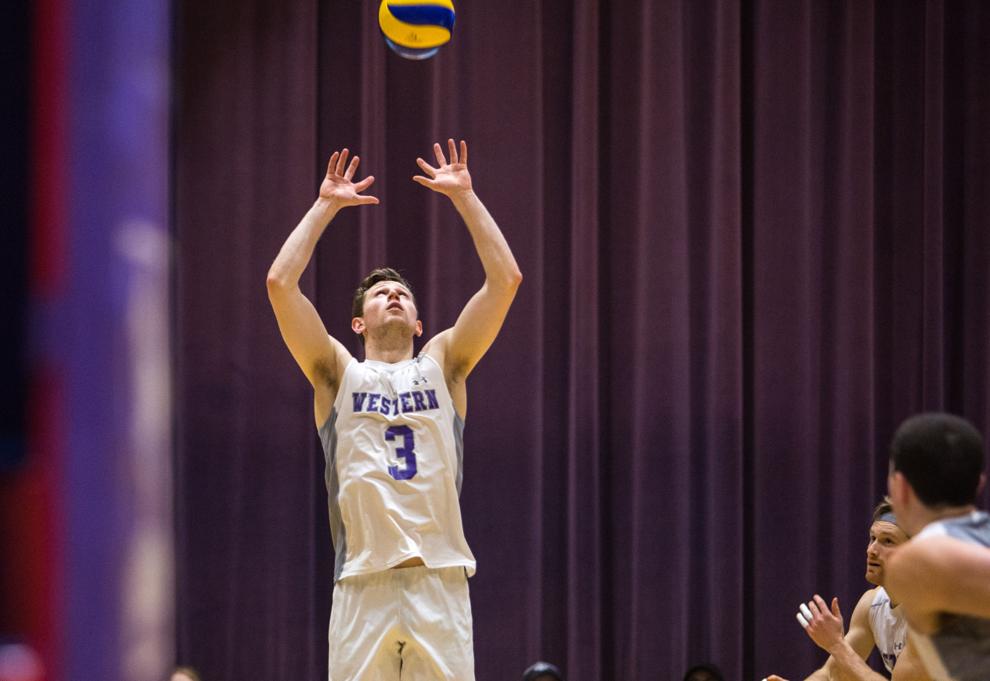 The Mustangs men's volleyball team were bounced from the first round of the OUA playoffs in straight sets on Feb. 25.
While Western University's season was very average — sporting a 10–10 regular season record and an early playoff exit — some team leaders were encouraged by the squad's resiliency, including third-year middle hitter Jonah Millard.
"As a whole, you look back and there's gonna be things you wish to change, but I'm really proud of the team," said Millard. "There was [a lot] of fight and it was a fantastic group of guys. That's the culture of our team."
In the first round of the Ontario University Athletics playoffs, the Mustangs were seeded against the second-place University of Windsor Lancers. The Lancers' regular season ended with a run of seven victories in their final eight matches.
Mustangs head coach Jim Sage has been coaching the team for 28 years and wasn't convinced his players were ready to face the talented Windsor roster.
"I sure was happy we qualified for the playoffs but I don't know if we were ready to play Windsor," said Sage. "[I'm] a little disappointed but it looks like we might have lost to a better team."
So where do the Mustangs go from here?
Fortunately for Sage's team, they had a number of exciting freshmen step up this season, particularly first-year middle hitter Kendall Homenick.
"We were really pleased with our first-year players as far as their development and how they fit in with our culture," said Sage. "We had one player work his way onto the starting lineup — Kendall Homenick. We were pleased with how he performed, which is a difficult thing for first-year players. I think he's gonna be really good and a starter for us next year."
After being stuck in the cycle of mediocrity since their impressive 2018–19 regular season, the Mustangs will lean on their impressive cast of rookies moving forward. The team has only won 21 of their last 44 regular season games — including a winless playoff record.
According to a number of Mustangs, part of that game plan will include securing their first home playoff game since 2019. This year's team was 7–3 at Alumni Hall. Third-year left side hitter Blake Fenwick was impressed by the fans' overwhelming support.
"I think in this league, home-court advantage is [such] a big factor, and we did a great job this year getting fans out [to games]," said Fenwick. "We had two huge wins against the [University of] Toronto, who were ranked sixth in the country at the time. A lot of that momentum came from the fans. I was impressed by how many came out this year and hopefully we can keep building on it."