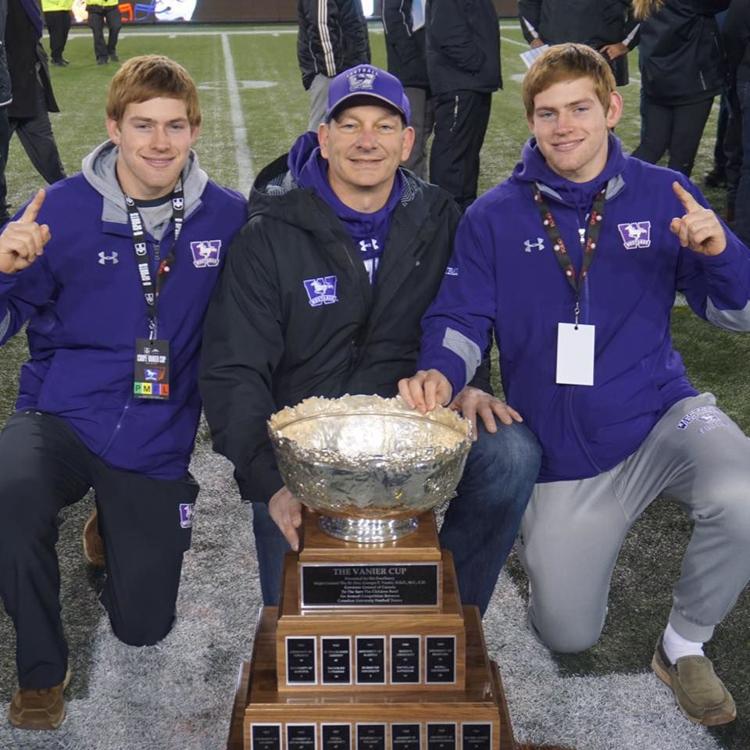 Playing linebacker for the second-ranked university football team in the nation requires constant, consistent and effective communication with teammates. For second-year management and organizational studies students and twins Jacob and Zach Zynomirski, communication is like clockwork.
"The thing is, we don't really need to communicate with each other to know what's happening," said Zach. "We just have an instinct for what we're supposed to do and how to work together as a team."
2017 was a year to remember for the Zynomirskis. The twin brothers were part of a  football team that went undefeated and won a Vanier Cup championship, a feat Western hadn't accomplished since 1994.
The birth of the Zynomirski twins' football careers came 13 years ago, when the pair started playing in the London Minor Football Association Tyke Division. They later went on to play five years of high school football at London's Saunders Secondary School, eventually earning athletic scholarships to Western where they both currently play linebacker, as well as long snapper on special teams.
Their parents, Wanda and Ed, have always been supportive, showing up to every single one of their football games. Ed played football for the Mustangs as a defensive end from 1983 to 1986, making it all the way to the Vanier Cup twice, falling short both times.
"They encouraged us to pursue a wide variety of sports and never missed a game or event," said Zach. "Jacob and I wouldn't be here today without everything that our parents have done for us."
Yet, even after 20 years, the twins' parents still manage to mistake one twin for the other.
"Sometimes they do, but if they really get a good look at us, then they know for sure which one we are," replied Zach.
Twin Tag Game

Question

Jacob

Zach

Who's the better-looking twin?

"Me."

"Me."

Complete this statement: "My brother is…"

"Supportive; he pushes me to become the best."

"Amazing."

What movie title relates to your brother's personality?

"Den of Thieves."

"A Quiet Place."

Who's the stronger one?

"Me."

"It depends."

Who keeps the other focused/on task most often?

"Me."

"Me."

Who has the better football swag?

"Zach."

"Me."

Who takes longer to get ready in the morning/for practice?

"Me."

"Jacob."

Who's the better pre-practice/pre-game cook?

"Zach."

"Me."

Who wins the most arguments?

"Equal."

"Equal."

Who's the more talkative one?

"Zach."

"Me."
Distinguishing between the twins has also proved to be difficult at times for the twins' former linebackers coach and special teams coordinator, Adrian Kaiser.
"I have been coaching them for a while and still struggle to tell them apart," said Kaiser. "On the field, it's easier because they have different colour mouthguards, but that doesn't help me if I'm looking at them from the back. Off the field, I can't tell the difference if they are apart. If they are together, I can sometimes tell them apart by the shape of their face — however, it takes me a while."
Kaiser also talked about the overall development he's witnessed in the twins' football careers as their positional coach. According to Kaiser, both Jacob and Zach were very soft-spoken when he first met the pair, adding that it was difficult to get very much out of them. However, with time, Kaiser says the twins began gaining confidence on and off the field, as they became more vocal with their teammates, as well as their coaches.
"They are both very hard-working on the field and in the classroom," said Kaiser. "They put in extra time working on their long snapping or studying for their courses. They have both shown great improvement. If they continue to put in the time, they will only continue to get better."
Currently, the Zynomirskis are both in the management and organization studies program at Western, and their schedules are identical, just like their appearance.
After graduating from Western, Zach and Jacob plan to possibly pursue business careers or continue their education, all while applying the valuable life lessons that football has taught them over the course of their athletic careers.