Most students feel pressure to succeed in just one area of university life: athletics, academia or their community.
Shaelyn Laurie, a Mustangs high jumper, is working toward multiple goals in her sport and pushing forward in her school and volunteer work, as she heads into her final track season.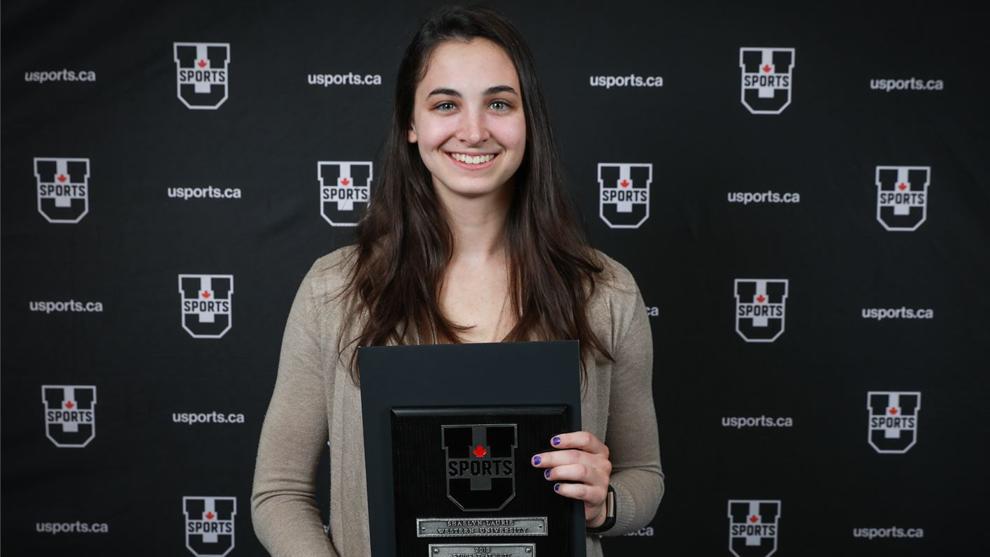 Early in Last year's season, Laurie achieved the U Sports standard for high jump. She took fourth at the Ontario University Athletics championships with the jump of 1.61 meters.
As the event group captain, Laurie has set out goals for both herself and the team this season.
"I hope to hit the U Sports standard of 1.71 meters this year and get a new personal best," said Laurie. "I then want to maintain this throughout the season and get some higher placements in U Sports and OUAs so we can get some more team medals."
Over the past four years, Laurie has competed on Western University's track and field team, volunteered around London and has even been recognized as an Academic All-Canadian, plus a Dean's Honour List mention, every year.
Time management has been crucial for Laurie to be able to juggle her commitments on and off campus.
"The biggest thing is getting rid of the phone and other distractions," said Laurie. "Saying how long a specific thing should take and committing to that time frame, then rewarding yourself after is how I stay focused."
Laurie mostly credits her success to her strict scheduling organization. The more to do the better, she said.
"I find the busier I am, the more efficient I am at getting things done," Laurie laughed. "I also just find working with other people is the biggest motivator."
The semester can be hectic for any student, even if they only have their academics to worry about. But Laurie says her coaching staff is extremely supportive of their athletes in maintaining their academics.
"Our head coach Vickie [Croley] is very 'academics comes first,'" said Laurie. "Putting in work to track is important, but it is more important that you are maintaining your academics."
Croley has also played a critical role in supporting Laurie's involvement in the community.
"She's very encouraging in getting involved in the community," said Laurie. "The coaches really support a diverse lifestyle."
Originally, Laurie joined the United Way Young Leaders Society, specifically working with the Learning Disabilities Association of London Region as a way to gain some leadership skills.
This work has led her to take a more hands-on role with Autism Ontario, and to joing the Mustang Athlete Student Council.
"School is very important to me and I love track," said Laurie. "But just being a part of the community is a great way to not only get to know people, but to give back to the community that has given so much to me."
Her continuous work with London's community has not gone unnoticed. Last season Laurie was named the winner of the U Sports Student-Athlete Community Service Award.
"It is nice that all those things have come together to show that I have made some sort of meaningful impact with these experiences," Laurie shared.
In addition to her U Sports recognition, Laurie was awarded the Hon. G. Howard Ferguson Award at her graduation this fall, given to a Western student that exemplifies high achievements in sports, academics and contribution to university life.
Laurie credits her coach for nominating her for the two awards and for helping shape her career.
"Coach Vickie [Croley] has been not only an inspiration as a coach in how she leads a team, but in supporting all aspects of our university life," said Laurie.