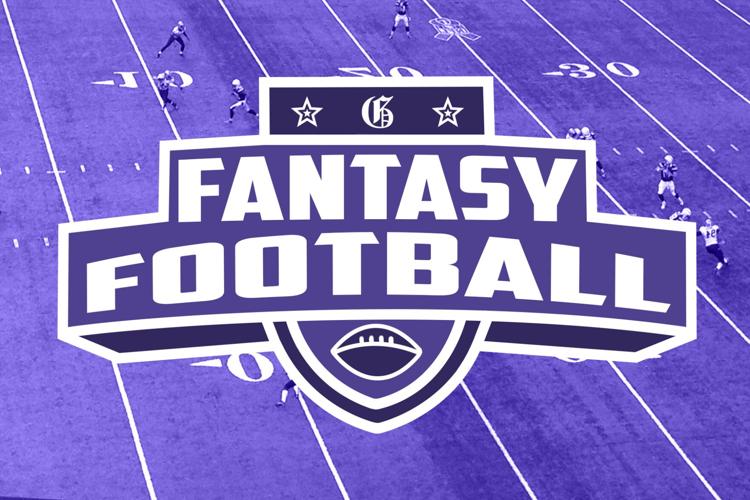 If you're in an NFL.com league, you know there's only two games that separate us from the end of the fantasy football regular season and the start of the playoffs.
And if you've been following the Gazette, then your team is probably sitting pretty high in your league standings — not to toot our own horn. But, if you haven't been, then week 12 isn't time to kick back with milk and cookies, those are for Saint Nick.
It may make it easier to know that zero teams are on their bye in week 12 so you can plug and play your best and brightest players.
This week's picks will be somewhat conservative — this is not a time to be a hero, but we do want to share important information on players that may be flying under your radar.
Here's week 12 of the Gazette's fantasy football picks.
Start 'em
Josh Allen may be an obvious choice but we want to emphasize that you shouldn't start anyone over him this week if he's in your lineup. In his last contest in week 10, Allen scored 27.36 fantasy points against the Arizona Cardinals, whose defence against quarterbacks ranks 25th. Allen and the Buffalo Bills are coming off their week 11 bye and will be well rested to play the Los Angeles Chargers on Sunday, whose defence against Allen's position is 26th in the league.
Josh Allen leads the NFL in passing yards.!⃝ 𝙏𝙝𝙞𝙨 𝙘𝙡𝙖𝙞𝙢 𝙞𝙨 𝙪𝙣𝙙𝙞𝙨𝙥𝙪𝙩𝙚𝙙 pic.twitter.com/gI5E8OKz63

— Buffalo Bills (@BuffaloBills) November 17, 2020
Miles Sanders has averaged 14.73 fantasy points throughout his 2020 campaign and has only scored less than 10 points against the top 10 defences. In week 12, Sanders and the Philadelphia Eagles will face the 22nd ranked team against running backs — the Seattle Seahawks.
Robby Anderson scored 11.60 fantasy points against the Detroit Lions last week, whose defence ranks 21st against receivers. Anderson and the Carolina Panthers will likely see more production in week 12 as they prepare to face the Minnesota Vikings, whose defence is fourth last in the NFL against pass catchers.
Sit 'em
Melvin Gordon put up strong numbers in week 11, scoring 18.40 fantasy points on the Miami Dolphins. It's worth noting that the Dolphins are ranked 20th against running backs while Gordon and the Denver Broncos' next opponent is the best team against the ground game — the New Orleans Saints. Gordon will be facing a much more skilled defensive front in week 12 than he did last weekend.
Melvin Gordon now has four fumbles in 141 total touches as a Bronco.Phillip Lindsay has no fumbles in 558 total offensive touches as a Bronco.

— Andrew Mason (@MaseDenver) November 22, 2020
Lamar Jackson scored 14.82 fantasy points the last time the Baltimore Ravens faced the Pittsburgh Steelers and results won't be much different this time. Jackson and the Ravens will have to travel to the steel city to play on the road this weekend with a corps of receivers who struggled against the Tennessee Titans in week 11.
Dallas Goedert has only been able to score double-digit points against the bottom half of the league this year and this week will not be in his favour. With Miles Sanders likely to handle the rock more often, Goedert and the Eagles passing game will be fighting an uphill battle against the Seahawks, whose defence ranks sixth against tight ends.
Waiver wire pickups
Philip Rivers is not someone we thought would be on this list, especially with some of his recent strong performances with the Indianapolis Colts. According to NFL.com, Rivers is only rostered on six per cent of all fantasy leagues, which means he's probably available in yours. Rivers scored 21.42 fantasy points on the Green Bay Packers this week, whose defence ranks fifth in the league against quarterbacks. He's taking precautions in practice this week as he recovers from a toe injury but is likely to suit up on Sunday against the Titans.
Colts QB Philip Rivers (toe) sitting out Wednesday's practice as precautionhttps://t.co/sXWQmOLjnx pic.twitter.com/JsIclmWNlG

— Around The NFL (@AroundTheNFL) November 25, 2020
Michael Pittman is becoming a sleeping dragon for the Colts looking at his last two games, averaging 17.40 fantasy points through weeks 10 and 11. Pittman scored 19.20 points against the Titans the last time they played in week 10 and is set to rack up similar numbers against the same team this weekend.
Gus Edwards is more of a question mark in terms of his potential moving forward, but at the moment he is the Ravens number one running back with both Mark Ingram and J.K. Dobbins out on the COVID-19 reserve list. This week's game against the Steelers will give Edwards a chance to prove his reliability on your roster for the playoffs.
Last week's fantasy column had a negative net score when comparing the "Start 'em" and "Sit 'em" players only because of two players' unexpected performances.
In Marquise "Hollywood" Brown's case, it was unexpected for all the wrong reasons as he didn't score a single point in week 11. Jared Goff, on the other hand, scored 23.04 points for our "Sit 'em" picks, destroying our chances of coming out with a positive result.
We are pleasantly surprised with our "Waiver wire pickups" this week, as they scored more points than the other two groups with 40.32 total points.
Even with that, the Gazette still has a net score of 81.98 points after subtracting our bench from our starters scores through 11 weeks.
Ben Roethlisberger scored 16.68 points, Mike Davis scored 15.90 points and Brown scored zero points as the "Start 'em" players, earning a total of 32.58 fantasy points.

A.J. Green scored 14.10 points, Ronald Jones Jr. scored 2.40 points and Goff scored 23.04 points, totalling 39.54 fantasy points for our "Sit 'em" selections.

Taysom Hill scored 24.42 points, Travis Fulgham scored 1.80 points and Kalen Ballage scored 14.10 points for a total of 40.32 fantasy points for our "Waiver wire pickups."
In our friendly weekly matchups, we lost against the Queen's Journal's sports editors 29.82–(-22.88). The series is now at 3–2 in favour of the Gazette, also leading in total points through five weeks 111.36-41.51.
We have to keep it competitive, right? 🏈Congrats to the @queensjournal @QJsports on their #FantasyFootball victory this weekend, defeating the @uwogazette 29.82–(-22.88).The #QJvsWG series is now at 3-2 in favour of the Gazette and we also lead in total points 111.36–41.51.

— Gazette Sports (@SportsAtGazette) November 24, 2020
Bring on week 12.