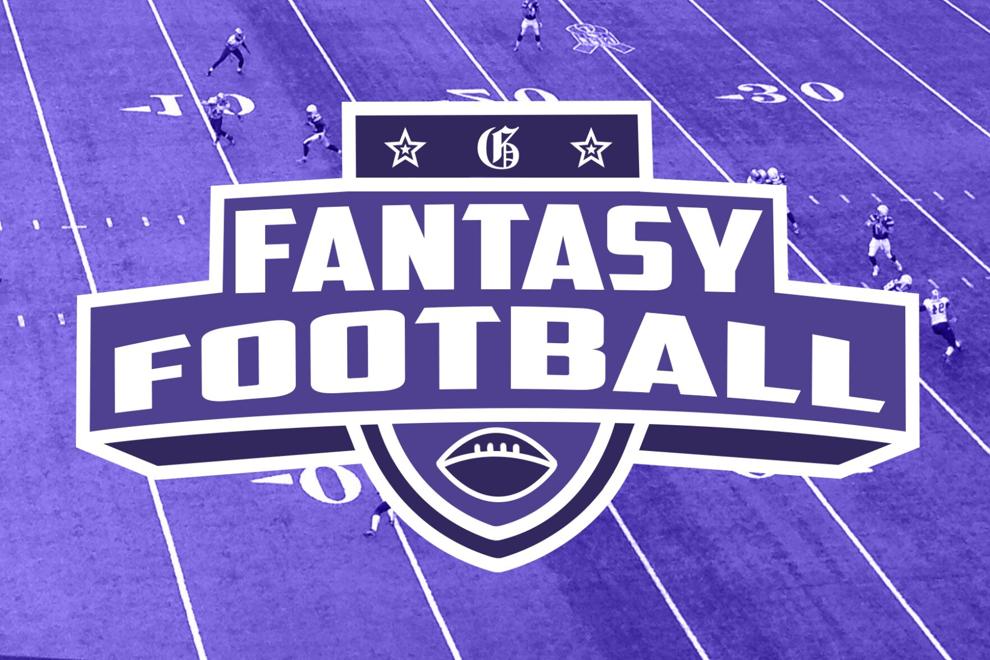 The season finale of the Gazette's first year of fantasy football won't be as emotional as your favourite television sitcom finale but we'll do our best to invoke some happy tears as you collect your fantasy hardware in a few weeks.
Speaking of hardware and highlights, let's recap how the Gazette performed with our "Start 'em or sit 'em" column results:
To date, our "Start 'em" players have scored a total of 589.18 points while our "Sit 'em" selections have scored a total of 428.34 points as the Gazette has scored a net value of 160.84 fantasy points.

Through 13 weeks, we have averaged 49.10 points for "Start 'em" players and 35.70 points for "Sit 'em" picks for an average weekly net of 13.4 fantasy points. 

Our best overall week was week 13 when our "Start 'em" selections scored over 27 fantasy points each, totalling 81.96 points while our "Sit 'em" players only scored 26.52 total points, arriving at a weekly net points value of 55.44 fantasy points.
We may not have been perfect week in and week out, but if you've been following along with our weekly picks since our series premiere in week two of the 2020 season, it's likely that you can give yourself a pat on the back for a job well done heading into the playoffs.
NFL.com leagues will be starting the first round of their playoffs in week 14; however, there are apps such as Sleeper who are finishing up the regular season with one last matchup on the weekend.
For the final time in 2020, here's week 14 of the Gazette's fantasy football picks.
Start 'em
Lamar Jackson scored 25.68 fantasy points against the Dallas Cowboys last week, whose defence ranks 21st against quarterbacks, in his first game back since being taken off the COVID-19 reserve list. Jackson and the Baltimore Ravens are set to face the Cleveland Browns in week 14, whose defence is even worse against his position, ranking 25th.
Run this like I'm LAMAR JACKSON❗️TOUCHDOWN @Lj_era8❗️ | ProBowl VoteTune in: https://t.co/iOuT7Sypnr pic.twitter.com/38QNTtqEXj

— Baltimore Ravens (@Ravens) December 9, 2020
Aaron Jones has averaged 19.33 fantasy points per game through 13 weeks and scored 23.80 points against the Philadelphia Eagles in week 13, whose defence ranks 11th against running backs. Watch out for another big game from Jones and the Packers in week 14 when they face the worst defence against the run — the Detroit Lions.
Mike Williams has been decent but somewhat inconsistent as of late; however, he and the Los Angeles Chargers will be at home against the Atlanta Falcons in week 14, whose defence ranks second last against receivers this season. The last time Williams played a team in the bottom 10 against his position was when he scored 17.20 fantasy points against the New York Jets, whose defence ranks 23rd against pass catchers.
Sit 'em
D.J. Chark didn't perform up to his normal standards against the Minnesota Vikings in week 13, scoring just 6.10 fantasy points against the fourth worst defence against receivers. We'd normally say that playing against the third worst defence against a player's position group is favourable, but with Chark's recent performance he can't be trusted in your lineup until he can prove that he can return to scoring his average 12.45 points per game.
Jaguars QB Glennon had issues getting the ball to DJ Chark against the Vikings. Whether it was pressure, not pulling the trigger, not looking his way, or just flat out inaccurate passes it was an issue for JAX. Could see Chark's frustration in a few of these clips pic.twitter.com/cxvJvGvOgD

— Billy M (@BillyM_91) December 8, 2020
Miles Sanders was mediocre in the Philadelphia Eagles contest against the Green Bay Packers in week 13, scoring just 3.10 fantasy points against the third worst defence against running backs. If he continues this downward streak of single-digit games as he has since week 11, he won't be on too many fantasy rosters heading into the playoffs. He won't have it easy any time soon, though, as Sanders and the Eagles prepare to play for the best team against the run this week — the New Orleans Saints.
Derek Carr scored 31.74 fantasy points last week against the Jets. It should be noted that while racking up over 30 points is a strong performance, we need to take into account that it was against a struggling team with the third worst defence against quarterbacks in the league. Carr and the Las Vegas Raiders will find themselves in rough waters this week, facing off against the Indianapolis Colts, whose defence is the third best in the league against the pass.
Waiver wire pickups
Baker Mayfield has performed surprisingly well over the last couple of weeks, scoring 18 or more fantasy points through week 12 and 13. Although he's facing stiffer competition this week against the Baltimore Ravens, Mayfield is a considerable option to add as a worthy backup quarterback in your lineup if your starter is ever unexpectedly added to the COVID-19 reserves list in the future.
Highest single-game accuracy %:🔸 Baker Mayfield vs. Titans - 89.7% pic.twitter.com/VXAdfMCbAB

— PFF (@PFF) December 9, 2020
Keke Coutee impressed Houston Texans teammates, staff and fans this past week with his 22.10 fantasy point game in the absence of suspended receiver Will Fuller and against the seventh best defence against receivers — the Colts. With Fuller out for the remainder of the 2020 regular season, Coutee will likely see more targets over the next few weeks, which means more points should you decide to pick him up on waivers.
Ito Smith proved that he can play effectively against the bottom half of the league against running backs after his week 12 bout, scoring 17.50 fantasy points on the Las Vegas Raiders, whose defence ranks fourth last against Smith's position. Smith and the Atlanta Falcons will play two more teams who rank in the bottom half of the league this season, so he could be a potential flex option for week 14 and 16 if you're looking for a skill position player to fill that void.
As mentioned, week 13 was the Gazette's most productive week yet. Our starters scored over 80 total fantasy points combined while our bench was kept at just below 27 total fantasy points.
If you actually listened to us, it was a pretty good outing this weekend.
Ryan Tannehill scored 27.56 points, Justin Jefferson scored 27.30 points and David Montgomery scored 27.10 points, totalling 81.96 fantasy points for our "Start 'em" players.

Todd Gurley scored three points, Matt Ryan scored 12.92 points and CeeDee Lamb scored 10.60 points as the "Sit 'em" picks had a total of 26.52 fantasy points.

Deebo Samuel scored 13.60 points, Mitchell Trubisky scored 13.28 points and Cam Akers scored 16.40 points for a total of 43.28 fantasy points for the week 13 "Waiver wire pickups."
The Queen's Journal was able to cut our rivalry series lead to one game as their sports section defeated the Gazette 52.56–25.80.
Running up the score isn't fun, anyway. 🏈The @uwogazette fell to the @queensjournal @QJsports in week 13 #QJvsWG fantasy football 52.56–25.80, cutting our series lead by just one win at 4–3.(If only Waller had retired before game time like @Queens_Football does in October.)

— Gazette Sports (@SportsAtGazette) December 9, 2020
The series is now at 4–3 in games and 179.56–53.11 in total points through seven weeks with the Gazette still in control of both categories.
Bring on week 14.